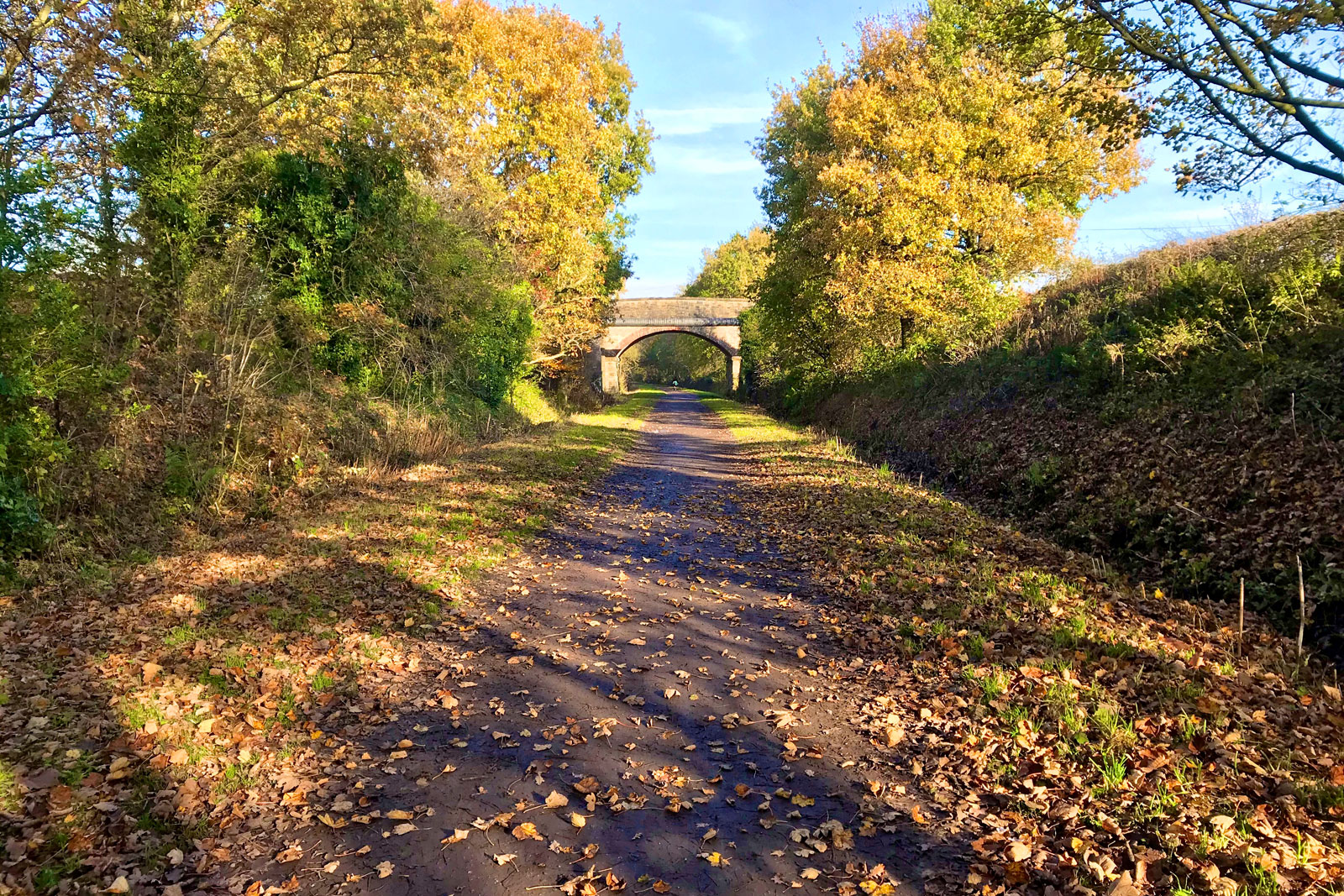 It's not just about shorter days and longer sleeves: the start of autumn actually heralds a brilliant time to get out on the bike. Here are six seasonal cycling delights for falling leaves and vibrant views in and around the western Peak District.
As the overwhelming green of Summer breaks into a blaze of colour, the sun droops dramatically in the sky and cooler temperatures make tackling the hills a less sweaty affair.
Though we'll also see the return of puddles and muddy patches (and not knowing quite what's under that big pile of leaves), it's also a chance to get out before the real winter wet sets in.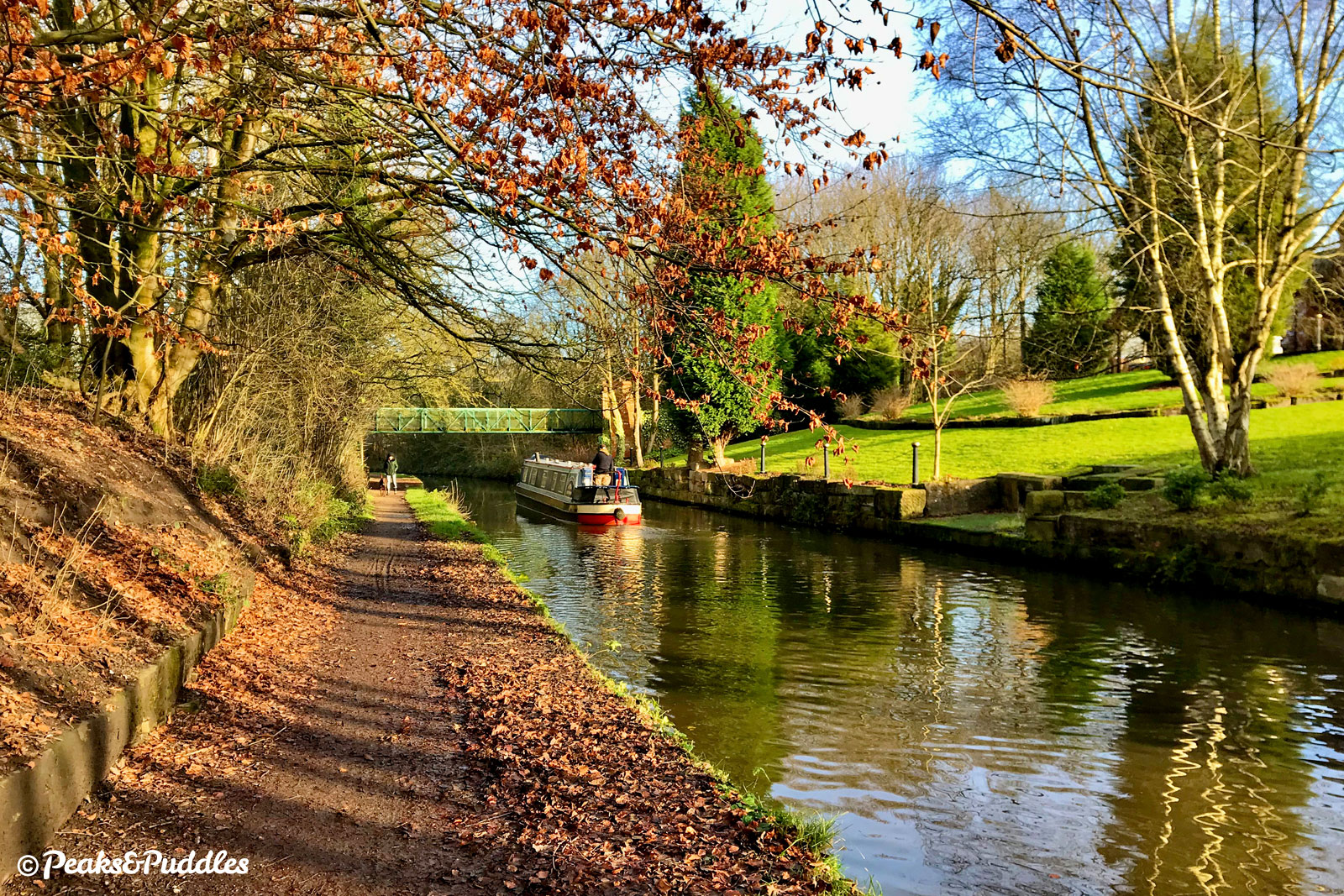 16.4 miles out-and-back, Gentle
Canals are a year-round delight — if you're not going anywhere in any hurry — providing a constantly changing waterside oasis for plants and wildlife. Why the lower canal rather than the Upper Peak Forest Canal and its Tramway Trail for Autumn? Both are beautiful but the lower wins for tree cover.
Marple Locks look simply ravishing as the leaves turn bronze above and then, 200 ft lower, the rest of the canal is almost entirely hidden in a wonderful, meandering green corridor, sneaking gradually closer towards inner Manchester.
From Hyde to Ashton the towpath is sound and dry, but between Marple and Hyde improvements are ongoing, so now is also a chance to ride it before the puddles really set in.
Autumn tips: Make it into a loop using the Tame Vales and Valleys route, which also includes the wooded Haughton Dale Nature Reserve, though other parts of this route including the Alan Newton Way may be starting to become a little puddled and muddy.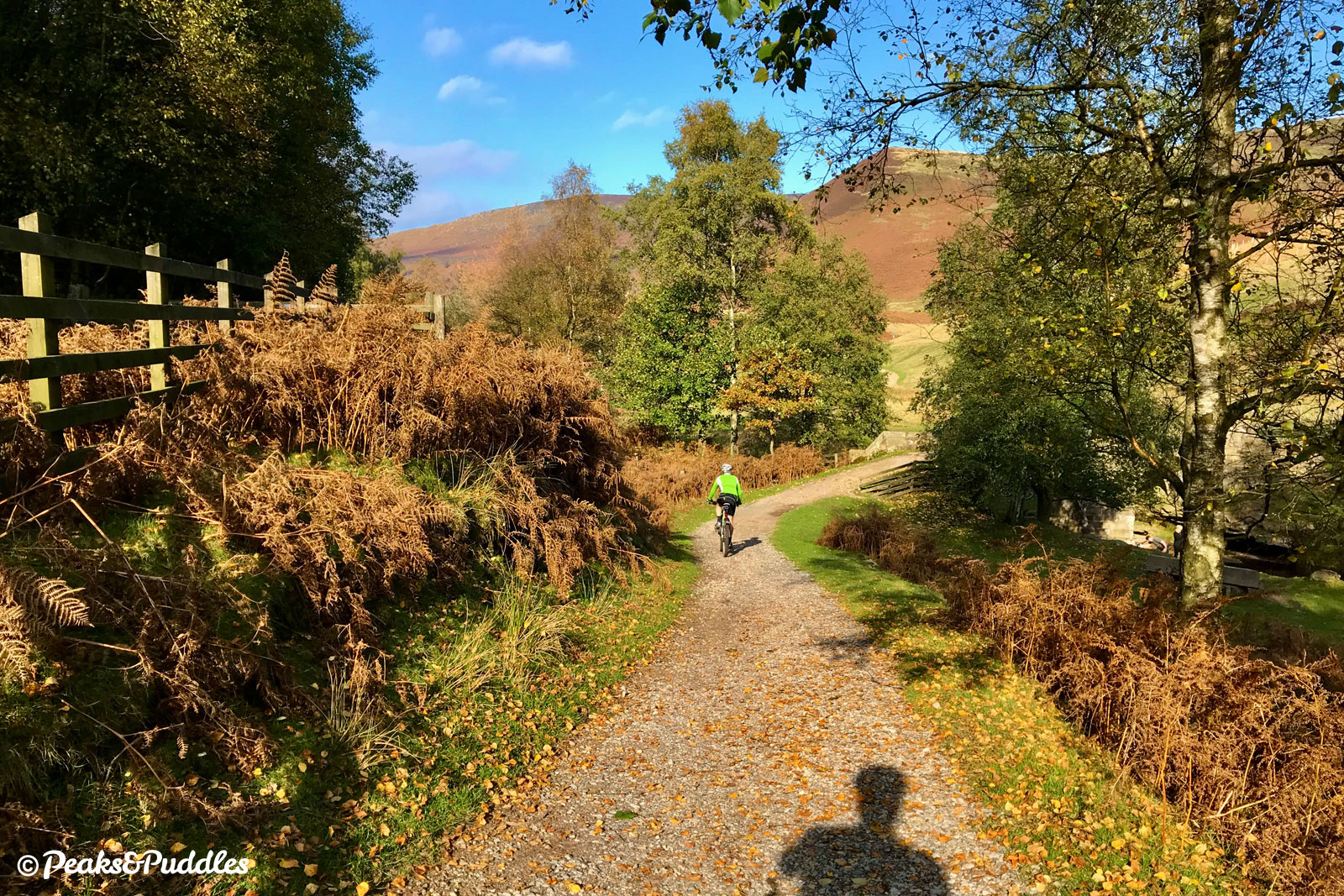 15.1 mile loop, Moderate
Where else! Autumn and the area around the Upper Derwent Valley reservoirs of Ladybower, Derwent and Howden just seem to go hand in hand. The colours of the landscape above those lapping waters are some of the most stunning in the entire Peak District on a blue sky day.
It's become a bit of an October tradition that I head here to test my partner with some slightly more off-road, gravelly riding on the 15 mile route around the reservoirs, mostly (but not entirely) traffic-free. That usually involves loading the bikes onto his car to get there. This year, I'd like to try hopping on the train to Bamford instead and climbing up to Ashopton using the Thornhill Trail — one (very mini) Peak District trail I've never covered.
Autumn tips: As days get shorter, best to avoid weekends if you can and head there on a weekday. The landscape has a whole more other-worldly feel without so many people; a mini Scotland without the massive journey. A flask of hot soup is a good tip, too!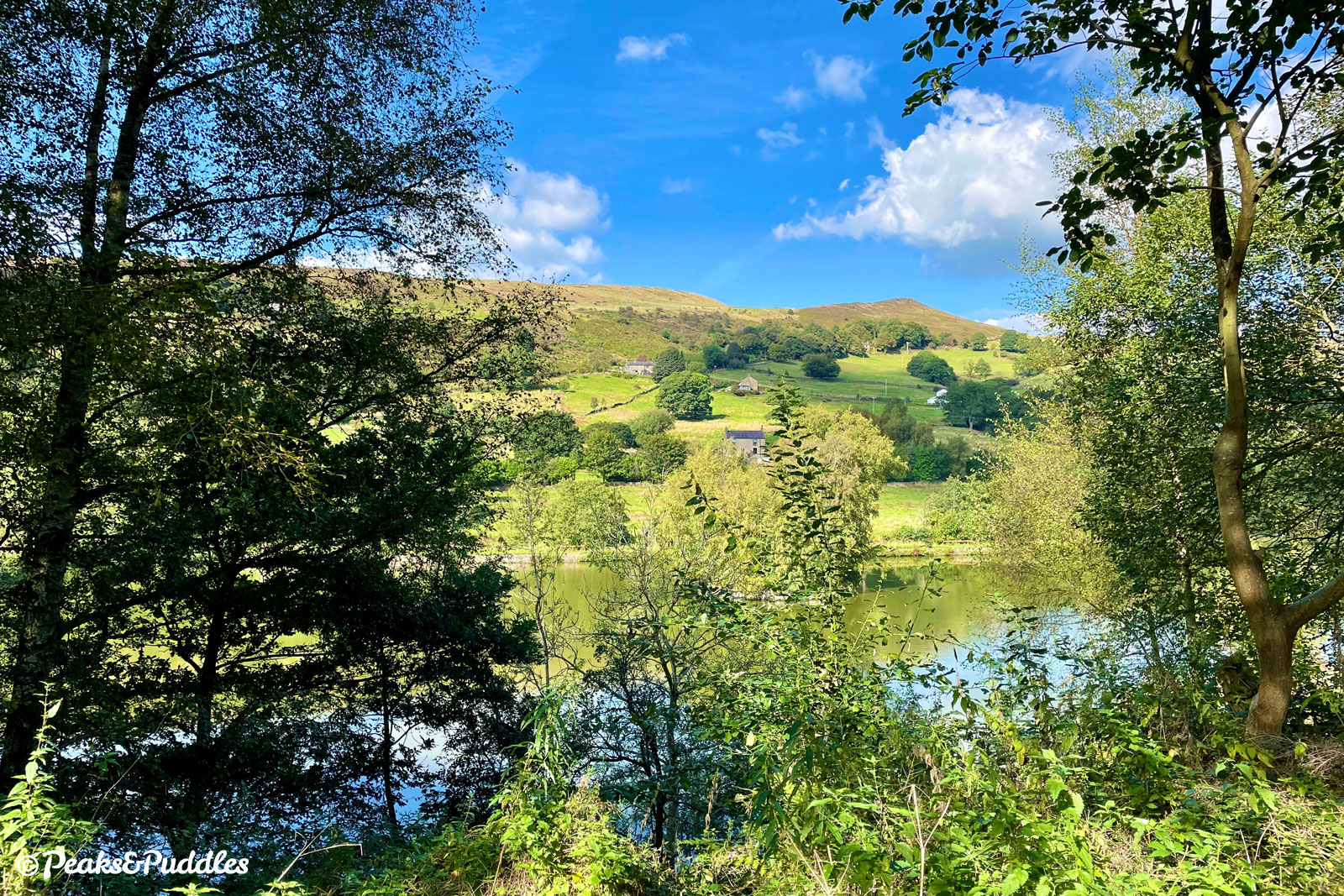 8.9 miles out-and-back, Gentle
Always pleasantly dry under wheels, the Sett Valley Trail's modest 2.5 miles are almost entirely lined by trees once it leaves New Mills. As the leaves begin to fall, the steep surrounding Peak District hills — including the 373 metre Lantern Pike — are gradually revealed again.
Continuing beyond Hayfield, this extended route enters the National Park, following a fairly quiet lane to a famous site in the Kinder Trespass and then right up to the foot of Kinder Reservoir via a dramatic valley before the Peak District's highest point looming ahead signals the end of the (easy) road.
Autumn tips: The friendly Sett Valley Café at Birch Vale simply cannot be beaten for a mid-trail coffee and sweet treat.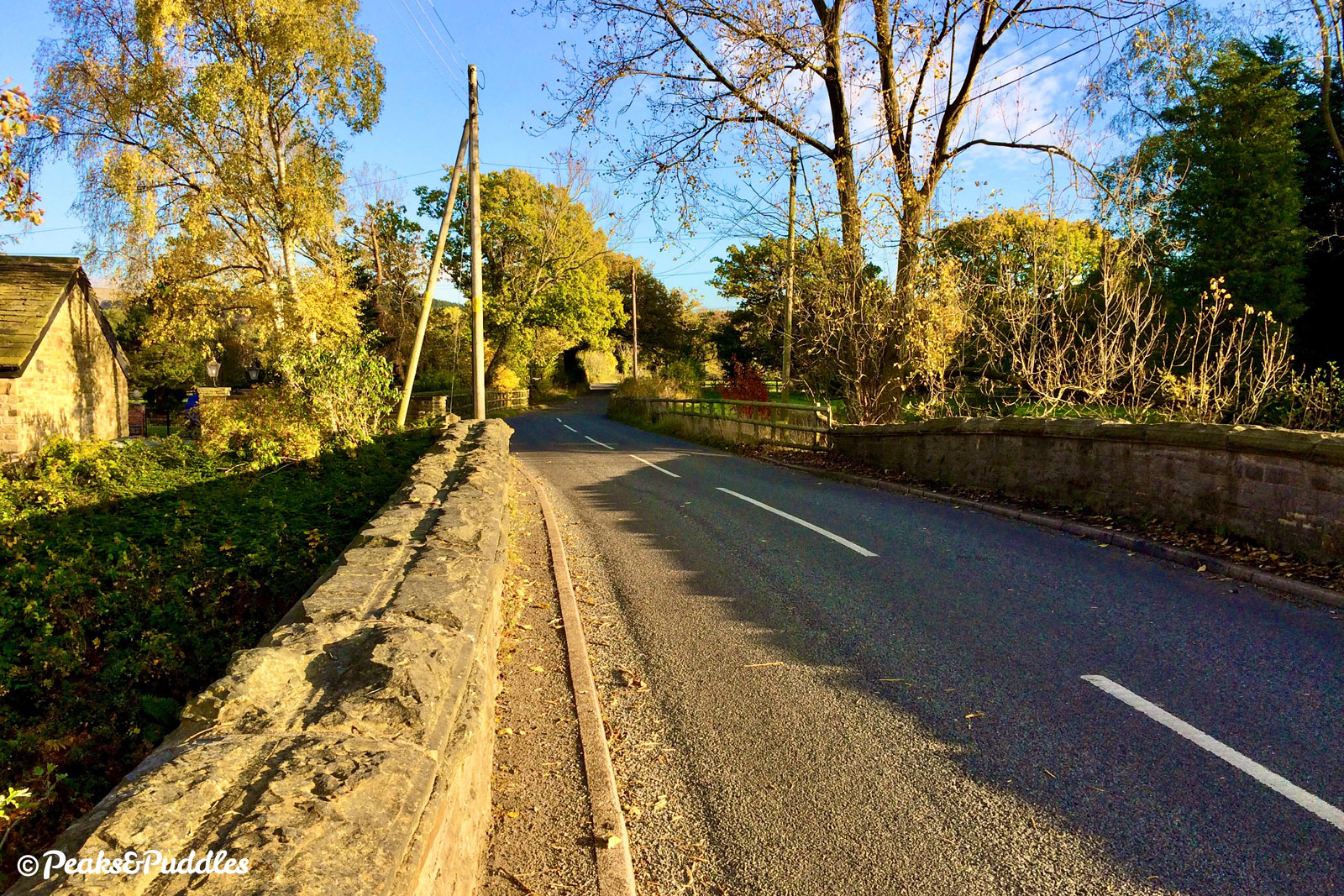 12.5 mile loop, Gentle
There's a clue in the name. Middlewood Way provides ten miles of traffic-free cycling between Marple and Macclesfield, skirting just outside the western edge of the Peak District, taking you through plenty of tree-lined cuttings with scrunchy leaves to roll through.
Luckily the trail has also now been improved to a good standard throughout, particularly the previously dire section within Stockport, making it an enjoyable ride year-round (though mudguards still sensible).
This route branches off into a loop near Adlington, climbing a couple of very short hills up to a brilliant panorama over Cheshire and south Manchester from Shrigley Road.
Accessible: This loop requires some steps and a narrow barrier to rejoin the trail. For a non-standard cycle ride, there's a sole barrier-free access to Middlewood Way off Torkington Road and then a clear run all the way to Bollington's viaduct and back.
Autumn tips: From up on Shrigley Road, you can also easily link into either the Lyme Loop or Lyme Lanes routes, climbing up a brilliantly autumnal (but slightly bumpy) track into the National Trust's Lyme Park (check opening times first). It's well worth locking your bike up to stop for a coffee or wander up into Knightslow Wood or Lantern Wood on foot.
12.9 miles out-and-back, Gentle
A trail I've yet to cover in a Peaks & Puddles guide, the former Woodhead railway is on my own list to ride again this autumn. The beautiful but brooding valley of Longdendale has a chain of no fewer than five reservoirs, damming the River Etherow to serve Manchester's water needs.
The trail is shorter than other abandoned Peak District railways and, managed by the water company, has a very slightly bumpier and puddle-prone surface. The upside is it can be much quieter, looks stunning in Autumn and leads straight to the spectacular portals of the three (closed-up) Woodhead tunnels. Hadfield railway station is also right at the start.
Autumn tips: Positioned north of Bleaklow, this valley can indeed feel a little bleak at times too and once you leave Hadfield, there's nowhere for refreshments, so wrap up and take snacks!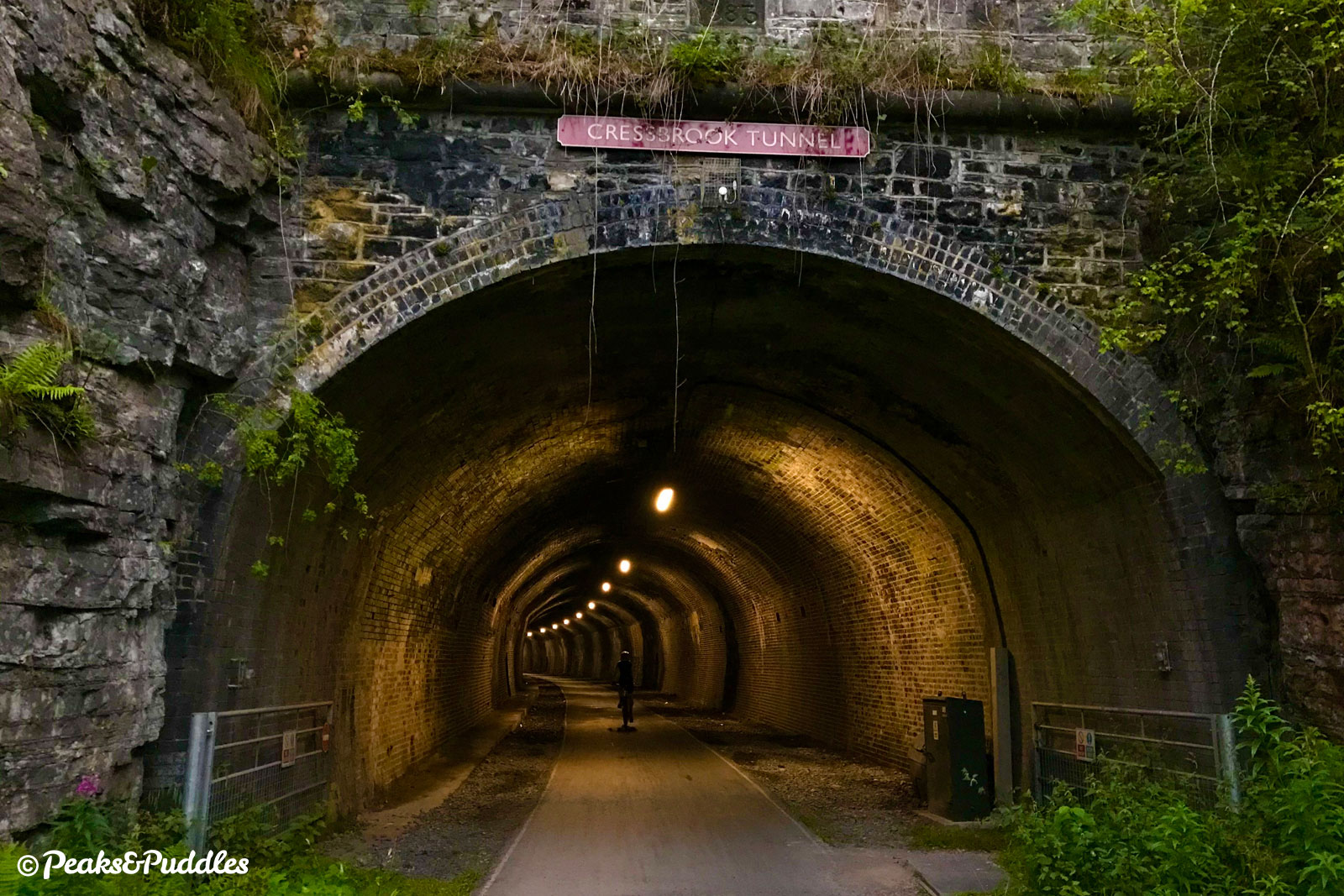 19.2 miles out-and-back, Gentle
Not only does the Monsal Trail offer beautiful tree colour as it cuts across the craggy gorges of the River Wye, its tunnels and cuttings provide shelter from the increasing autumn winds which can batter its cousins over at Parsley Hay.
As by far the Peak District's most popular trail, waiting until later in the year to ride it can also reward with a much quieter ride now the summer holiday crowds start to subside. Visit on a weekday, outside of half term, and it can be so eerily peaceful you might feel like the line is still open, with a Midland Pullman about to race through to London St Pancras at any moment!
Accessible route: Join at Millers Dale, Hassop or Bakewell and this route is suitable for non-standard cycles.
Autumn tips: As the sun sinks, the deep Wye valley can often fail to warm up as much as elsewhere and the tunnels can be even chillier. Take an extra layer and if you really need warming up, the cafés at the former Hassop and Millers Dale stations are handy.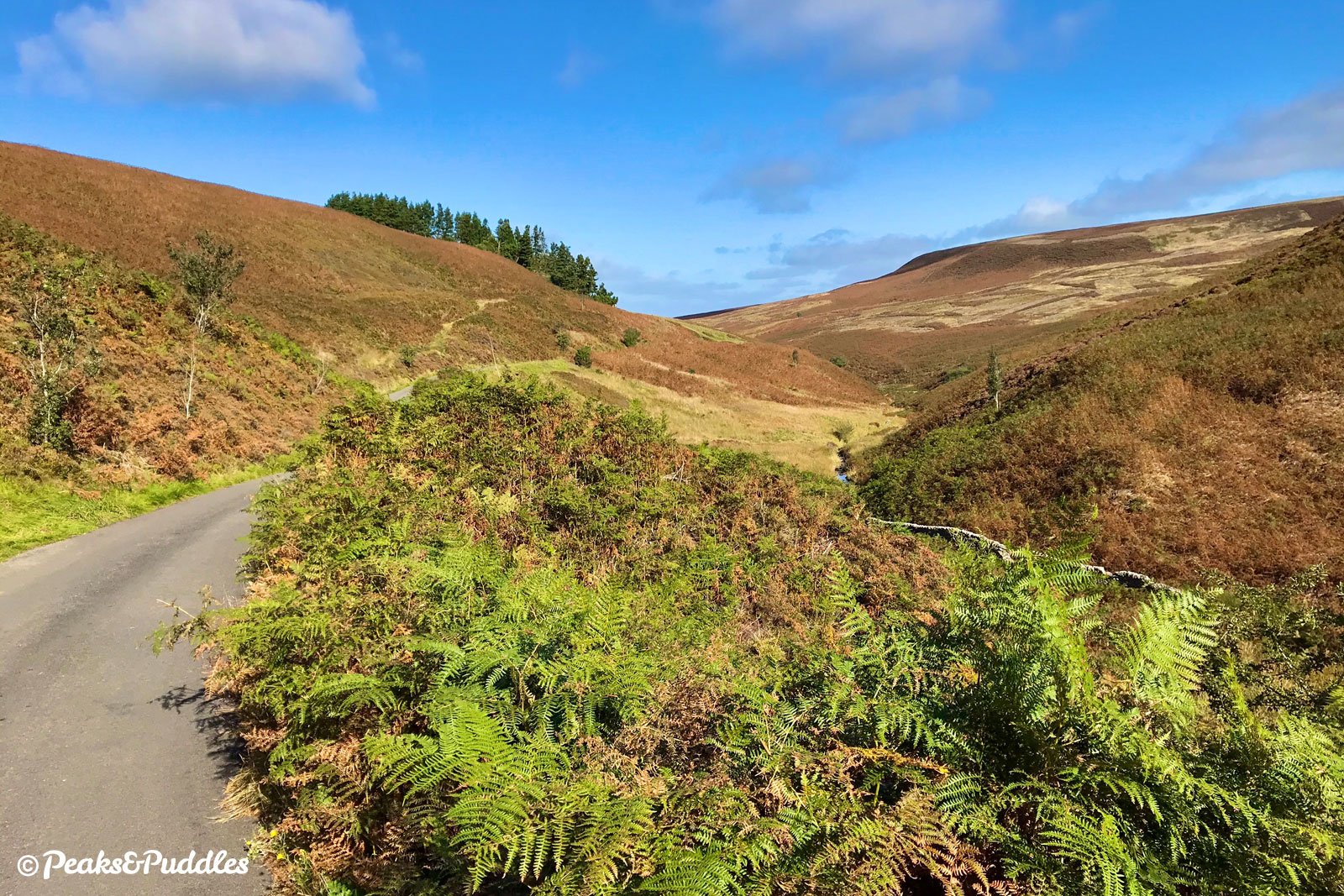 26.1 mile loop, Challenging
And if you want something a little more strenuous? Here's an early preview of another route guide coming to the website soon, with more climbing than any other route yet (but all totally worth it).
Epic upon epic upon epic, a trio of strenuous but spectacular hill climbs lead from the Cheshire mill town of Macclesfield up to the isolated Cat & Fiddle Inn, via the Brickworks, Windgather Rocks and Derbyshire's Goyt Valley — always splendid in Autumn. Just avoid a day when it's likely to be misty and windy up top!
Autumn tips: In 2021, be aware there may yet still be a road closure of the Goyt Valley road ahead (the order actually said it'd be closed from as far back as May, but it's yet to happen) — keep an eye on Peaks & Puddles Twitter for any updates.