Well, if you must know… Peaks & Puddles was created by me, Anthony.
I grew up in Marple, Stockport and now live near New Mills in the High Peak with my partner and our three-legged cat, several chickens and a small colony of bees; enjoying the local cycling, walking, railways and canals. With three railway lines, a canal and a river surrounded by beautiful hills, just half an hour from Manchester, this place has everything I need.
First things first: I'm not sporty at all. I have no interest whatsoever in cycling as a sport. I hated PE. I was always (probably rightly) chosen last for teams. All we ever seemed to do was pointlessly kick a ball around. Maybe if we'd have done something useful, like learn cycling skills, I'd have fared better?
Because I always thought bikes were cool. Bikes are freedom, bikes are possibility, bikes are happiness. When I unwrapped a stabiliser-clad bike one Christmas in the early 90s, it was the most exciting moment of my life. And not just because it had electronic animal sound effects.
While cycling in this country can be incredibly frustrating, I'm always astonished at its ability to lift your mood in an instant. To make you breathe and truly feel alive. And the same can be said, of course, for any walking or exploring.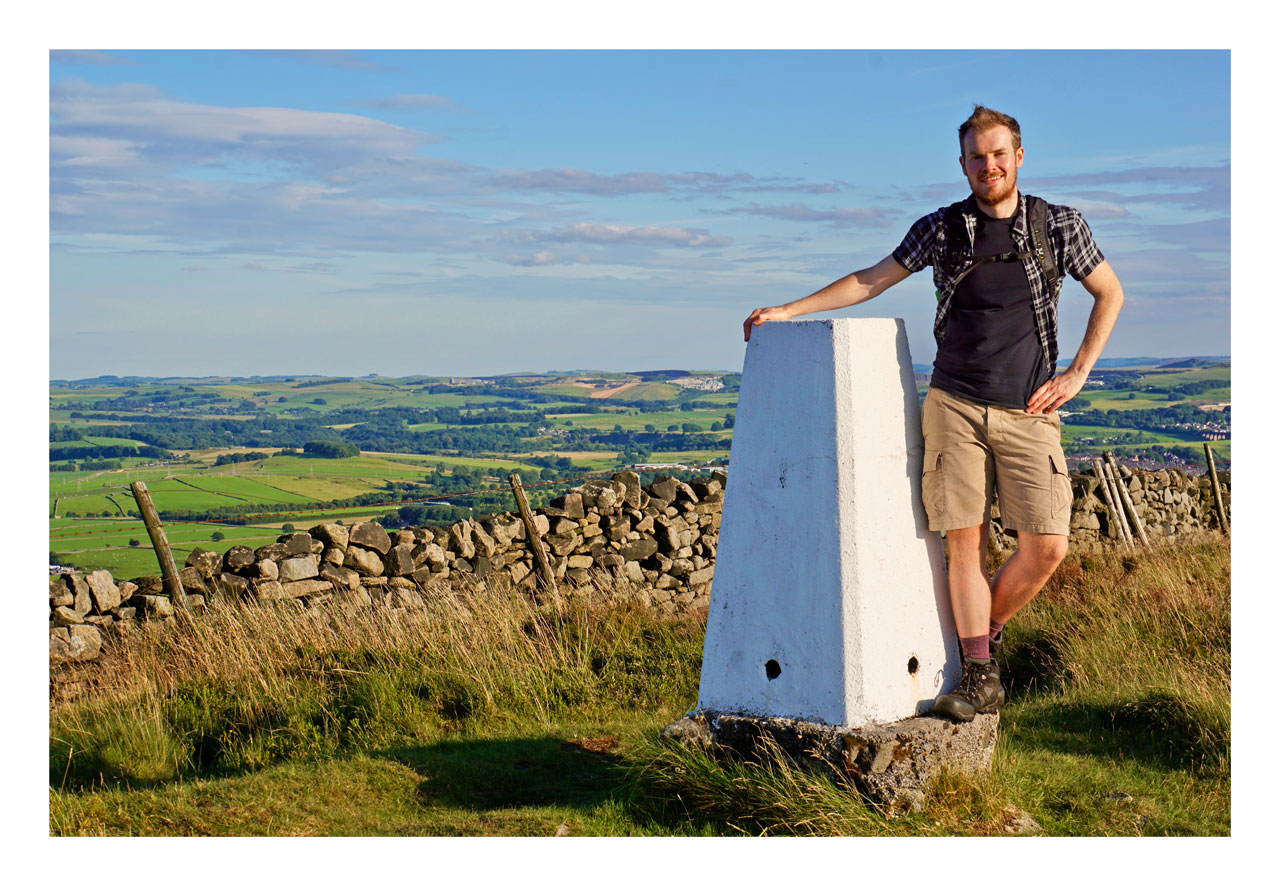 So, what's the idea?
This started, probably, with a puddle — or several. Faced with my local cycle routes getting ever muddier and local roads ever more hostile, I thought: I can't be alone in thinking this isn't right. For either thriftiness or fear, I'd never learnt to drive: my bike is my primary vehicle (which so many people sadly find bewildering).
With a gradual trickle of tweets, I started @peaksandpuddles to chart the ups and downs of cycling and walking the edges of the Peak District around Buxton, Macclesfield and Stockport. To actually be heard. And with this to campaign, gently, for the dream of a future where bikes and boots (rather than just cars) are a normal, safe, first choice for everyday journeys and exploring between town and country.
After a few years trundling along on Twitter, I had to think: where is this going? One day, while letting gravity carry me gracefully down past Windgather Rocks, I had an idea.
My usual line of work was running a online theme park guide. Cycling often gives you the same pay-off as a good roller coaster, climbing a few "lift hills" then gently circling back to the start. What if I made a website where the rides are local cycle routes?
After all, one of the best ways to improve local cycling could be just to get as many people as possible out there, on bikes, riding the trails and lanes for themselves — enjoying the highlights, but finding the problems, too. And with every new bike, a voice, to make things better.
Since the two go hand in hand (but are so often lazily pitted as adversaries out in the countryside), it made sense to include walking too, with news and updates on local rights of way and burgeoning active travel investments.
I hope that by creating a place for all of this to live, to be celebrated and to be challenged, more people locally might be engaged in the push for better walking and cycling altogether.
What do you ride?
Not just for lack of space in an old terraced house, I'm not one for having a shed full of bikes or an "n+1" addiction to new toys. One good bike will do me fine. For years I rode a hardtail mountain bike everywhere — along canals, on trails, up steep road climbs — because it was the one bicycle that could reliably handle the poor quality of the off-road trails required to get me out to the countryside.
But while that thundering beast of a 29er is fairly zippy for a MTB (and I still ride it every so often), I longed for more zip, that road cycling dynamism — and less weight. Then something happened. The cycling industry finally came up with the "gravel bike". Quite how they hadn't seen the market for this before is beyond me, but immediately I was sold. A bike that can take the bumpy trails but still give you amazing power transfer on the smooth roads.
My recent bikes have all been Specialized, not for any major reason other than picking one once and liking the one I owned before (the latest, a Diverge, seemed the best bet at the time while gravel was still fairly new, and it has quite a nifty device in the handlebar stem to soften bumps). If I upgrade again in future perhaps I'd like to finally try something else. One thing I'd definitely like is a bike that's not white. Because mine never are anyway.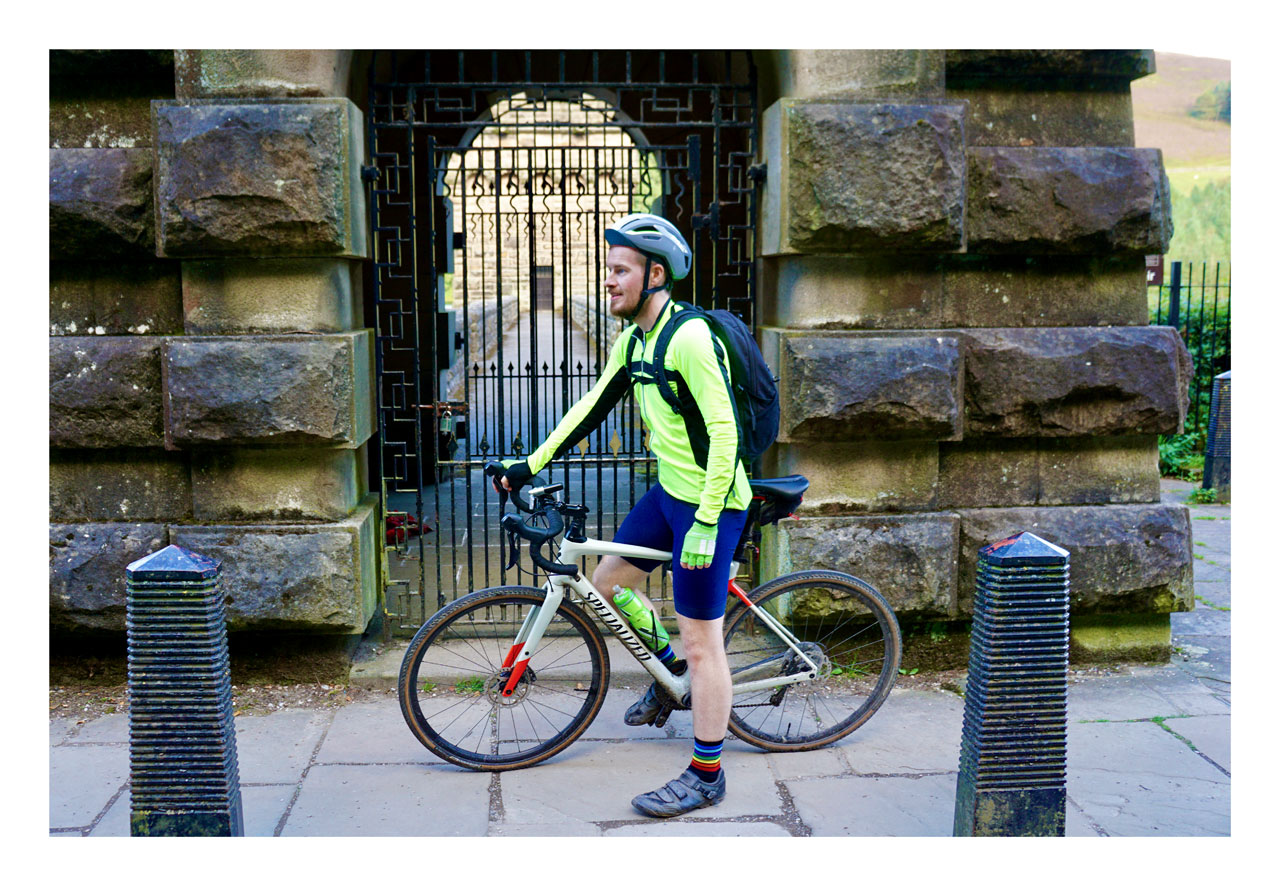 How do you ride?
I probably still look like the guy with "all the gear and no idea" but hey, that gear took a long while to accumulate, thank you! I didn't just go out one day and kit myself up for cycling and, in fact, you shouldn't have to. If we had dry, well-surfaced routes and roads which didn't bring us out in a cold sweat, we should of course be able to just hop on the bike and cycle anywhere in everyday clothes.
But — and I'll whisper this — a bit of gear can help. Especially if you're going beyond just pootling to work or the shops. You wouldn't go running in jeans or walk up Kinder Scout in stilettos (though I also wouldn't judge you if you did), so if a bike ride sees you likely to exert a bit of sweat then a breathable jersey and stretchy bottoms will make it so much more comfortable. (And as a guy who felt massively self conscious in lycra shorts for years, here's something I've learnt: no body else cares. And they feel lovely.)
Likewise in cold weather, the base layers and jackets designed specifically for winter cycling make a world of difference to actually ensuring you can keep getting out there. Perhaps there's an order in which items should be added, but I'd advocate gloves and glasses are good extras: for grip and protection from the elements; and to keep wind, flies and perhaps, if you're very lucky, sun out of your eyes.
This is seeming like a long list now, isn't it? The joy of cycling though, is that you can do all of this or none of it. Wear what you bloody want! Each to their own: the most important thing is to turn those wheels and feel comfortable.
Despite the lycra collection, I'm not yet known for 60 mile tours around the Peak District. Anything over 30 miles is a bigger ride for me, or something more like 20 for an average loop, though that's probably not helped by the fact going any further around here can really push up the amount of hill climbs.
So if you're new to this, I promise you you're in safe hands. I absolutely hate cycling on even slightly busy roads, and every hill has to have a pay-off. Cycling really is about the journey, we all start somewhere and hopefully, we never feel like we've peaked. The best ride is always the next ride.
See the Tips section for more help and resources to get you exploring.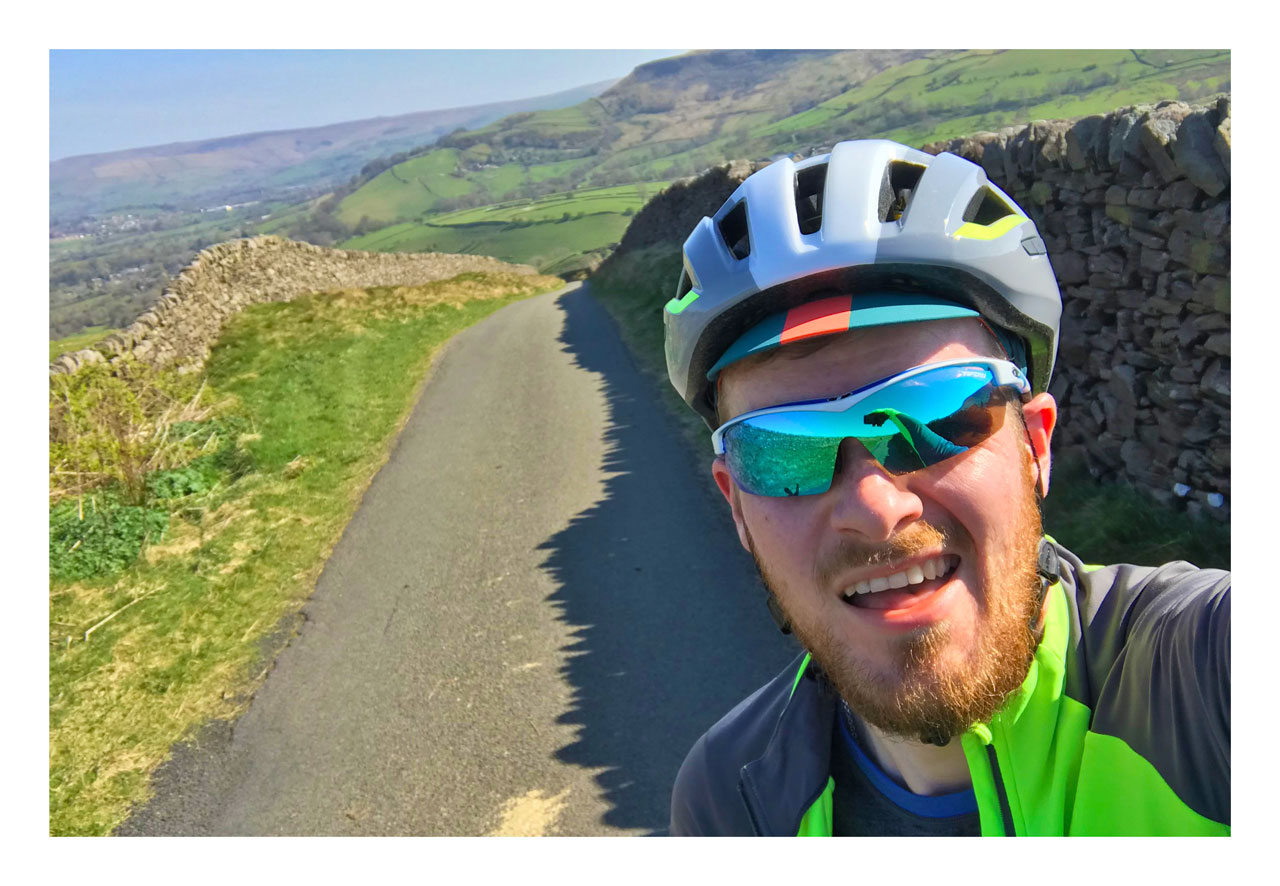 Where do you ride?
I could practically cycle the Upper Peak Forest Canal blindfolded and love it through all the changing seasons, but my favourite regular loop out into the hills is what I call the Goyt Valley Grinder (yes, my Strava has a painful amount of alliteration).
From New Mills, it's just over an hour to loop out through Whaley Bridge up to Fernilee, through the forest and up the almost endless ramp of a road to Pym Chair, a simply glorious viewpoint over both Cheshire and Derbyshire. It took me quite a few attempts to master those inclines without stopping, but being able to climb them (and actually enjoy them) now is so rewarding.
The best is then yet to come, as you coast straight ahead down the middle of the ridge past Windgather Rocks, looking like a theme park set piece, gradually dropping back down into Whaley Bridge. Sometimes I'll even cycle this way to Tesco — I mean, it's fairly direct, right?
I've ridden all of the Cycle Routes here countless times, gathering thousands of pictures and insights along the way which are now finally put to good use. In the future, look out for some local walking routes too. I want those to focus on the less obvious routes, and particularly walks you can do without driving out to the Peak District — anywhere but Mam Tor, basically.