Ride from town to country down the traffic-free Middlewood Way then branch off onto a network of classic Cheshire cycling lanes, up and down some mini hills, looping quickly back through the parishes of Pott Shrigley and Adlington to Higher Poynton.
Route details
Distance 12.5 miles (20.1 km)
Elevation gain 528 ft (161 m)
Time allow 1 hour 15 mins
Difficulty Gentle
Terrain Lanes, Off-Road Trails
You can easily ride the same trail again and again without getting bored, each time seeing something new or different, especially as the seasons change. But venturing off a well-beaten trail can be so rewarding: a chance to see the surrounding landscape in a whole new, more three-dimensional way.
Little did the promoters of the Macclesfield, Bollington and Marple Railway know, its legacy would be to cut a perfect, direct route south though this landscape for people on bikes, rather than trains. Today it makes cycling from town to country an absolute breeze, but what if you want to explore a bit further?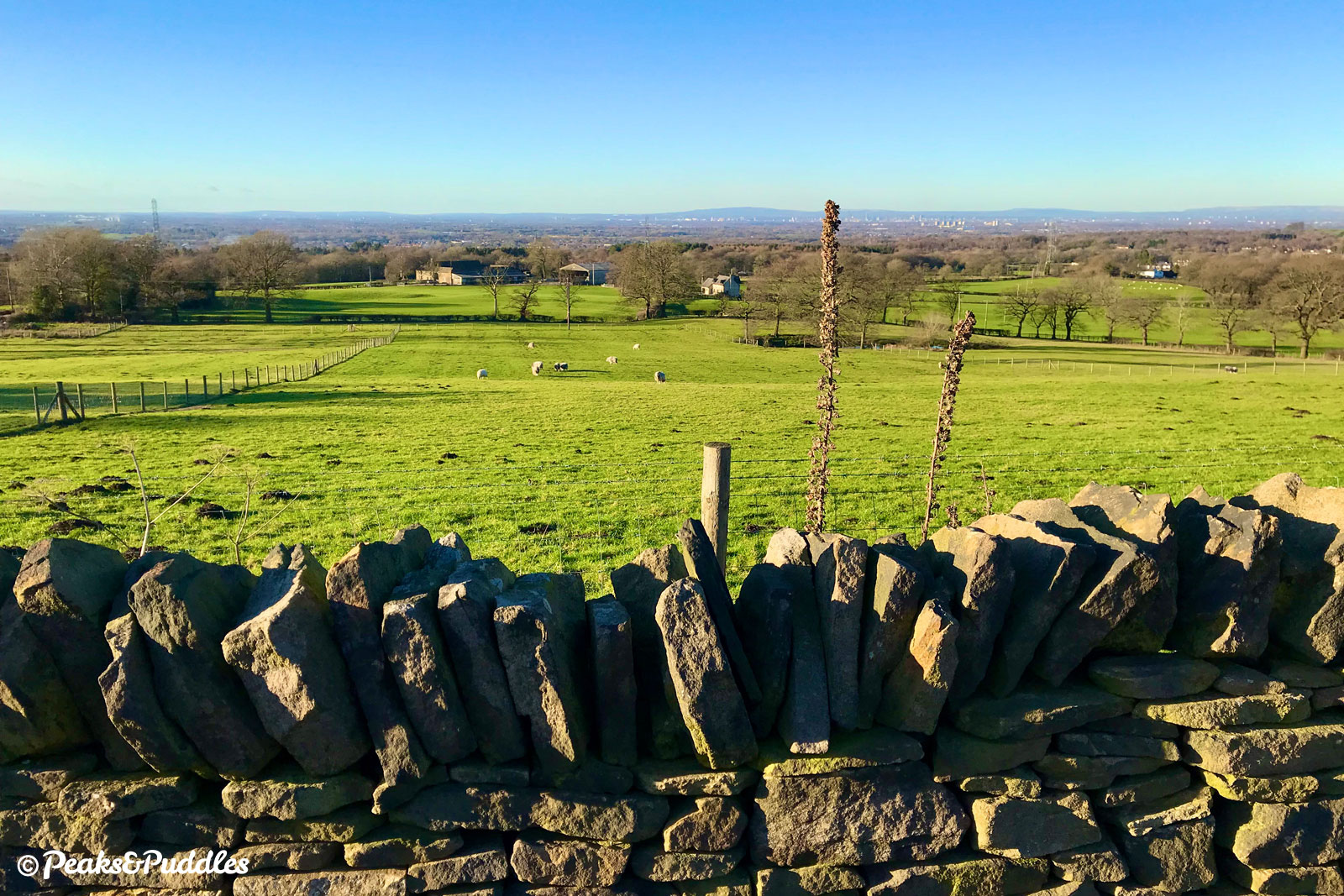 Looking at Middlewood Way on a map, the web of lanes running across it as it hits the Cheshire countryside will always prompt intrigue. As you whizz along the trail, under bridge after bridge, you might think — I wonder if there's a way to join those lanes up with the trail? In a, you know… "nice" way.
If you've always stuck to traffic-free trails, it can be a real leap of faith to join a road for the first time, even the ones that look like gentle lanes. Around here, some are busier than others, some can feel like rat-runs if caught at the wrong time. Well, these are a tried-and-tested ideal place to start.
Yet between Higher Poynton and Bollington, the nicer lanes don't ever seem to quite join together in just one perfect way, one that'd let you ride them all at once. It's also surprisingly easy to get lost, given the way some twist and turn away from where you thought you were going. This route is just one possibility of many in the Adlington and Pott Shrigley area — call it the entry level option. You'll have to try very hard to lose your way.
Leaving the trail at Wood Lanes, the route swoops down the conveniently named Pedley Hill then climbs gradually back up Springbank, which is exactly as you'd expect; luscious with leafy trees and slathered with bluebells come spring.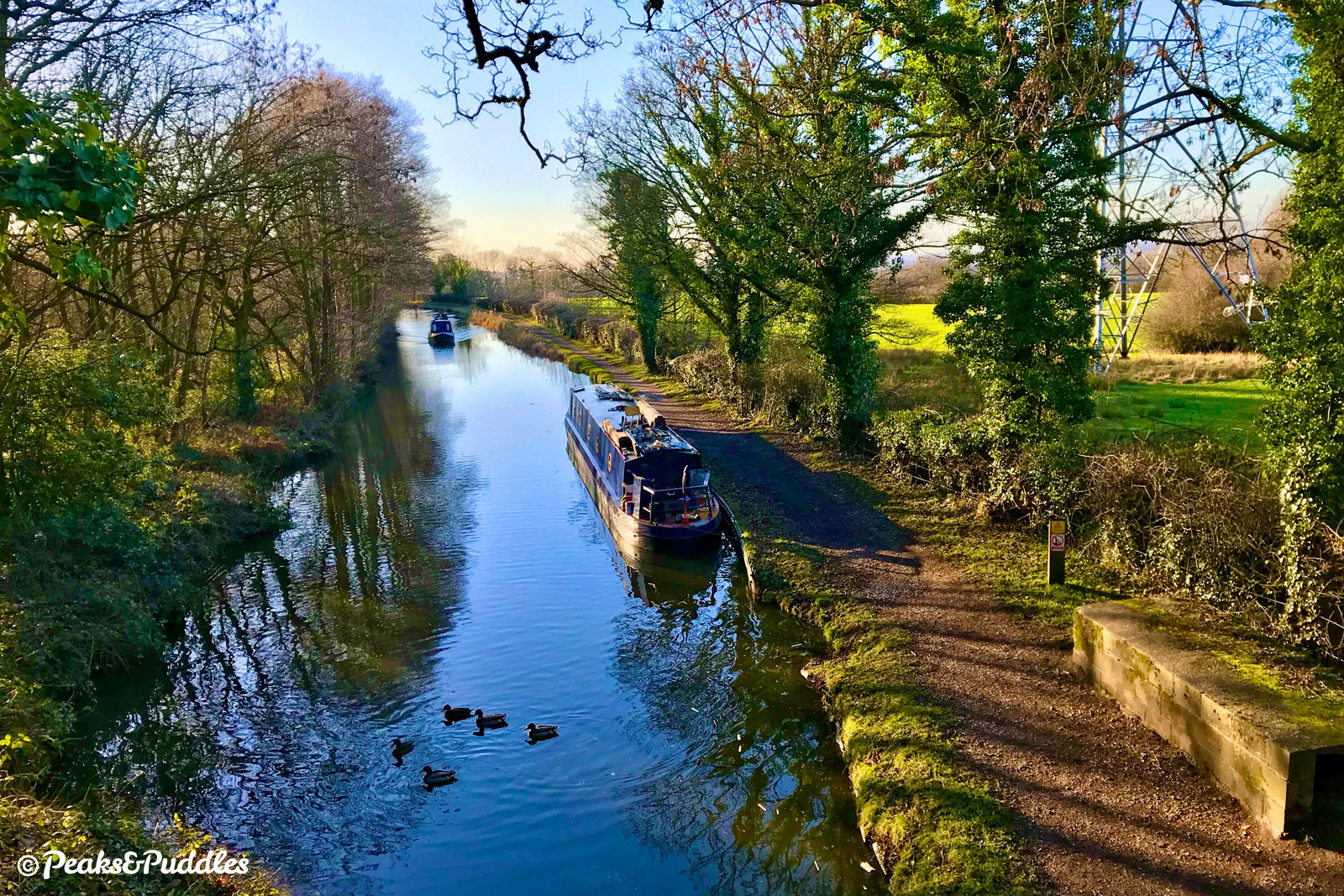 Dipping for mere moments onto the busier Brookledge Lane, it then turns off onto the quieter part of Shrigley Road. A sharp but very short climb takes you up onto a ridge near Lyme Park with brilliant views back over the Cheshire plain.
Heading back under the Macclesfield Canal, and between more fields and woods, it then crosses the trail from above before rejoining at Higher Poynton, next to a very convenient pub. See, there's always a reward for venturing off the trails.
Route map
The route stats featured here are automatically generated by Komoot. For the most accurate guide, please refer to the route details above, based on actual rides recorded by Strava.
Where to start
Join Middlewood Way anywhere from Rose Hill in Marple through to Higher Poynton to complete this loop, though obviously the further back you start, the better ride out you'll enjoy.
The Alan Newton Way offers a reasonable off-road route to the start of the trail from inner Stockport, while the Upper Peak Forest Canal can provide a good quiet link from Disley and the High Peak. See the Middlewood Way cycle route guide for more tips.
By train: Rose Hill Marple is right at the start of the route with trains from suburban Greater Manchester, while Middlewood is a couple of miles in with services from Buxton and Stockport.
By car: Car parks at Rose Hill or Wood Lane in Marple are the best for this out-and-back loop, or you'll miss much of the trail.
Things to note
Both accesses off and onto the Middlewood Way used in this loop have wide, low steps that require bikes to be pushed and lifted gently. (Please Cheshire East Council, invest in more ramped, accessible entrances onto this lovely trail!)
Unlike riding out-and-back on Middlewood Way itself, this loop includes a fairly long if gentle bit of climbing from Booth Green up to Shrigley Road, then a single sharp little hill halfway along that lane.
Take care at the short, narrow tunnel under the canal on Shrigley Road to approach slowly and check for vehicles before heading through (there's good visibility, but only when you're right in front of the entrance).
For more things to note about the trail itself, see the Middlewood Way cycle route guide.
Shop and support
Bikes, accessories and gear to start your next adventure. Simply buying through these links is a totally free way to support the cost of keeping Peaks & Puddles online. See more here.
Route description
From the start of the Middlewood Way on Railway Road at Rose Hill, Marple, join the former railway line and follow it for 7.2 km (4.5 miles). The trail starts out on tarmac in a cutting beside suburban houses, then onto compacted stone to head out into the countryside, with views of rolling fields. At the old site of High Lane station, it passes under the A6 and into another damp cutting before arriving at Middlewood, where a higher station on this line to Macclesfield once connected with the now lonely station below. The next landmark is Higher Poynton station, with platforms still in place.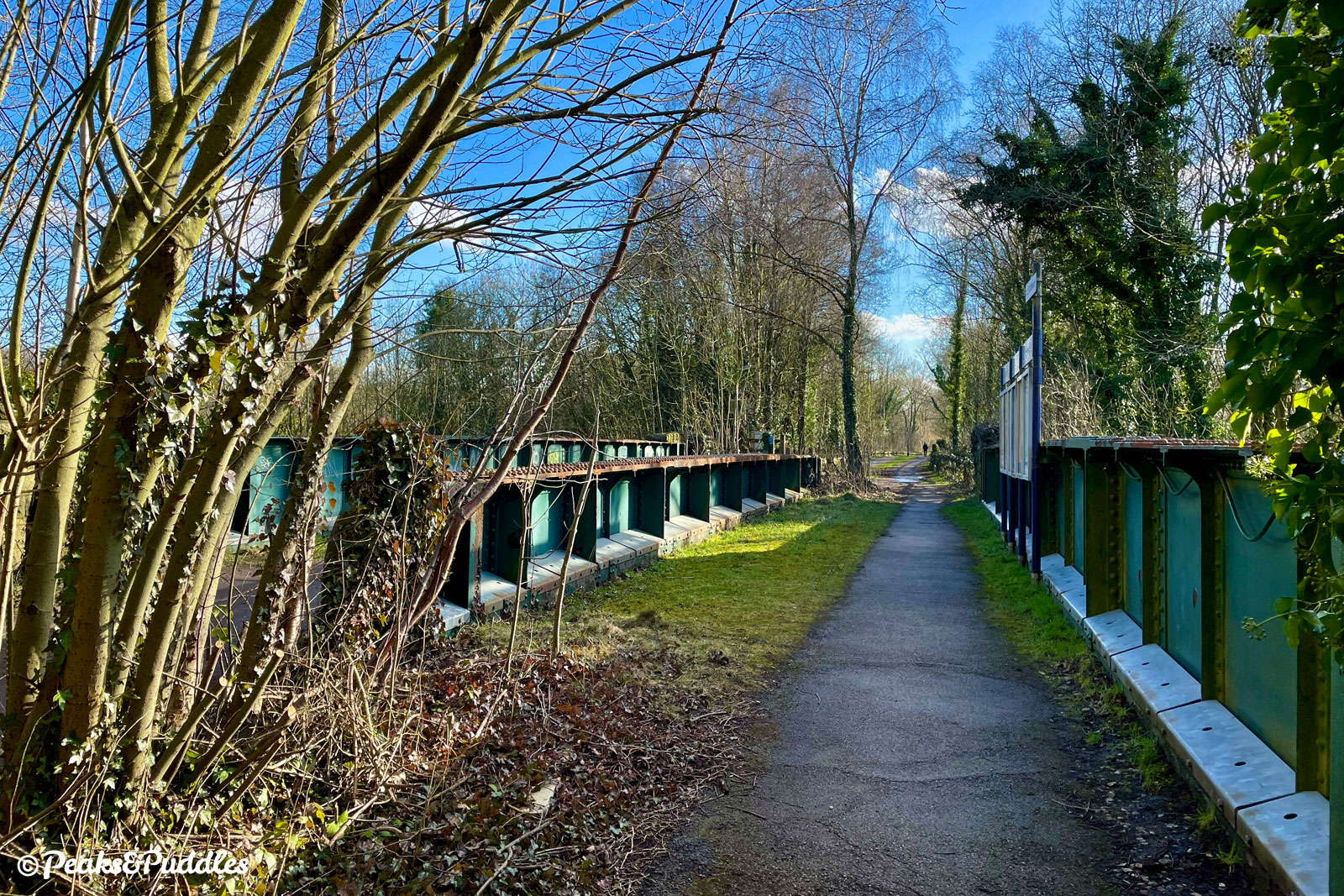 Continue past Poynton Coppice local nature reserve, then alongside a plantation of trees with wooden electricity pylons. While much of the route before has been split into two paths, beyond the bridge ahead they briefly merge back into one: this is the easy way to remember where to turn off! Before the next bridge, where the trail is about to split in two again, follow the wide steps to the right, up off the old railway to Wood Lanes.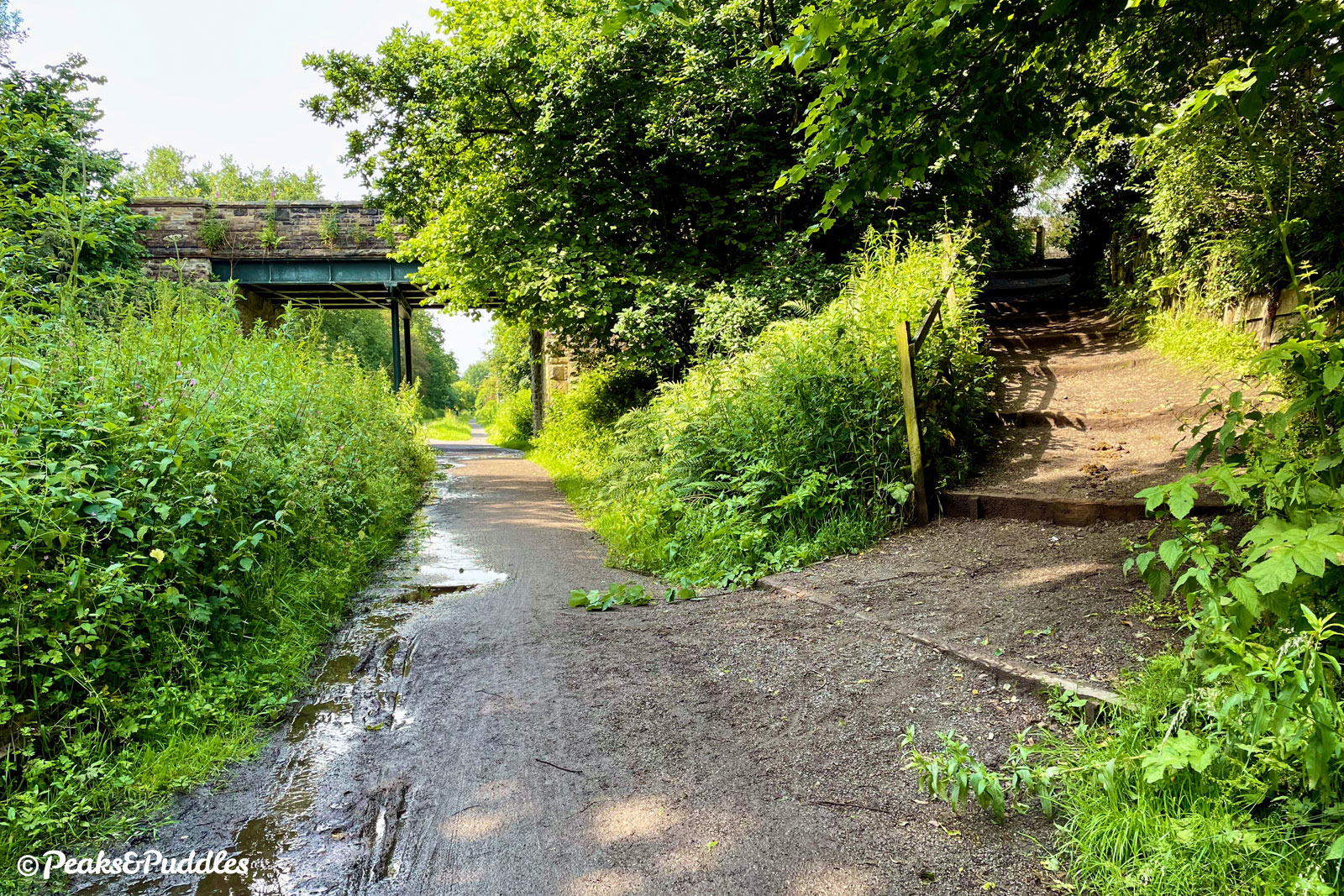 At the top of the steps, turn right onto Wood Lane East: at the crossroads ahead, there are four different Wood Lanes, forming a complete compass. Turn left onto Wood Lane South, passing typical Cheshire detached houses with grass verges guarded by white painted stones. The lane drops down past the farmhouse of Trugs i'th Hole Farm then climbs moderately before dropping again over a wide rural landscape towards Pedley Hill. Past the grand Pedley House, the lane gives a quick glimpse over the Cheshire plain then falls away down the wooded hill. Cross the bridge at the bottom and climb the short hill back up the other side.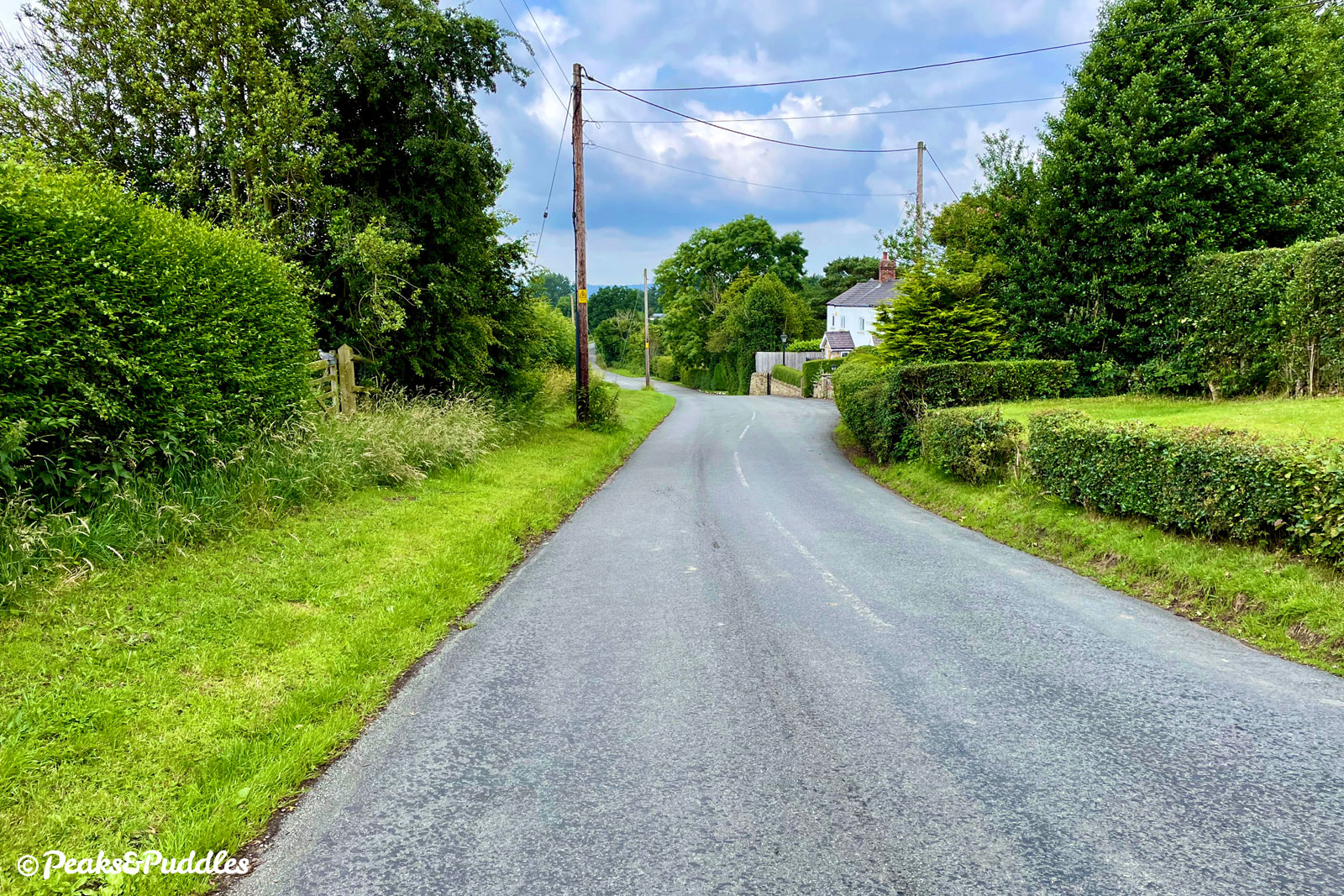 At a triangular junction, now in the hamlet of Booth Green, turn left onto Cawley Lane. This rises again gently, between hedgerows and past an old farmstead, to a corner where it veers left onto Springbank Lane, climbing more strenuously. Levelling out just before Springbank Farm, the lane crosses over Middlewood Way on a bridge, then inclines further to cross the Macclesfield Canal at a lovely wooded stone bridge. The long, straight lane continues through Ryles Wood to a junction with an old Cheshire fingerpost. Turn left onto Brookledge Lane, which climbs a short hill past the sign denoting the boundary of Pott Shrigley parish.
Turn left again before the corner, onto the quieter Shrigley Road with a roller coaster dip and rise leading to a long, tree-lined lane with views back over the fields. Around a bend beside Blakehey Wood is an unusual green "tin tabernacle" structure, now a small café but originally erected in 1887 for Queen Victoria's Golden Jubilee and then used as a community library. Just beyond here is a little hamlet of houses at Unwinpool and the keenest climb in the route, up Harrop Brow. Though short, it's immediately very sharp, requiring a shift right down to lowest gear. At Higher House Farm, the climb is immediately rewarded with a far-reaching view back over Cheshire and Greater Manchester for the next fairly level 400 metres (¼ mile) of the road, below The Oakridge. From the highest point, the edge of Lyme Park can just been with the skyscrapers of Manchester in the distance and a far-off horizon touching the Mersey.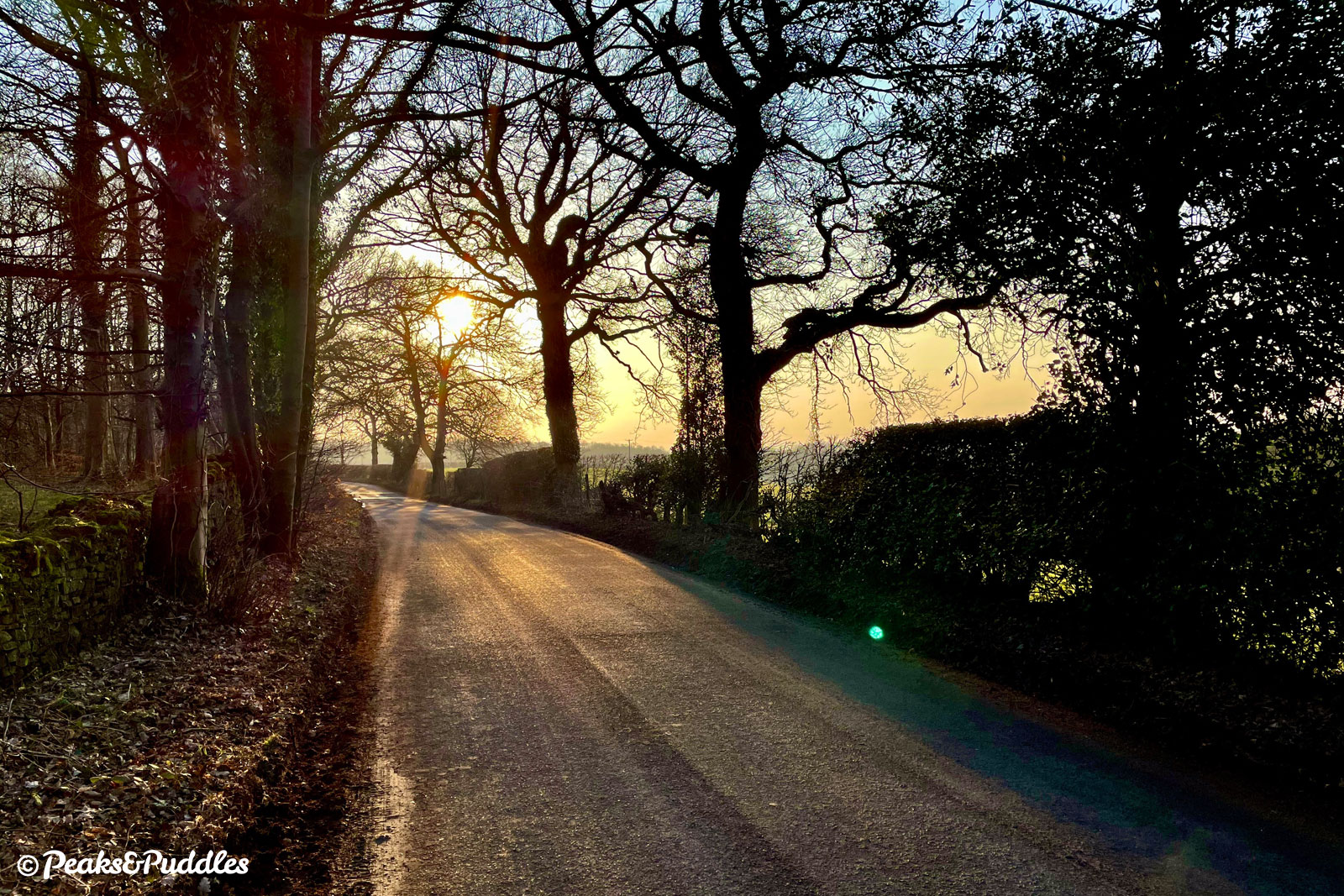 Shrigley Road now tumbles down past Green Lane Methodist Church (keep left) and and turns beside a popular parking spot for Lyme to follow the brook flowing down from its moors. Red Acre Aqueduct crosses as the road dips suddenly underneath, feeling more like a tunnel than a bridge, carrying the Macclesfield Canal above. A pleasant, wide lane continues, passing a scattering of houses before coming close back to Middlewood Way around a long right-hand bend at a former post office. The trail can be rejoined at-level here through narrow barriers but for a longer diversion, continue straight ahead.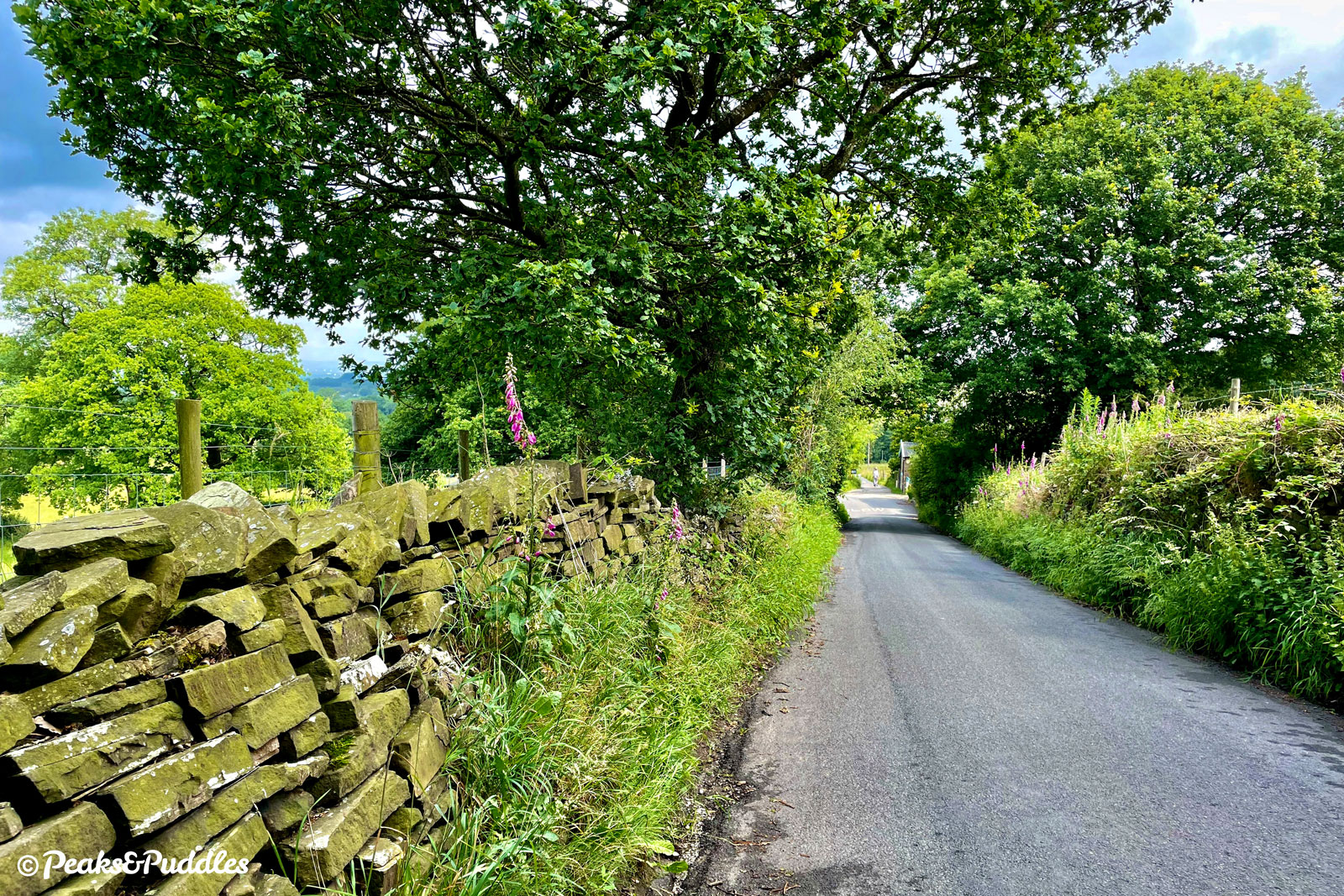 After the sharp bend over the trail, turn right into Shrigley Road North, lined with redbrick houses. Continue ahead until you see the grand Boar's Head pub, then turn right onto Lyme Road to cross the trail on a bridge again. Known as Nelson Pit, this area was once a colliery, one of many in the Poynton area, rich with coal seams, where miners worked 120 metres (400 ft) underground. There's now a small visitor centre. For a pleasant diversion to the Macclesfield Canal, continue just 150 metres up Lyme Road, where you'll find a marina, small shop and benches perfect for "gongoozling" (watching) the narrowboats, which once helped transport the coal.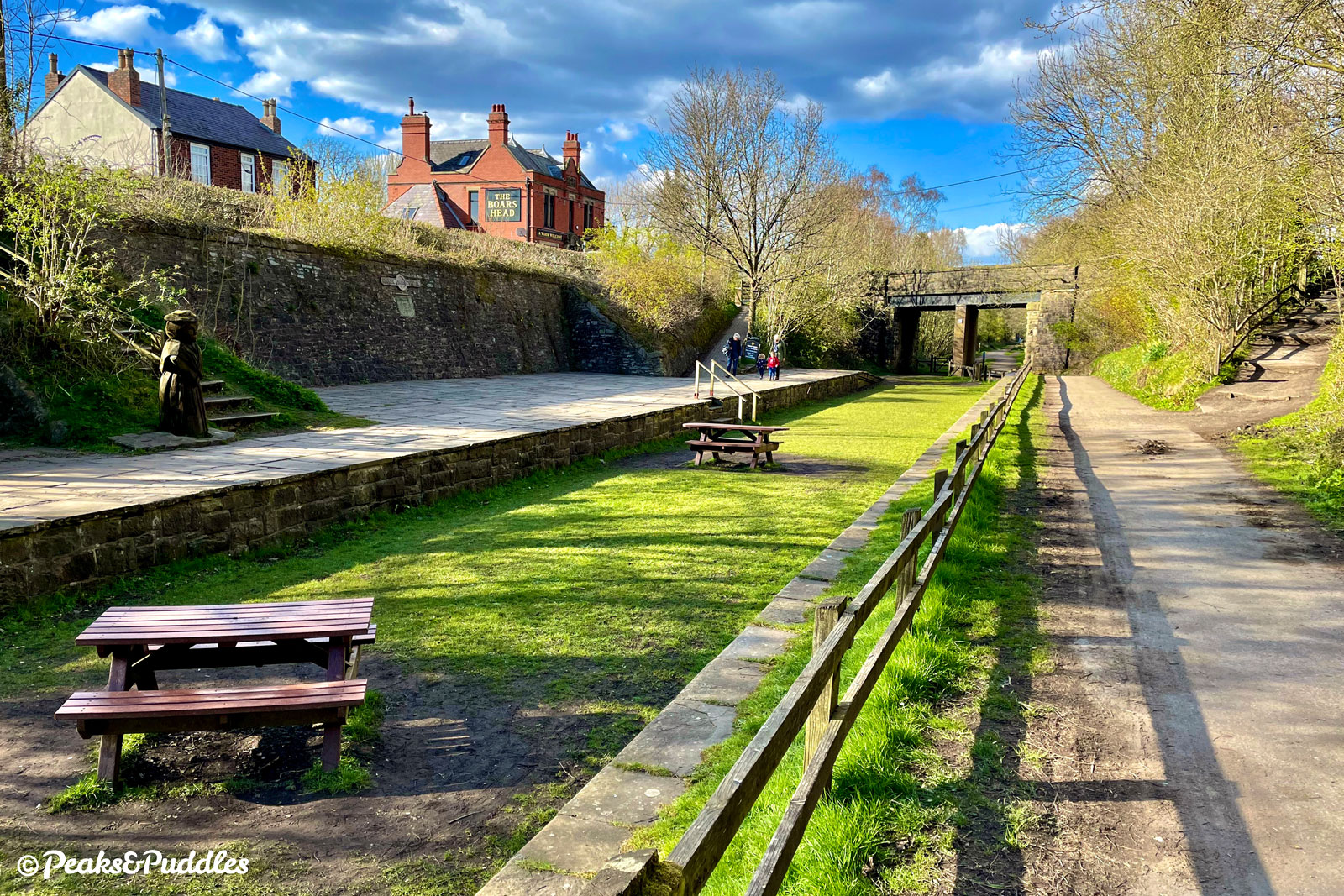 Rejoin Middlewood Way using the wider steps to the side of the Lyme Road bridge, opposite the car park. At the bottom, on the old platform of Higher Poynton station, turn right and continue back to the start of the ride.
Other route options
Return loop via Lyme — Where the route descends past Green Lane Methodist Church at the start of Step 6, veering right takes you to the west gate of the National Trust's Lyme Park and a traffic-free, if bumpy and uphill, link into the park. Two different routes can then be followed from there back to the start of Middlewood Way: either the gentler Lyme Loop weaving back along the Peak Forest Canal, or the only slightly more challenging Lyme Lanes climbing back over Marple Ridge. (Both depend on Lyme's gates being open, so do check opening hours.)
Found this guide helpful?
Please consider chipping in the price of a coffee to help pay the bills and support my work. It only takes a few seconds and you'll get access to exclusive supporter-only pages in return.
Gallery
See the Middlewood Way cycle route guide for more photos from this section of the route.
The all-important disclaimer: While great care and attention has been put into gathering these routes, ensuring details are accurate and determining their suitability, all information should be used as a guide only and is not a replacement for using your own judgement or research when setting out on new adventures. Peaks & Puddles cannot be held responsible for any problems you may encounter.
Always ensure your equipment is safe for use and that you are well prepared, carrying everything necessary including access to a good map. Follow the Highway Code and the Countryside Code at all times. Respect the landscape, the wildlife and the people you encounter. But most importantly, have fun!