Stockport's 1952 Olympic medal winning cyclist gives his name to the Alan Newton Way, a route linking the town centre and Bredbury out to Marple and Romiley via four miles of relatively new, off-road paths and some quiet, old farm lanes in the lower Goyt valley.
Route details
Distance 9.2 miles (14.8 km)
Elevation gain 336 ft (102 m)
Time allow 1 hour
Difficulty Gentle
Terrain Lanes, Off-Road Trails
Suited to Gravel Bike Hybrid Bike Mountain Bike
Suitability notes Mostly good surface but some bumpy and potholed farm tracks. Non-Standard Cycles: barriers at Marple end restrictive, as may be the steep gradient there.
It was only on 2nd July 2016 that this trail was officially named. Following a burst of money to install signage, and with Alan Newton himself in attendance, Stockport Council officially christened the route that had in effect been created four years previously, when the Olympic medal winning cyclist had opened the Chadkirk Bridge.
Part of a nationwide project by Sustrans dubbed Connect2, the bridge received funding alongside around 140 other walking and cycling schemes across the country designed to make new connections between disconnected places. Here, those places were the suburban towns of Marple and Romiley, occupying opposing sides of the River Goyt's lower valley.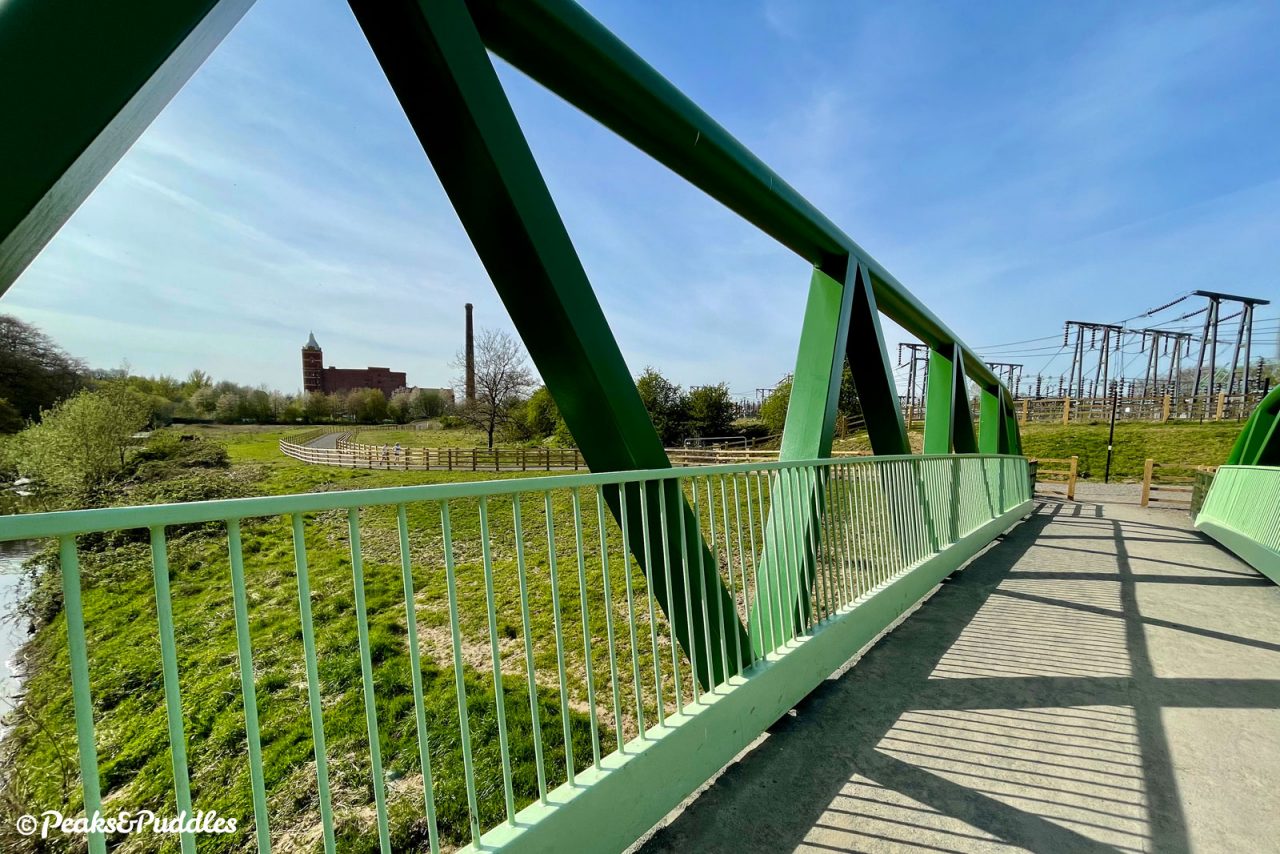 The council eyed further links, though, and using bridleways along farm tracks through the valley, saw Bredbury and Stockport itself as the destination. Brand new linking paths and a second, very similar, bridge now connect the route to Woodbank Park for Offerton and via Pear Mill to Lower Bredbury and Vernon Park, where less than ideal but adequate shared foot/cycle pavements continue right into Stockport's heart.
Marple, along with Romiley, lost its rail link to Stockport in 1967 and suffers from some of the worst road congestion in the borough. This route should offer a pleasant, green bypass, yet attempts to market this route as a key commuter cycle link inward from these suburbs have been largely unsuccessful. This is due to a few factors, such as the steep hill and lengthy route out of Marple: unlit, indirect and unattractive in winter.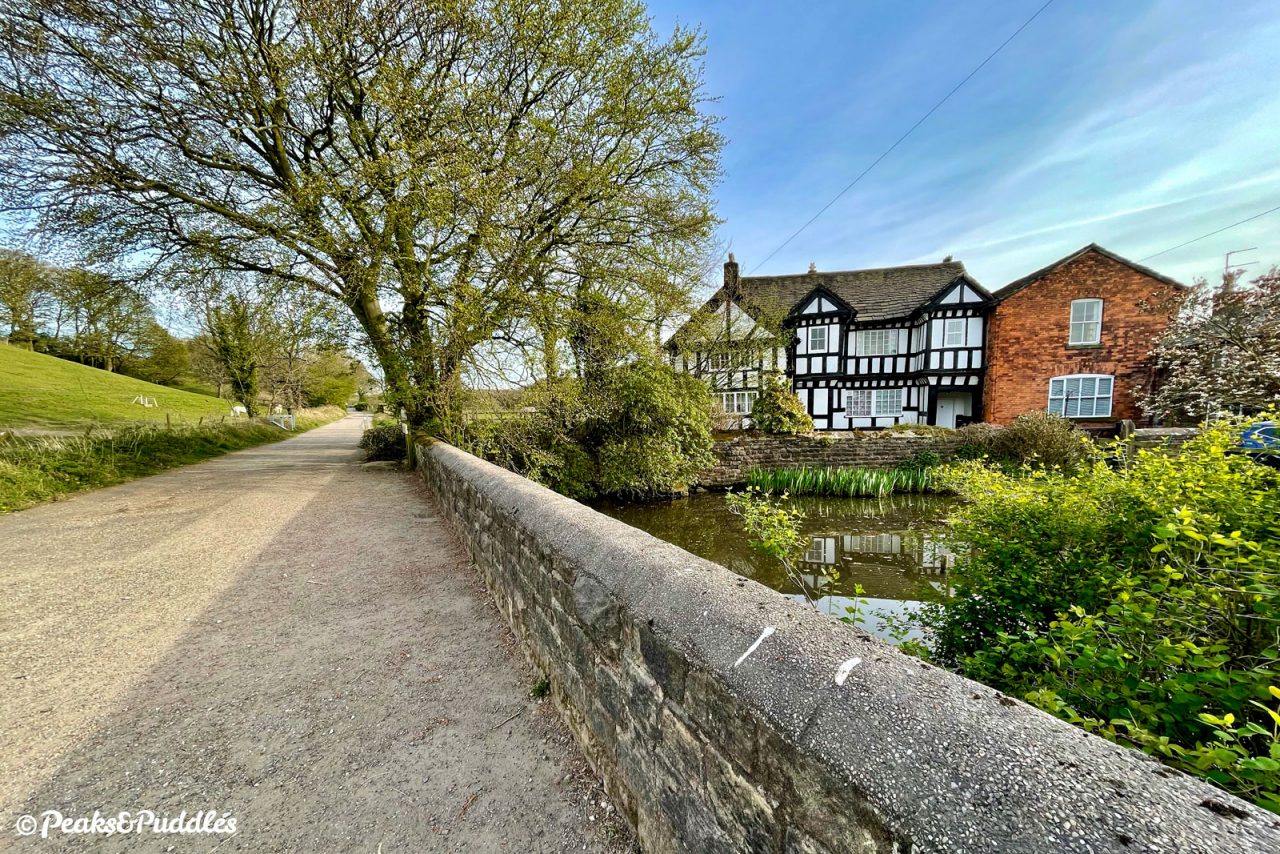 For a long time after the bridge's 2012 completion, the track along Dark Lane also remained very poor for cycling. Eventually improvements were made but, as the council only used compacted stone, potholes and puddles quickly crept back in. In summer it can be dusty and loose, in winter wet and splattery. It's fair to say the Alan Newton Way is still best seen as a very leisurely off-road link between town and country rather than a medal-winning piece of urban cycle infrastructure.
One real joy of the route, though, is to see how closely those elements of town and country can coexist. Just minutes from Stockport's concrete-filled town centre, you're in a wide valley of open fields, hedgerows and wildlife, demonstrating just how green a Metropolitan Borough can be. And yet proposals rumbled for many years to build an enormous "A6 to M60" bypass over it. So, puddles and all, never take greenspace like this for granted.
Route map
The route stats featured here are automatically generated by Komoot. For the most accurate guide, please refer to the route details above, based on actual rides recorded by Strava.
Where to start
At Lower Bredbury, the trail now begins beside Pear Mill off the B6104 Stockport Road West, connecting it to Vernon Park and the network of shared pavements in Stockport town centre itself. A crossing is being provided from Welkin Road, although the off-road route from here to Brinnington Tunnel and the Trans Pennine Trail has yet to see improvement for cycling.
Just beyond Pear Mill, a brand new bridge links over from Woodbank Park and Offerton, before the trail reaches its previous starting point at Dark Lane off Osborne Street. Useful links into the trail along the way include the steep Clapgate from Bredbury Green, the cycle track alongside Otterspool Road from Hatherlow and the startlingly steep Vale Road from Romiley.
From Marple, Middlewood Way (also part of NCN Route 55) continues right into this route thanks to shared pavements and a crossing of Stockport Road. To or from Marple Locks and the Peak Forest Canal, it's best to thread a route across the residential streets to the north of the town, such as Marple Hall Drive, The Turnpike, Bowden Lane and Norbury Drive.
By train: Rose Hill Marple station is right at the Marple end of the slightly extended route described here, with a toucan cycle crossing leading across to quiet back roads and the official start of the way at Marple Hall.
By car: There's free parking at Rose Hill Marple station or the parking bays just outside, at the start of Middlewood Way. At Bredbury, there's a small informal space for parking on Dark Lane opposite the entrance to Bredbury Hall, or a car park at Vernon Park (follow the shared path east alongside the main road, over the river).
Things to note
Although effectively an off-road signposted trail, much of the route, along Dark Lane and Mill Lane, is actually shared with occasional farm traffic and the lanes are narrow enough to make this tricky if you're unlucky to encounter something, especially when hedges are in full summer growth. A short section on Vale Road, a quiet access road, is also shared with other vehicles.
Despite being resurfaced not long before the completion of the newer Pear Mill link, parts of Dark Lane are cratered and puddled in wet weather, with a short wooded section at the eastern end often a bit splattery. Even the new Pear Mill link has a very gravelly section, though this should be upgraded to a sealed surface soon. Rather than the useful commuter route the council likes to pretend this is, bring mudguards after rain and treat it as a leisurely route only.
On Vale Road at Chadkirk, the route of the trail has a poor access barrier which previously required bikes to be lifted over a low stile or squeezed through a kissing gate. Thanks to the disappearance of the gate, it's now possible for most bikes to continue straight through, but maybe not wider non-standard cycles. Another a-frame barrier at the access onto Hilltop Drive beside Marple Hall may also present problems.
The climb from the river up into Marple is short but incredibly sharp, though grippy recycled rubber Flexipave has now thankfully replaced the previous loose gravel. Still, if you end up walking it, don't feel disheartened, it's simply not an ideal route for a cycle path at all. Going down, take it steady, especially the 180-degree blind bend.
Route stage-by-stage
From Stockport Road West, join the wide shared foot/cycleway on the left side of the access road to Pear Mill. This leads you to the start of the gravelly new linking path which cuts 90-degree bends around the edge of the imposing mill. One of the last cotton spinning mills to be built in England, in 1912, the white pear-shaped cupola atop a water tower is a local landmark. The path then darts off with the impressive green Woodbank Bridge ahead. Pass by this and instead stay on the wider gravel track, which then climbs alongside a dense line of fir trees bordering Bredbury Hall before emerging beside playing fields. Skirt around the edge and after a set of bollards, turn right.
Joining Dark Lane framed by trees, the din of traffic and the inner suburbs is suddenly left behind and you're immediately transported into a pastoral scene of rolling fields, wooded banks and farmland. This is the lower Goyt valley, where the river from all the way up in the hills above Whaley Bridge, having joined the Etherow at Compstall, enjoys its final greenery before forming the Mersey in gritty inner Stockport. The farm access track winds gently between hedgerows with a somewhat gravelly and potholed surface in places, before turning a sharp right towards Middle Farm.
Ah yes, the farm yard! This moment somehow never ceases to feel just a bit bizarre for a main cycle route, as the bridleway route passes right through the yard with a 90-degree left turn to continue onwards. If the first wide gate is closed, squeeze through the gap to the side — and watch for chickens. The track, still bumpy from farm traffic, then climbs just gently along the side of the fields with another sweeping view up the valley ahead.
The far prettier Goyt Hall Farm appears ahead as the track winds around more farming land. One of Stockport's many small halls, this Grade II listed half timbered mansion house was built around the same time as the larger Bramall Hall and was later modified with one side rebuilt in brick. Today it's a farm and stables, enjoying perfect access to this popular horse-riding route. Off to the left is Clapgate, a steep, bumpy and oddly-named track leading up the valley side to the Bredbury Green area. Passing the farm, with bluebell-dotted woods to your left, there's now a wonderful view back down the valley towards Pear Mill.
The route descends gently to run closer to the river along a wooded path, often wet after rain, leading through to Waterside Farm and Mill Lane, a tarmac farm lane which you follow between the fields on a large flat peninsula of the River Goyt. To the right as you approach the busy Otterspool Road is Stockport Hydro, a community-owned pair of hydro-electric screw turbines installed in 2012 beside the historic bridge, producing renewable energy.
The roar of the A627 nears, but is thankfully not joined. After a cobbled slope, the route now follows a well-signposted shared pavement to the left. At the toucan crossing, cross over and turn left, then as the pavement ends at a side road, turn right and carefully join Vale Road. This is the entrance to Chadkirk Country Estate, an area of meadows and woodlands in the valley around Chadkirk Chapel, a beautiful 18th Century chapel with parts dating back to the 16th Century. The tree-lined lane leads to a sharp bend. To the left, up a much narrower lane bordered by hedges are the chapel and its gardens, worth a diversion when it's open on certain weekends. The Alan Newton Way continues clearly signposted straight ahead (watch for vehicles from around the bend).
Follow the compacted stone path around a blind bend to the right and the next landmark comes into view, without which this route couldn't have existed. The Chadkirk Bridge, a mammoth green metal structure, was completed in 2012 thanks to the Sustrans Connect2 project. It usefully bridges a wide severance by the River Goyt, between Romiley and Marple, for the first time since Marple Aqueduct (opened 1800) upstream and Otterspool Bridge (built early 19th Century), which we just passed, downstream; truly a long time coming. Turn right after the bridge and enjoy a pleasant, flat amble doubling back along the river.
Now comes the route's biggest challenge. Rather than guide you gracefully up the side of the valley into Marple, the path shrieks up the hillside in a single climb, with a sharp double-back bend and its steepest point right at the top. Reaching the summit, the path remains fairly narrow while you're likely to encounter dog walkers, meandering gradually further uphill around the edge of Marple Hall School. Where the path then forks, the ruins of Marple Hall itself are immediately to your left. This is where the Alan Newton Way officially ends, but we'll continue further on National Cycle Network Route 55 to complete a link into Marple.
Turn right through the metal a-frame barrier and follow Hilltop Drive, bumpy at first then surfaced, past the high school entrance. Turn left into Claremont Avenue then continue straight ahead, being careful to give way at two junctions, into Isherwood Drive. This quickly curves right and brings you out on the main A626 Stockport Road into Marple. Assuming you want to head across to Rose Hill Marple railway station or Middlewood Way, you've two options: use the pavement cycle track and toucan crossing, or simply turn left onto the A626 then immediately right — it's not quite as intimidating as it seems thanks to a right-turn pocket. Railway Road leads you to the station and onwards onto Middlewood Way (see route guide).
To complete the Alan Newton Way out-and-back, turn and head back to where you started. Prepare the brakes for that steep hill!
Found this guide helpful?
Please consider chipping in the price of a coffee to help pay the bills and support my work. It only takes a few seconds and you'll get access to exclusive supporter-only pages in return.
Useful links
Alan Newton Way interpretation PDF – Stockport Council
A history of Alan Newton's life and sporting achievements, as featured on a display board near Marple Hall.
Chadkirk Chapel and Country Estate – Stockport Council
Visitor information and history of the chapel.
Marple Hall – The Marple Website
Local history information and excellent image galleries of the lost country house.
The all-important disclaimer: While great care and attention has been put into gathering these routes, ensuring details are accurate and determining their suitability, all information should be used as a guide only and is not a replacement for using your own judgement or research when setting out on new adventures. Peaks & Puddles cannot be held responsible for any problems you may encounter.
Always ensure your equipment is safe for use and that you are well prepared, carrying everything necessary including access to a good map. Follow the Highway Code and the Countryside Code at all times. Respect the landscape, the wildlife and the people you encounter. But most importantly, have fun!