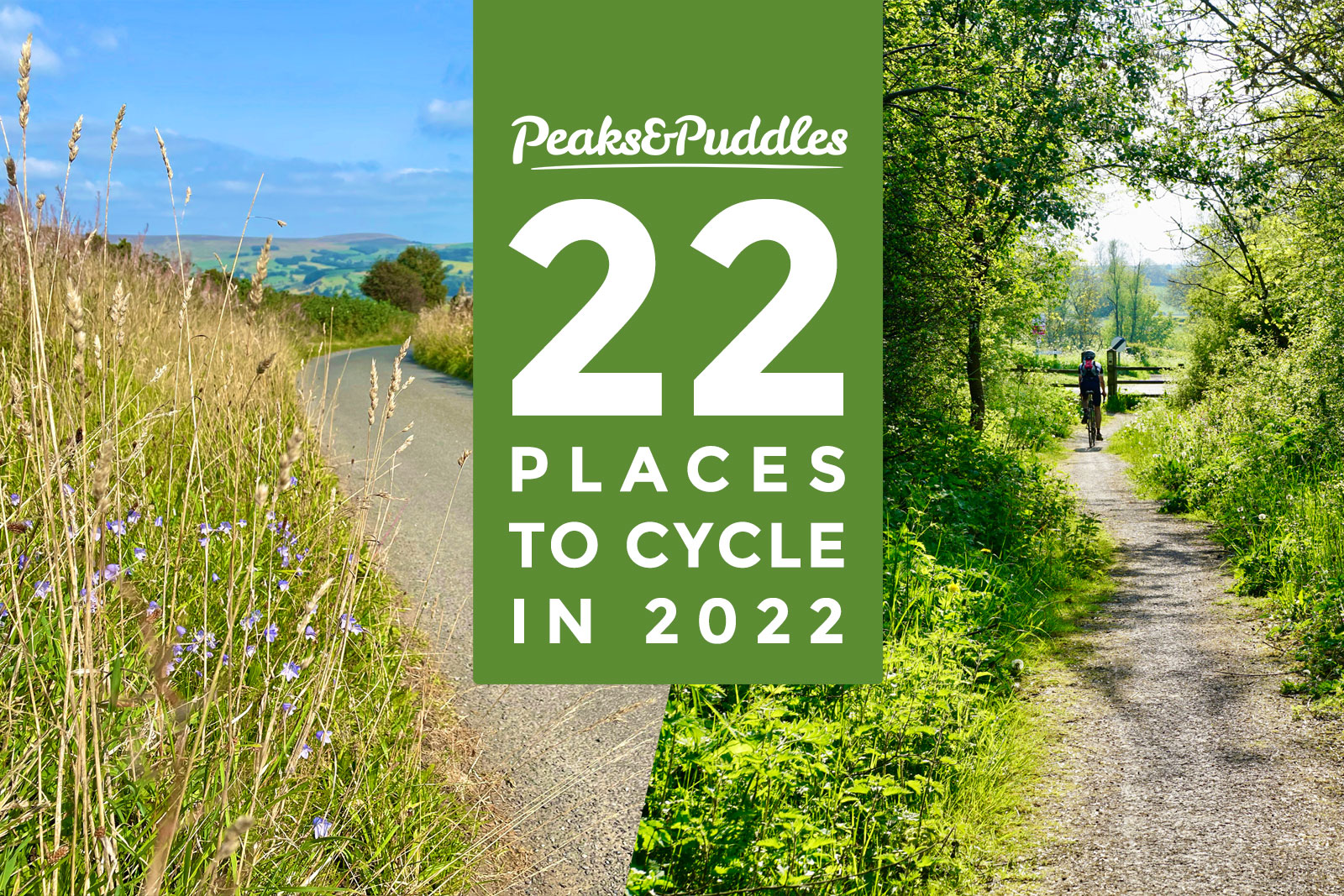 Ready for another whole year of adventures by bike in and around the western edges of the Peak District? Whether it's Derbyshire, Cheshire, Greater Manchester or all three, there are still so many cycling highlights ahead yet to be featured. But if you're looking for fresh inspiration for your 2022 cycle heat map, let's start here.
Last year I posted a daily Cycling A to Z of villages, places and landmarks on the Peaks & Puddles map. This year I'm making things easier for myself with an almost random assortment of favourites, attempting to root out a few less obvious places that make for pure pedalling joy.
These 22 lanes, paths and ways are just some of the best to be found on our doorstep. This isn't a countdown or a finite best-of, just a collection of places — of mini cycling moments — that shouldn't be missed and are always worth revisiting, in 2022 and beyond.
1. Cown Edge Rocks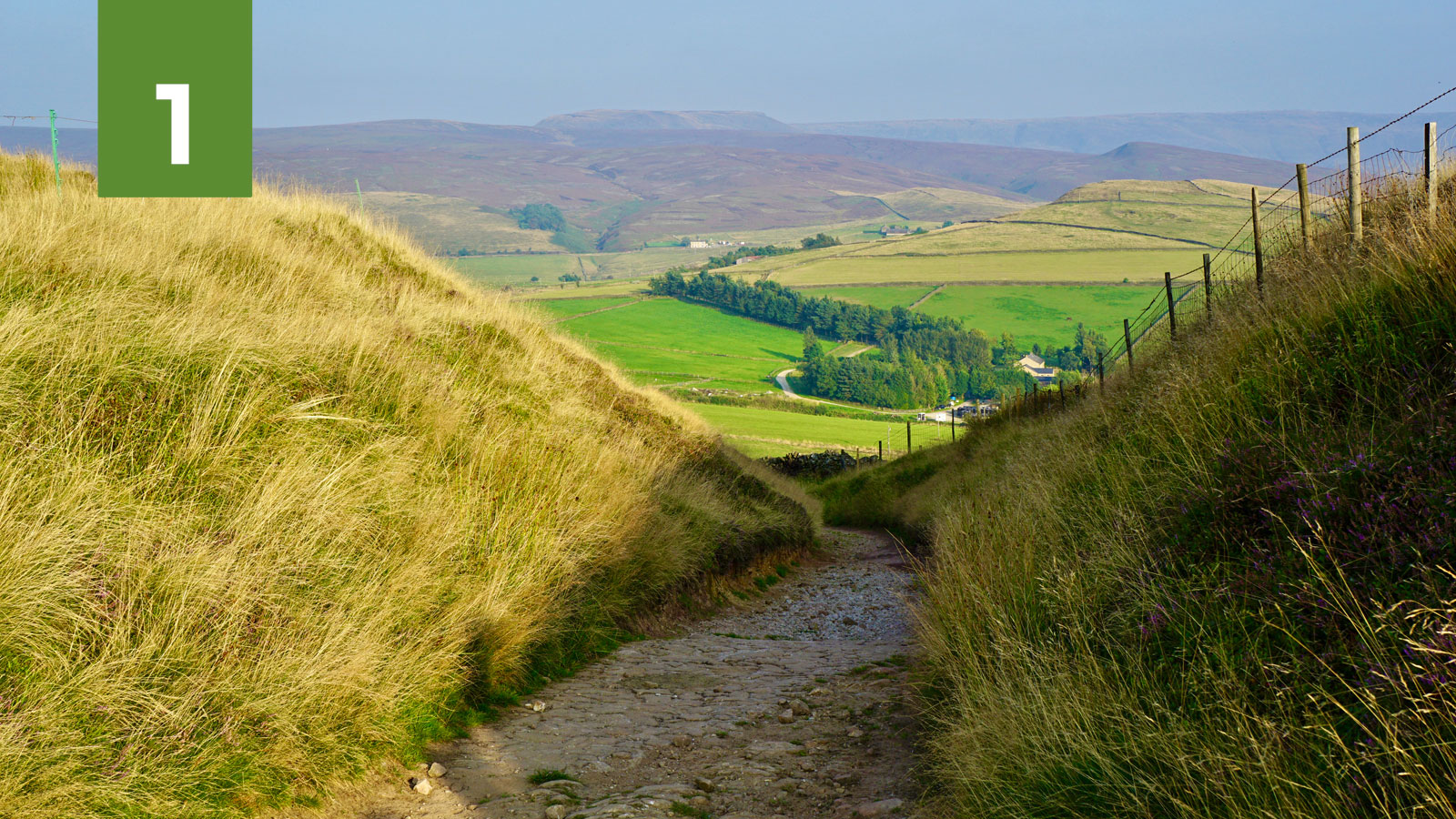 If there's one place that always makes me stop and think "I should cycle up here more often", it's Cown Edge Rocks. This long, craggy gritstone ridge bulging up out of the Greater Manchester border is bisected by the Pennine Bridleway's years-old "interim" route. Teetering between gravel and mountain bike territory, I've never quite been able to decide which is the best way to tackle it.
From Gun Road on the western side, it's a long gravelly slog to the summit, but there the most astonishing view of the Kinder Scout plateau is suddenly revealed between the sides of the chute. The short stretch over the top is actually the most technical, rutted bit, though the steeper and partly cobbled western side will give any hardy soul without suspension a thorough bashing too. Probably better for gravel riders to climb that way and enjoy the longer, smoother descent east-west then?
There are only really two good linking routes from the east, though, assuming you want to avoid Monks' Road or the A624 (yeah, you probably do): the Pennine Bridleway over Lantern Pike (bumpy! steep!) or a bridleway heading across a tricky ford from Rowarth (wet feet!). But all this makes for a quiet route that always feels wonderfully wild, and is well worth the effort.
2. Macclesfield Canal at Rams Clough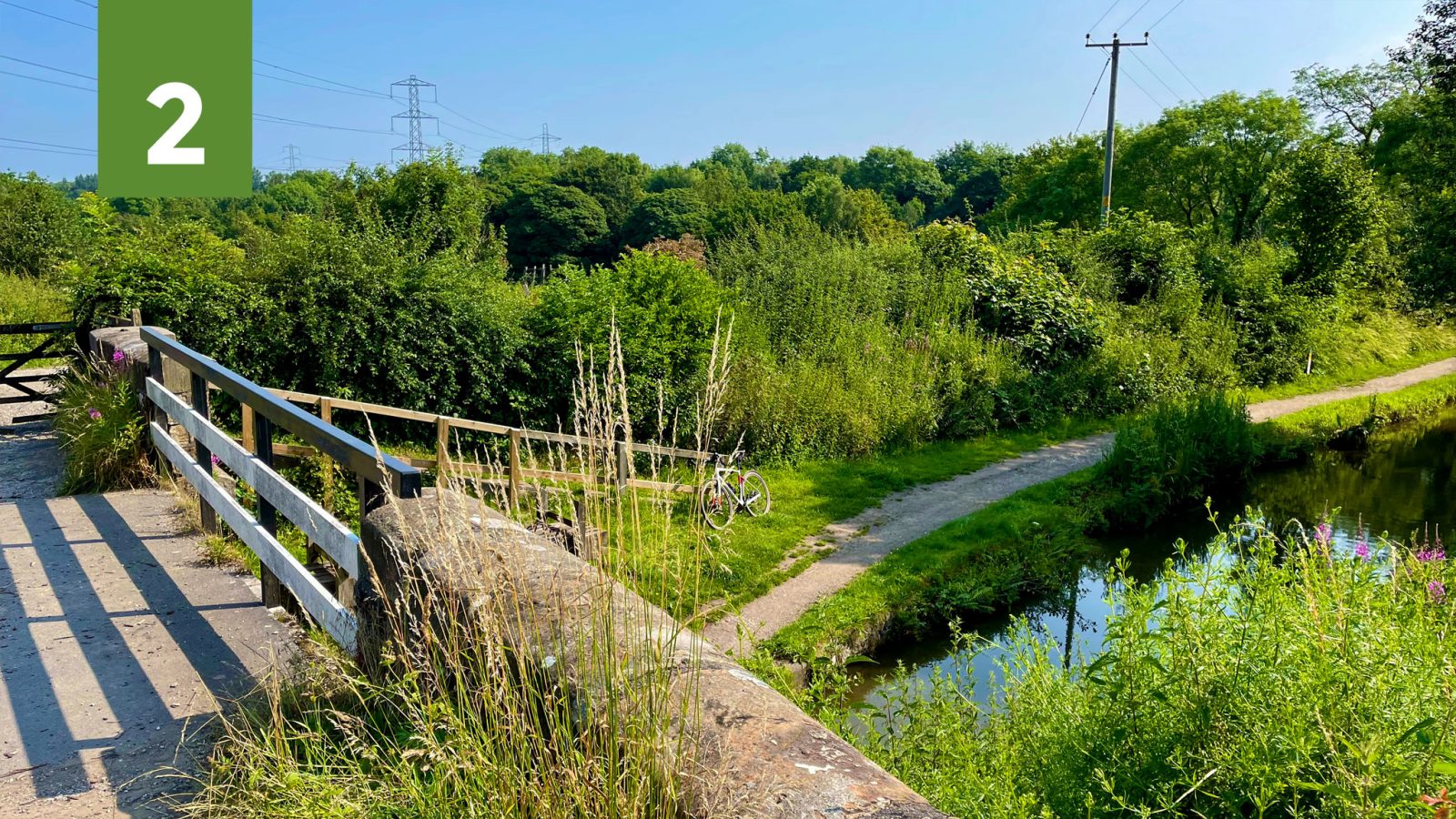 Not the Peak Forest? No! Our "other" local canal was probably my unexpected revelation of 2021. For years I've just considered it a bumpy, muddy, narrow faff and yes, it's still all of the above, but maybe that's part of the fun. Floating just above the Cheshire plain, not far from civilisation, yet in places like Rams Clough near Wood Lanes feeling a world away from anywhere.
It wasn't actually a bike that (re-) opened my eyes to this beautiful waterway but a kayak, paddling the magical section east of Lyme Park's moors, with views up to the isolated Paddock Cottage. As if the usual canal wildflowers and wildlife weren't enough nourishment for the soul, in one of the wooded brooks we chanced upon a young deer who'd come down for a drink.
Returning by bike early one morning in mid-summer, I found the towpath to myself and bobbled along joyously behind the meadowsweet and reeds which now towered metres-high along the bank. Rather than the mountain bike with bars wider than the towpath I'd ridden there in years gone by, a gravel bike, with its compact drop bars but capable tyres, felt pitch perfect. That said, in winter it's quite likely all a quagmire, so don't rush out — but wait for a dry week in spring, early dawn or dusk, and it's the loveliest slow adventure. (Failing that, get a kayak.)
3. Axe Edge Moor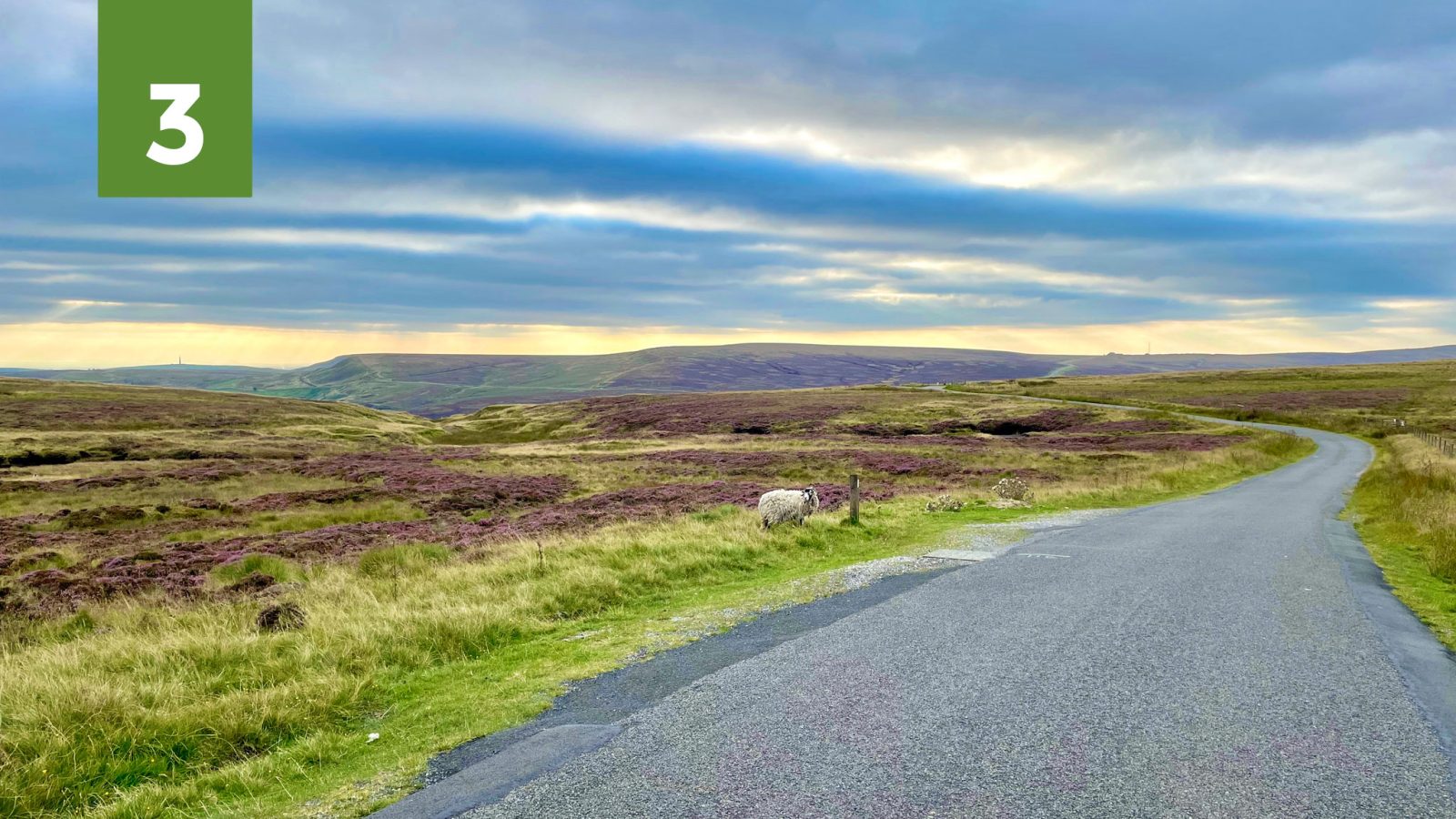 Go right up the Goyt valley and keep on going. Crossing straight over the Cat and Fiddle road, an easy zig-zag across the A54 leads onto a deserted strip of tarmac stretched across the moor. Feeling more like the edge of the world, here you can look over the point where the borders of Cheshire, Derbyshire and Staffordshire meet, spot the Cat & Fiddle inn and the Sutton Common transmitter.
But the best is beyond the Edge. Continue up and around the desolate moor to drop over across the A53 Leek road into one of the most dramatic corners of the Peak District. Here the spiny "dragon's back" lives and empty lanes lead to the National Park's best trails and villages.
It's still a complete pain that the Goyt valley road is one-way only (even for bikes), meaning there's no easy up-and-down and instead a long, long loop back down to the beginning — but if you're up for a grand Peak adventure, go up and keep on going.
4. Lyme Park track to East Lodge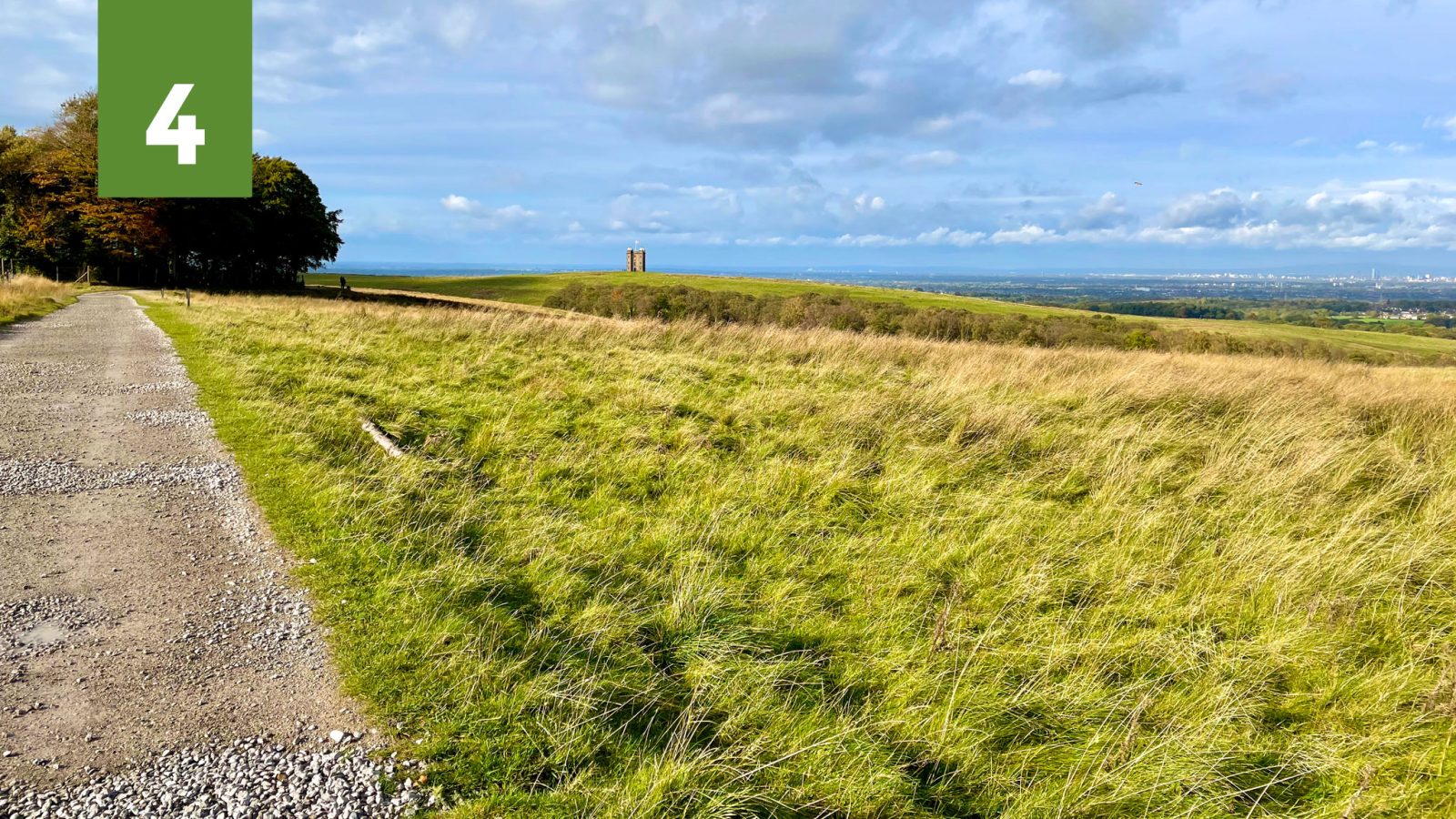 While Cage Hill and the track through Knightslow Wood to Bowstonegate officially (and rather unfairly) off limits to people on bikes, there is still one place with a glorious panorama to cycle in Lyme Park. (And it's featured in the rolling backdrop on the homepage no less.)
Passing the Grade I listed hall, continue uphill on the tarmac track past the old stables, with the Cage in the distance on your left. The way soon turns to a great gravel track and heads out across the moor side. To the left, stunning views from Kinder Scout to the Lancashire hills and right out over Cheshire. On a crisp, clear day, the volume and visible distance of the vista is hard to even take in. Right above the off-limits area reserved as a deer sanctuary, it's also the best place to regularly see the herd.
Approaching East Lodge, you could continue over Bollinhurst Bridge to loop back into Disley via the bouncy Green Lane. Sadly since the (2m+ wide) track in between is only classified as a "footpath" it's not a legit route and I feel I probably shouldn't feature it on the website (never mind that it's literally glowing on the Strava Heatmap). Welcome to the frustrations of cycle access in this corner of Cheshire East.
Found this post helpful?
Please consider chipping in the price of a coffee to help pay the bills and support my work. It only takes a few seconds and you'll get access to exclusive supporter-only pages in return.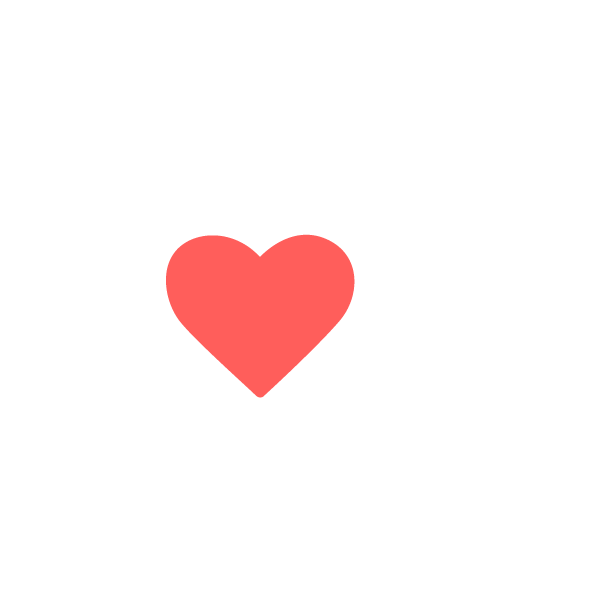 Buy me a coffee
5. Valehouse Reservoir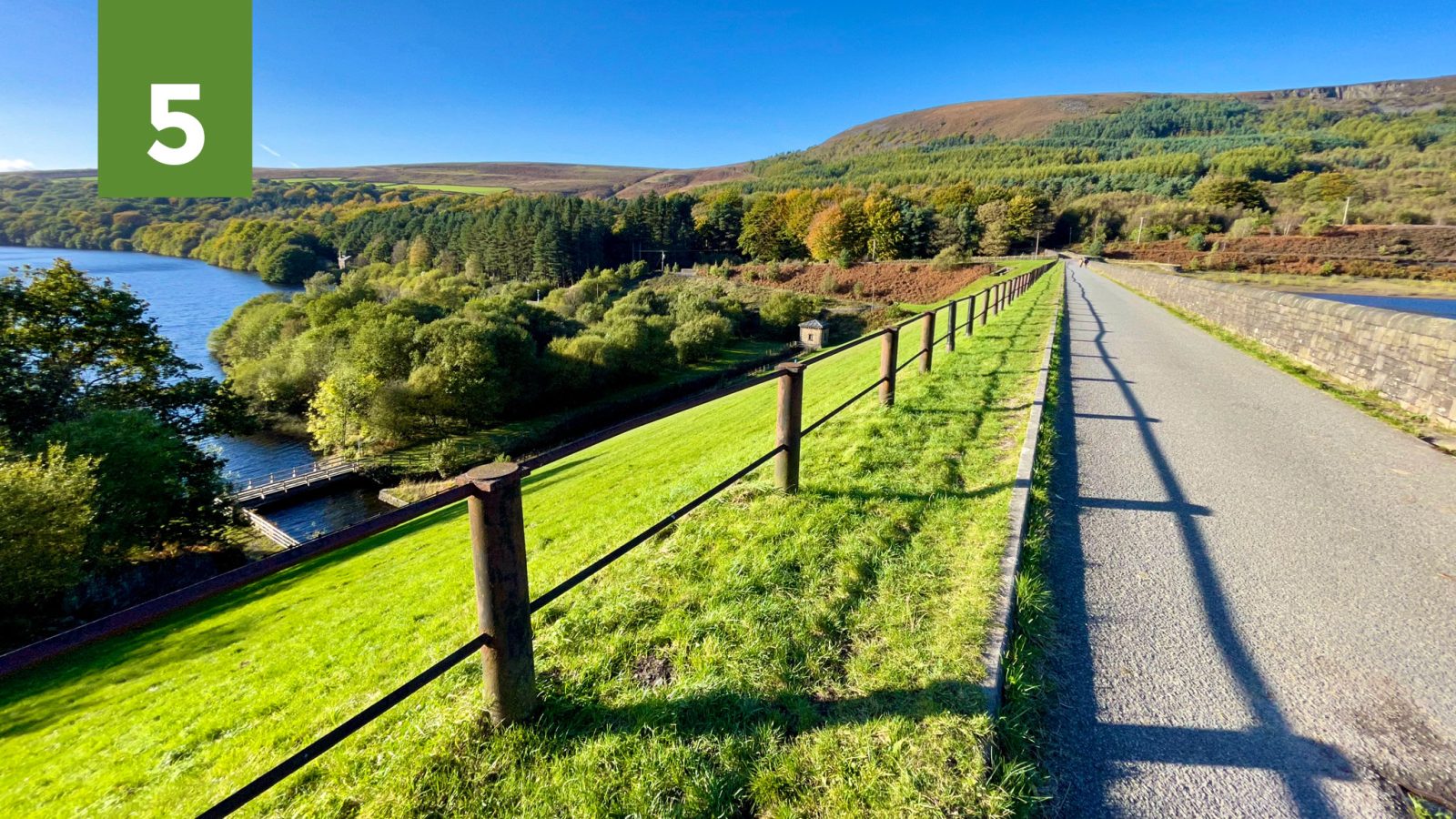 The Longdendale Trail from Hadfield to Woodhead isn't the only way to see the spectacular 10 km chain of five reservoirs which supply water to Manchester from the upper valley of the Etherow. Along three of the reservoirs there are alternative trails on the northern shore. Not registered rights of way, these are barely visible as anything on an OS map, but the water company allows open permissive access on foot and bike.
The best, marked only as "dismantled railway" on OS, is north of Valehouse Reservoir. It's tarmac and wide, with — miracle of miracles — no access barriers. A fun (but still fairly steep) zig-zag slope takes you up to the spectacular Rhodeswood Dam, which can also be cycled across. For something more adventurous and bumpy, another permissive track dips across the forgotten hillside north of Rhodeswood Reservoir.
Completed in 1869, beneath the 1.6 million tonnes of water in Valehouse Reservoir lies the remains of the village itself. Once home to over 600 people in 100 cottages, life centred around Vale House Mill, whose chimney bizarrely continued to tower above the reservoir as late as 1887. In that year it was finally demolished, supposedly over fears for the stability of trains on the Woodhead railway line opposite… when passengers all crowded over to one side for a glimpse!
6. Hocker Lane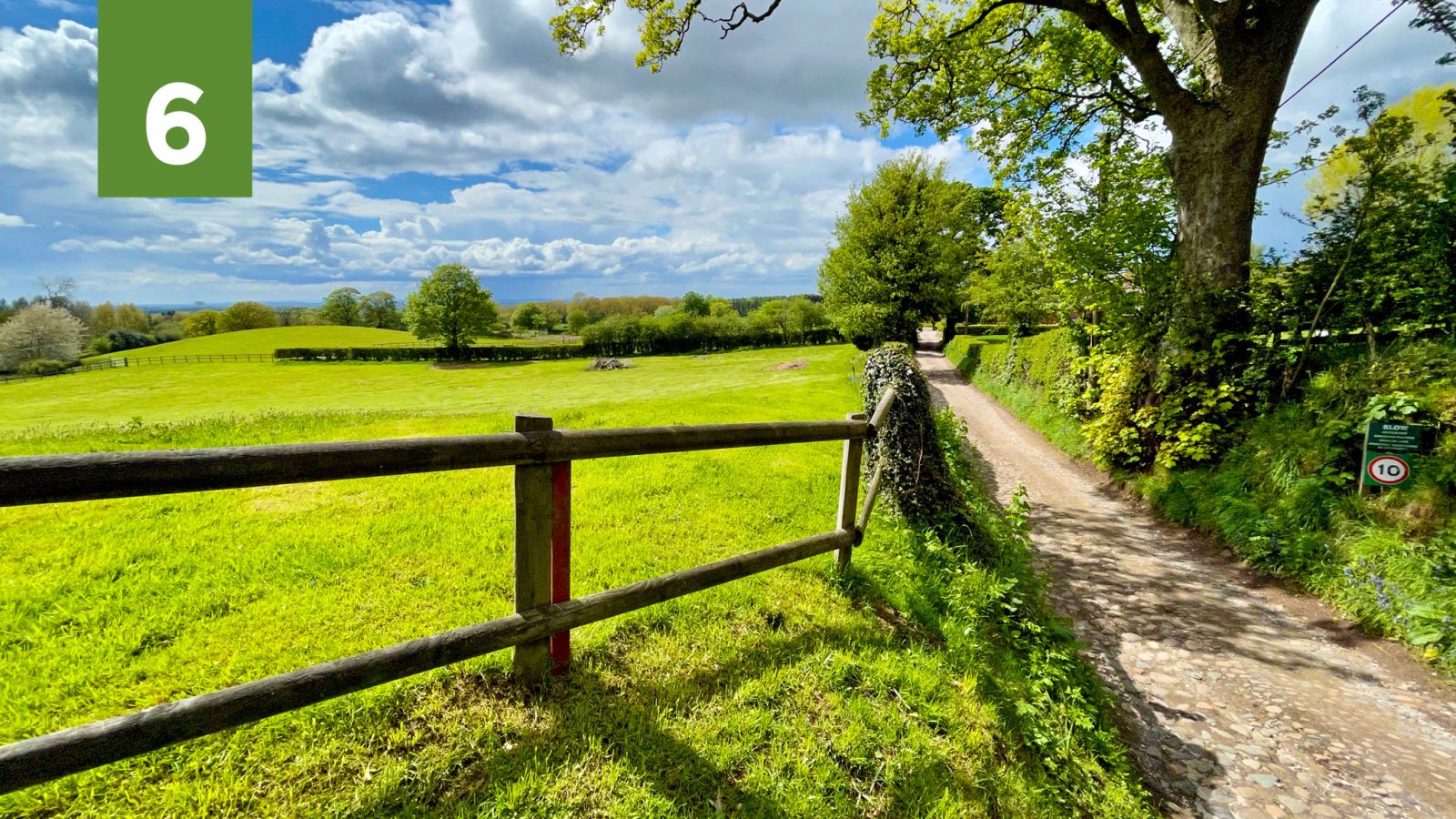 A gem of a Cheshire lane and more than just a memorable diversion, cutting a useful route from popular cycling lanes west of Macclesfield to south of Alderley Edge. Hocker Lane has it all: quaint cottages, rolling farmland, bluebell woods.
From east to west, it starts as a squeeze of a tarmac lane through through tight hedgerows, then becomes a bridleway and coasts gently downhill with easy-going gravel bumps. (Pop your head over the verge to spot Jodrell Bank in the distance.) One final, exceptional flourish comes where it meets Bradford Lane and a long straight of uneven cobbles bounces you to the finish. Even if you're a cobble queen, it's almost too much.
Meeting the hostile Congleton Road, take a right for a small, swift descent to a left turn onto Welsh Row, depositing you back onto the signposted Cheshire Cycleway.
7. Brinnington Tunnel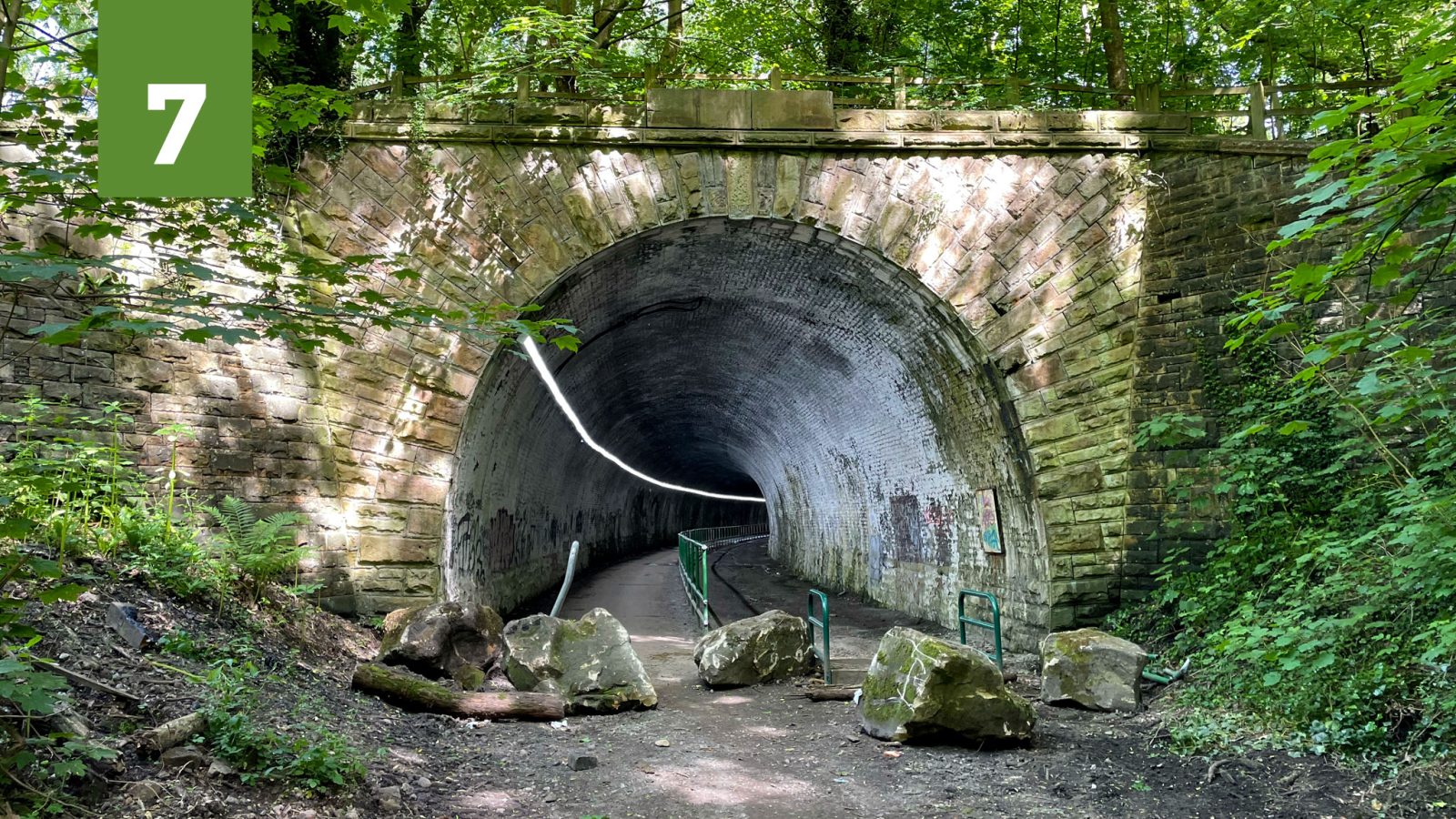 While last year eventually led me to largely zone out of the relentless and often soul-crushing social media din (it's ok, I don't think anyone noticed), it does have its positives. One, totally unexpected, has been to actually get messages and photos from people out trying these 26 cycle route guides completed so far.
Obviously that's the point — hoping that more people will get out on their bikes, find new places to ride and bolster user numbers — but I'm not sure I ever really thought it'd happen. Brilliant, but oddly scary, and a responsibility I take very seriously when thinking where I might be sending people.
Anyway, the point here is that it seems quite a few people didn't know the ghostly Brinnington Tunnel exists. Like a slice of the Monsal Trail with a side order of urban grit, it's now a useful (ish) link from Stockport's completed Alan Newton Way onto the Trans Pennine Trail — though awaiting its own upgrade.
Super-bright LED lighting has helped, but the apocalyptic boulders at either end, graffiti and unnecessary central barrier can give an uneasy feeling that's a world away from the safety of Millers Dale — even if it was once joined as part of the same railway line. Ironically it's one place I hesitated on for a while, wondering if I should recommend it. What a route like this often needs, though, is simply more people riding it.
8. Lesser Lane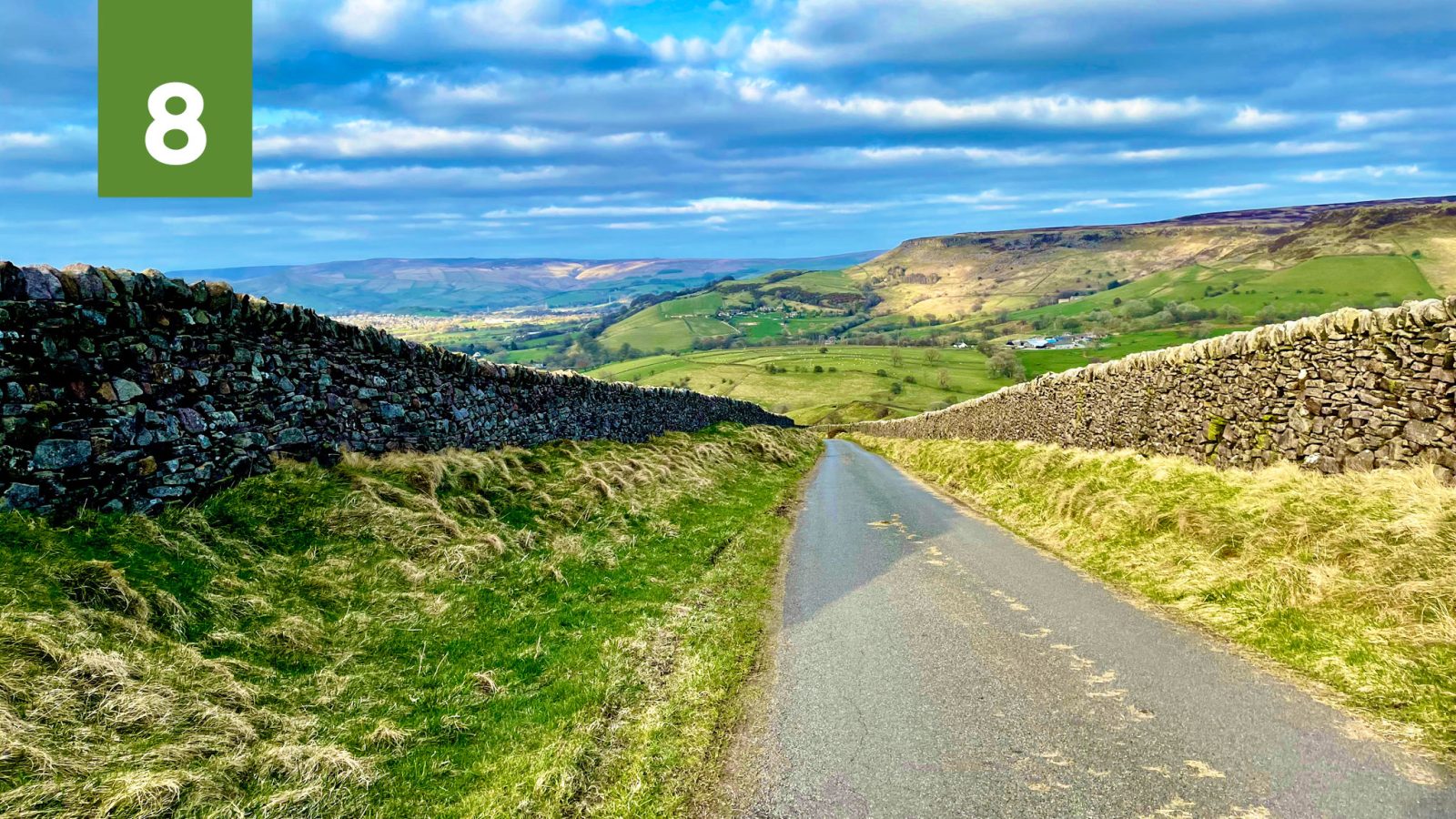 Not one of the High Peak's lesser cycling challenges, this almost secret route out of Combs village near Chapel-en-le-Frith turns a corner then rages up the side of a ridge north of the monstrous Combs Moss plateau. It's never failed to turn me into a gasping, sweating wreck, and yet it's worth every pedal turn.
From the top, a right turn takes you into a dip then up through the quarried ridge top. This marvellous Old Road (featured in last year's A to Z) then makes a gorgeous, long descent towards Whaley Bridge with views over the Goyt Valley.
Reversing the whole route, Lesser Lane becomes not the sweaty chain hill to the top of The Big One but the gasping, breath-snatching descent. With brooding Combs Moss to the right and Kinder Scout straight ahead on a clear day, it makes a first teasing drop then takes the full plunge to the valley floor, as your brake pads scream.
9. Long Dale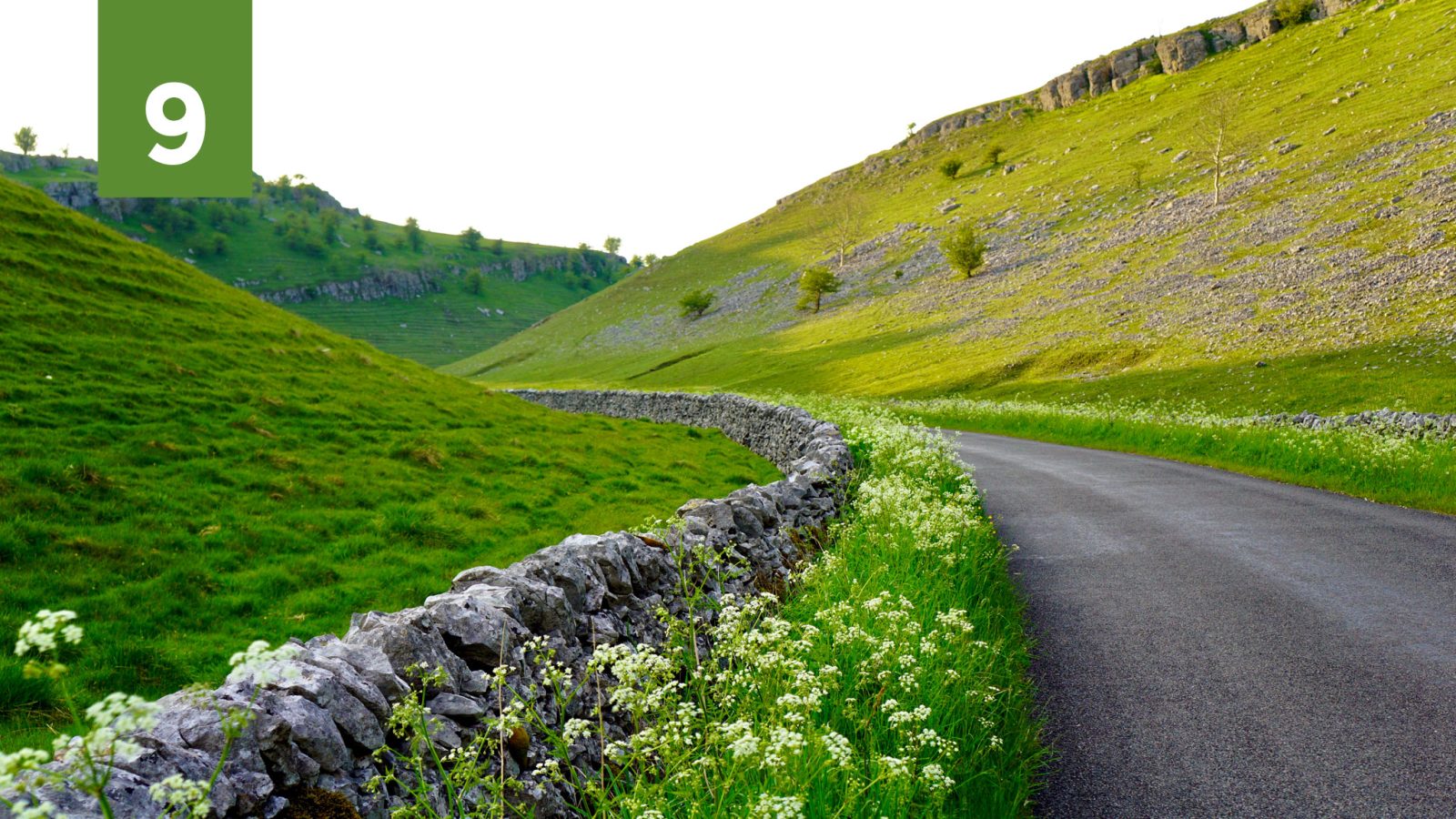 "Where is everyone?" might cross your mind as you gently pull yourself up the seemingly never-ending limestone trough known as Long Dale. Perhaps everyone googled it and ended up at the more well-known, grassy Long Dale over near Elton? Or rather, it's the A515 and Tissington Trail running parallel nearby that have mopped up most of the traffic, making this is rare moment of both beauty and tranquility in the National Park.
Cut into the landscape north east of Hartington, it's a bit (emphasis on the bit) like someone took Winnats Pass, stamped on it and stretched it out. A rare beast that's well surfaced, pleasantly wide and not too steep, the five mile incline all the way to just south of Earl Sterndale offers a dreamy gradient to cut into all the way, though can be windy near the top.
Over the lower section featured in the Biggin and the Big Long Dale route, it feels fantastically dramatic but rises only 230 ft (70 metres) over about three miles. That's the same as a climb up Marple Locks but over twice the distance. If you've officially "done" the trails and itching to find enjoyable Peak District roads branching off them, this is absolutely the best place to start.
10. Hollinwood Lane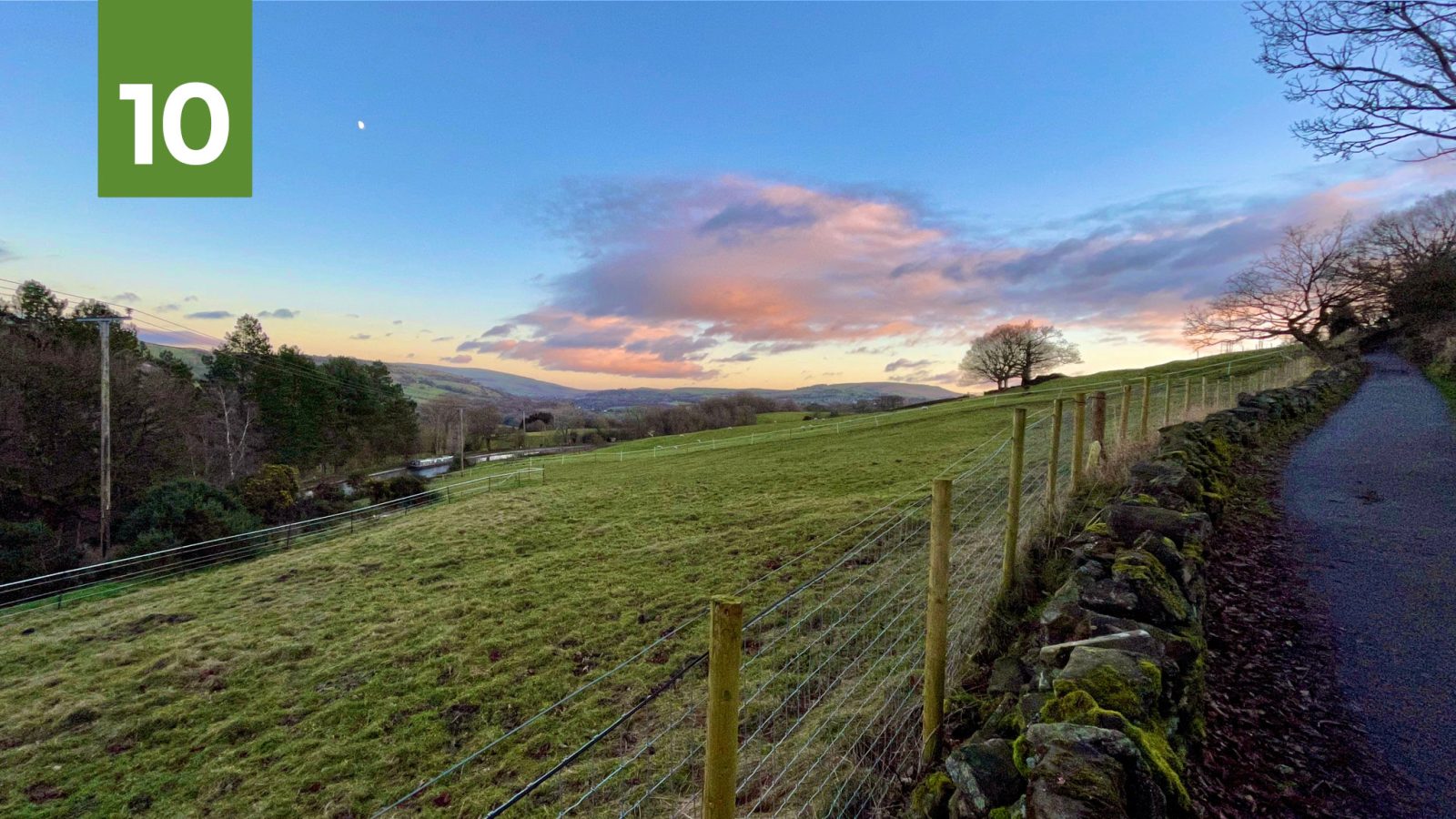 Striding up to the top of Marple Ridge from a bridge over the Peak Forest Canal, Hollinwood is a challenging little tarmac climb with a simply fabulous view along this part of the River Goyt's valley. Despite not officially beginning here, the Peak District definitely gets going in spirit at least, with Cobden Edge looming large across the valley and Disley's Black Rocks in the distance.
Dropping from the top of the ridge down into the valley, leaving Manchester behind, the feeling of a curtain being pulled back on the big, green hills ahead is splendid. While the Mills and Brows route joins the canal to head towards New Mills (spot the Swizzels factory in the distance from here), there's fun to be had by continuing downhill, too. A sheer drop beyond Strines Road leads to the scenic (but not Roman at all) Roman Bridge and the many bridleways on the opposite side.
Though it's used as access to the fields, this lane is also a remarkable example of a rural road filter. Bollards at the top, added around 30 years ago from what I can gather, cut it off as a through route for anything larger than a horse, with the end-to-end diversion by car being a full three miles. No one's asking for it to be reopened.
11. Start Lane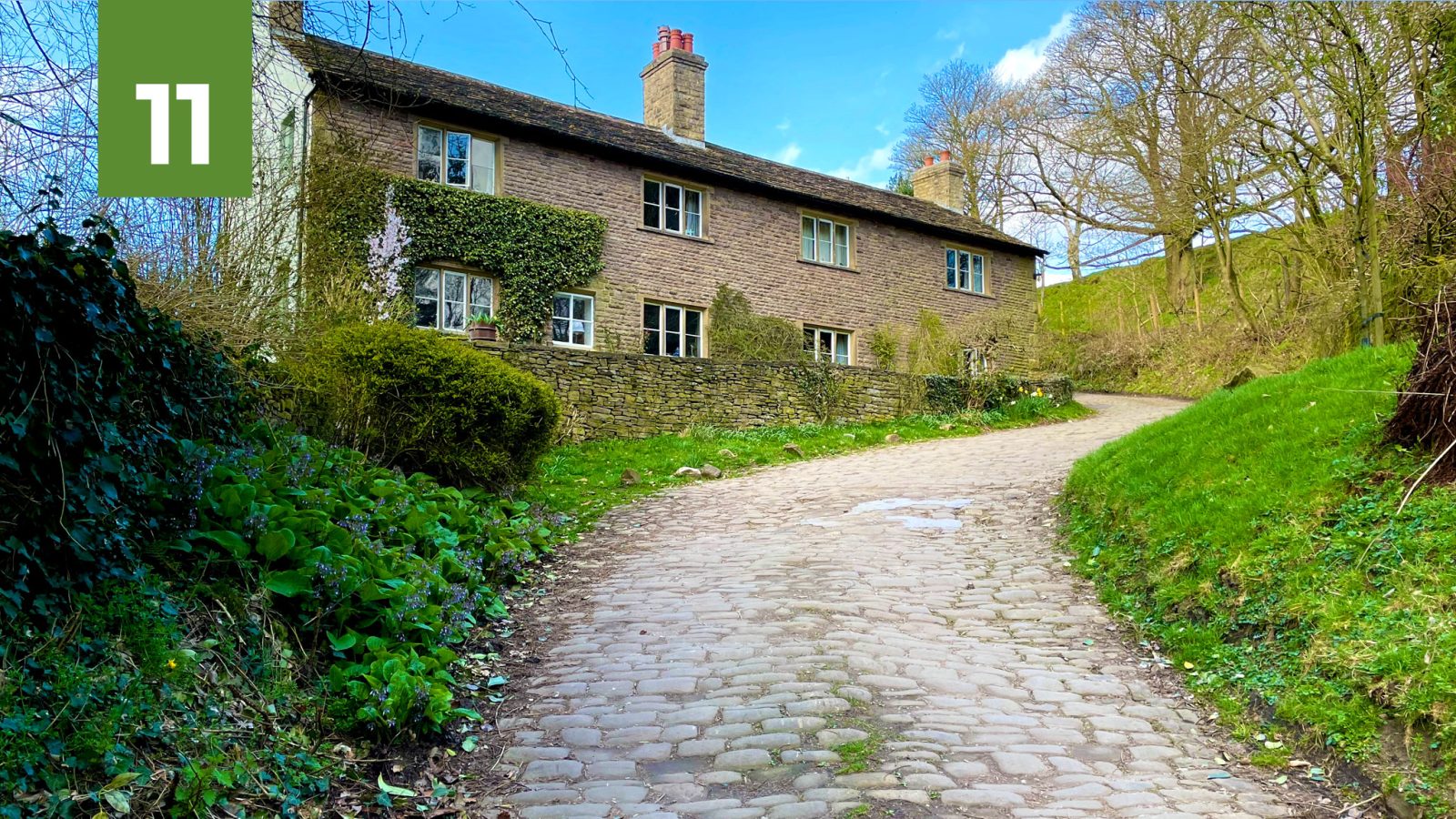 I remember when this hidden hill was just an intriguing yellow line and a couple of sharp arrows on an OS map to me. Was it a real through route? Was it rideable? The answers are yes and yes — if you're brave. While even Street View cameras haven't managed to capture the full length, it's since become an absolute favourite.
I know I'm not alone in loving this series of climbs and frighteningly narrow plummets along Todd Brook above the infamous Whaley Bridge reservoir, culminating in a truly wild cobbled climb, but I want more people to discover it too. After much deliberation about how to turn it into a more worthwhile loop, I cracked it with a cracking loop around some of the very best — but easily overlooked — hills and lanes in the central High Peak.
Hidden Hills in High Peak is a brand new route published today — the longest and most challenging route yet, and absolutely a route you won't find in any cycling guidebook — available first as a Pocket Guide and GPX here. It's also included in the Pocket Guides Collection and GPX Collection.
Continues on Page 2…