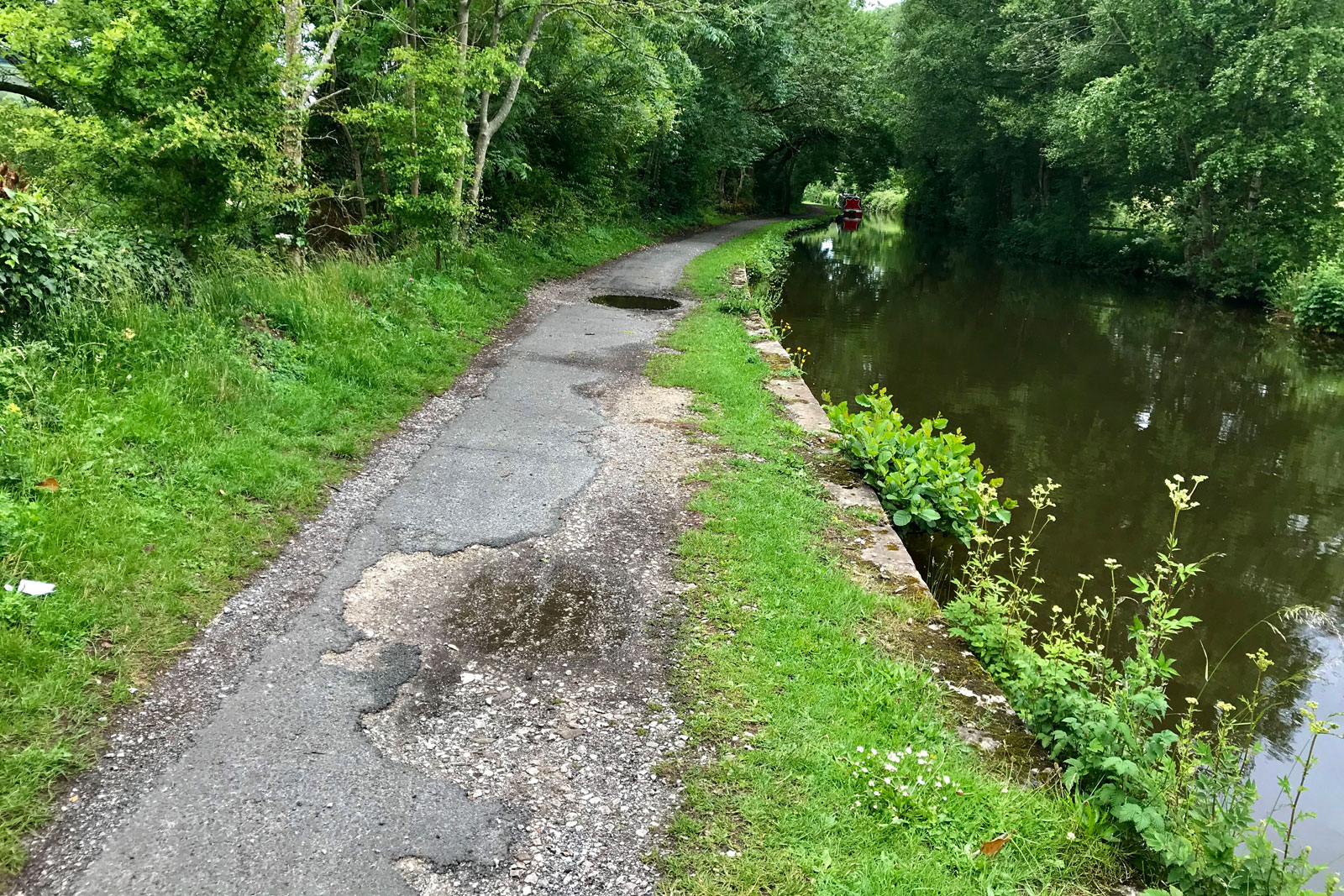 Over ten years on from its surfacing in asphalt (tarmac), the Peak Forest Canal towpath between New Mills and Whaley Bridge is crumbling. Now Derbyshire County Council have agreed — and are looking into a patching job.
Whether you're trundling home with your weekly shop or pushing a pram, the surface has definitely become far bumpier in just the last few years as the old (and probably quite thin) top surface has worn away to loose stone in numerous places, creating a horribly bumpy route.
Remarkably, after raising this with Derbyshire County Council, they've agreed with that assessment. The Rights of Way Inspector recently confirmed: "I agree the surface [of Whaley Bridge Footpath 2] is damaged along the whole length. I will arrange a patching job to improve the surface." Let's wait and see what a patching job means, but this is far more positive than I'd expected.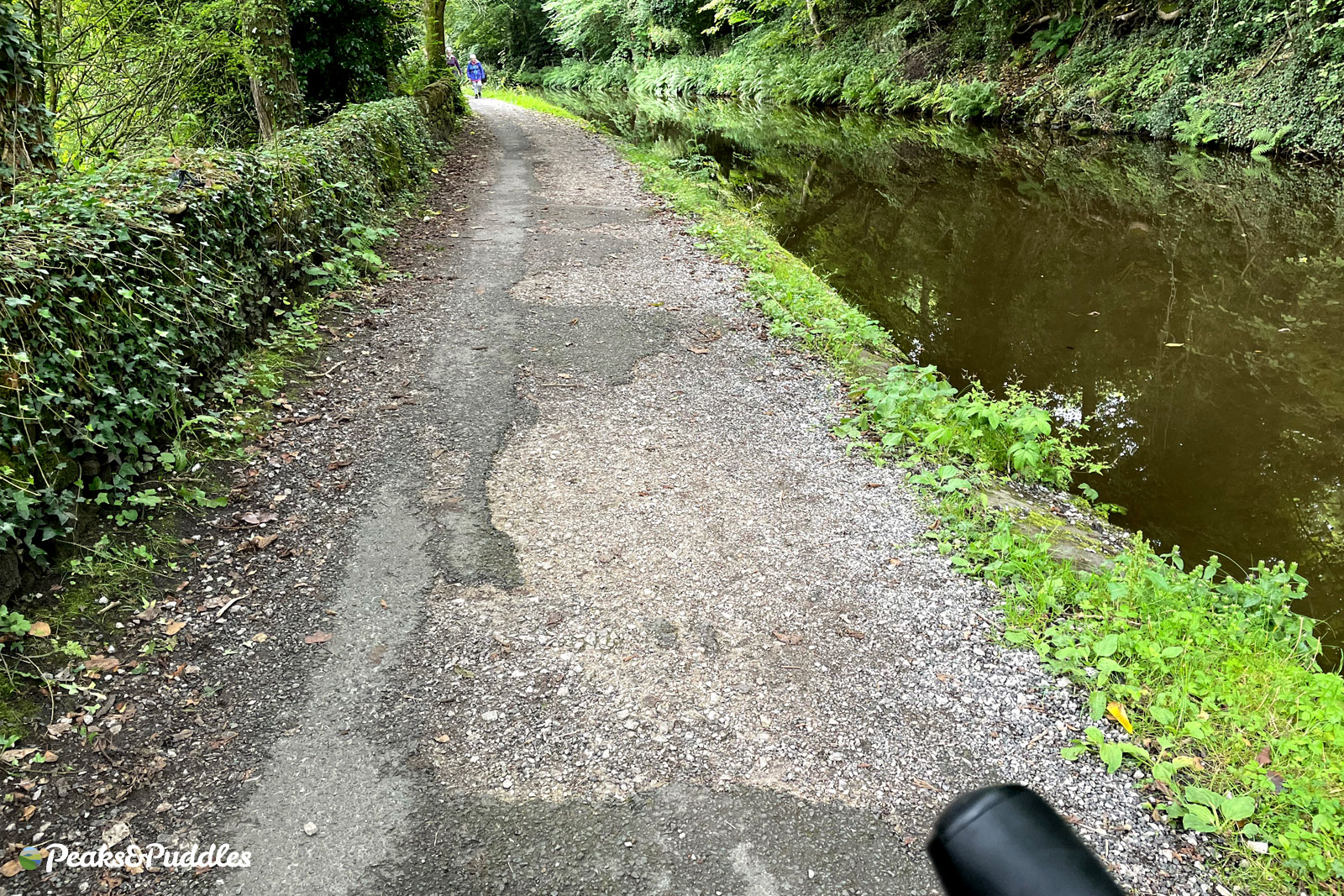 In case anyone's thinking: "isn't the Canal & River Trust responsible for towpaths?" Of course yes, but also no – not always entirely, especially where improvements are concerned. They say themselves that they can rarely fund improvement schemes and these are usually brought about by third parties like lottery funds. Where towpaths are also public rights of way (as in this case), the council is, generally, ultimately responsible for the surface.
Indeed the tarmac surface here, or what remains of it, was laid by Derbyshire County Council to improve access in around 2010, using funding secured from the European Regional Development Fund. It transformed the path from what was presumably an even narrower, muddy strip into a good 1.8 metre wide surfaced path (bloody EU, taking away our puddles, etc etc).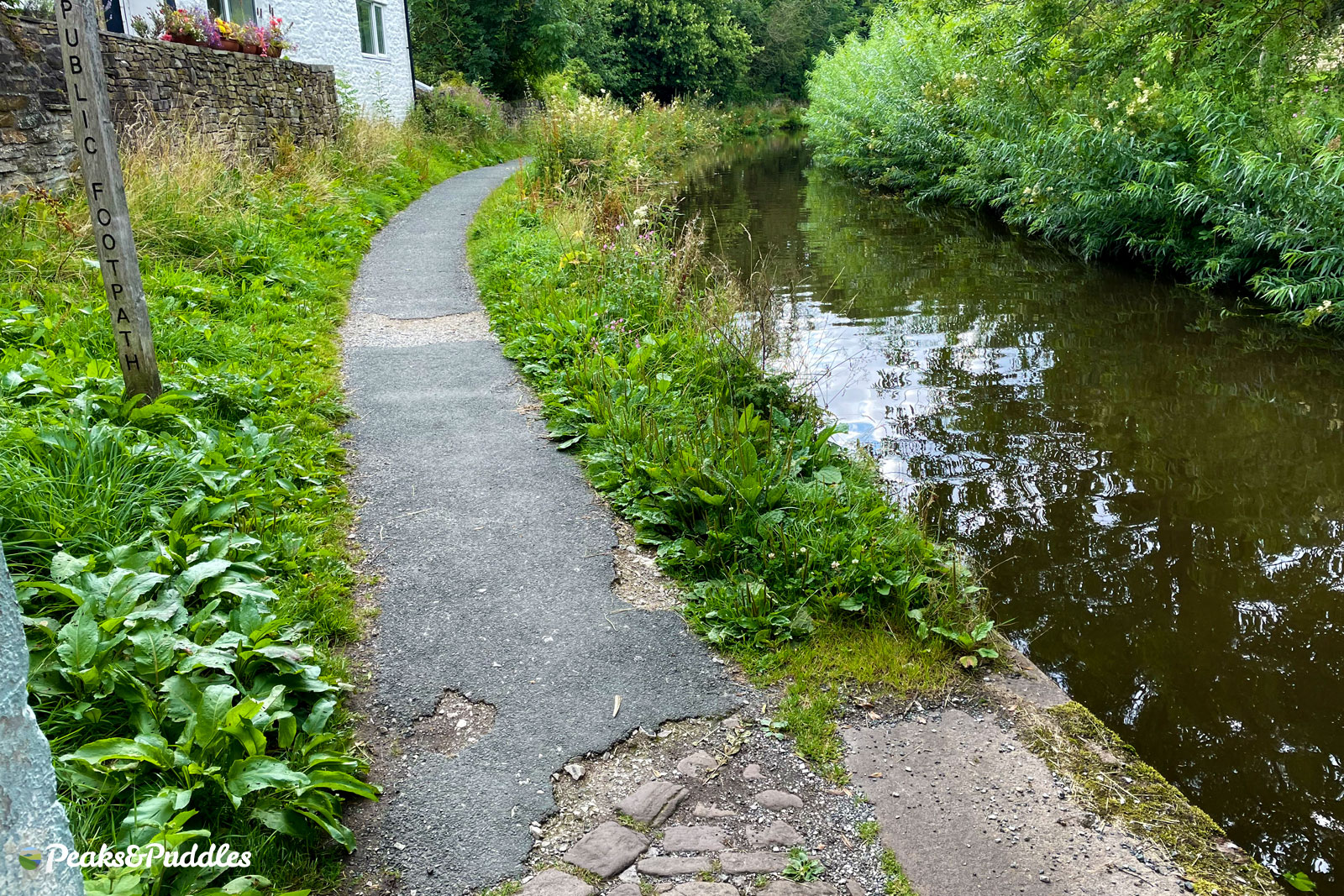 This particular path (although narrow, often busy and with all the caveats that make towpath cycle routes far from ideal) is incredibly useful and important for local cycling.
Unlike other meandering canals, it runs parallel to the A6 along the Goyt valley, connecting New Mills, Whaley Bridge and beyond. You might notice it features in plenty of the cycle routes I've published because, if you want to avoid the A6 to get out to the Peak District or even just to Tesco, your choices are basically the very hilly Dolly Lane or here.
But as well as being a right of way, which the council are required to maintain to a certain standard, DCC have now marked it as a -ahem- "Completed Key Cycle Route" on their Key Cycle Network plan (there's a big PDF on that here — perhaps I should summarise what it means for this side of Derbyshire at some point).
Which is a bit cheeky to be honest, especially given the current surface condition, and because most depressingly: they have no plans whatsoever to provide anything else for cycling along the major A6 travel corridor. Not even a blue-sky aspiration; this is it. Which is obviously wrong, but maybe a topic for another day.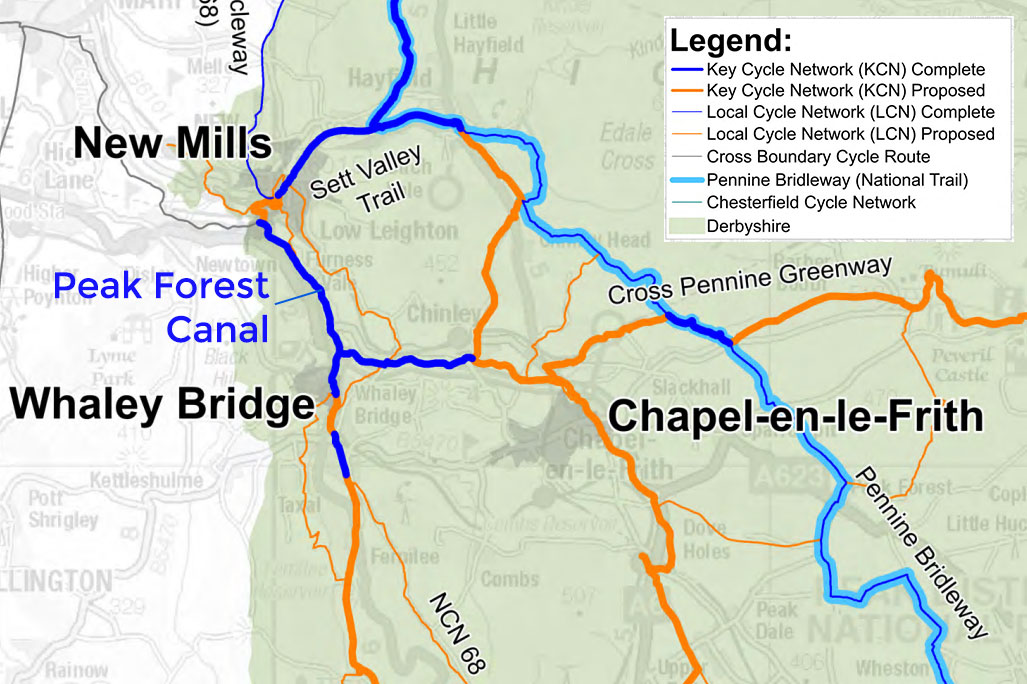 Anyway, if we're going to be stuck with the canal towpath being the only safe cycle route here for another ten years, it's definitely up to DCC to make sure it's at least as smooth and usable as their average pavement (miles and miles of which they resurface each year). Hopefully that's what they'll do.
Swizzels drizzles
Meanwhile, just north of where the battered tarmac ends near New Mills, the wetter weather sees the return of a familiar foe: the puddles which nobody love-hearts next to the sugar-coated Swizzels sweet factory.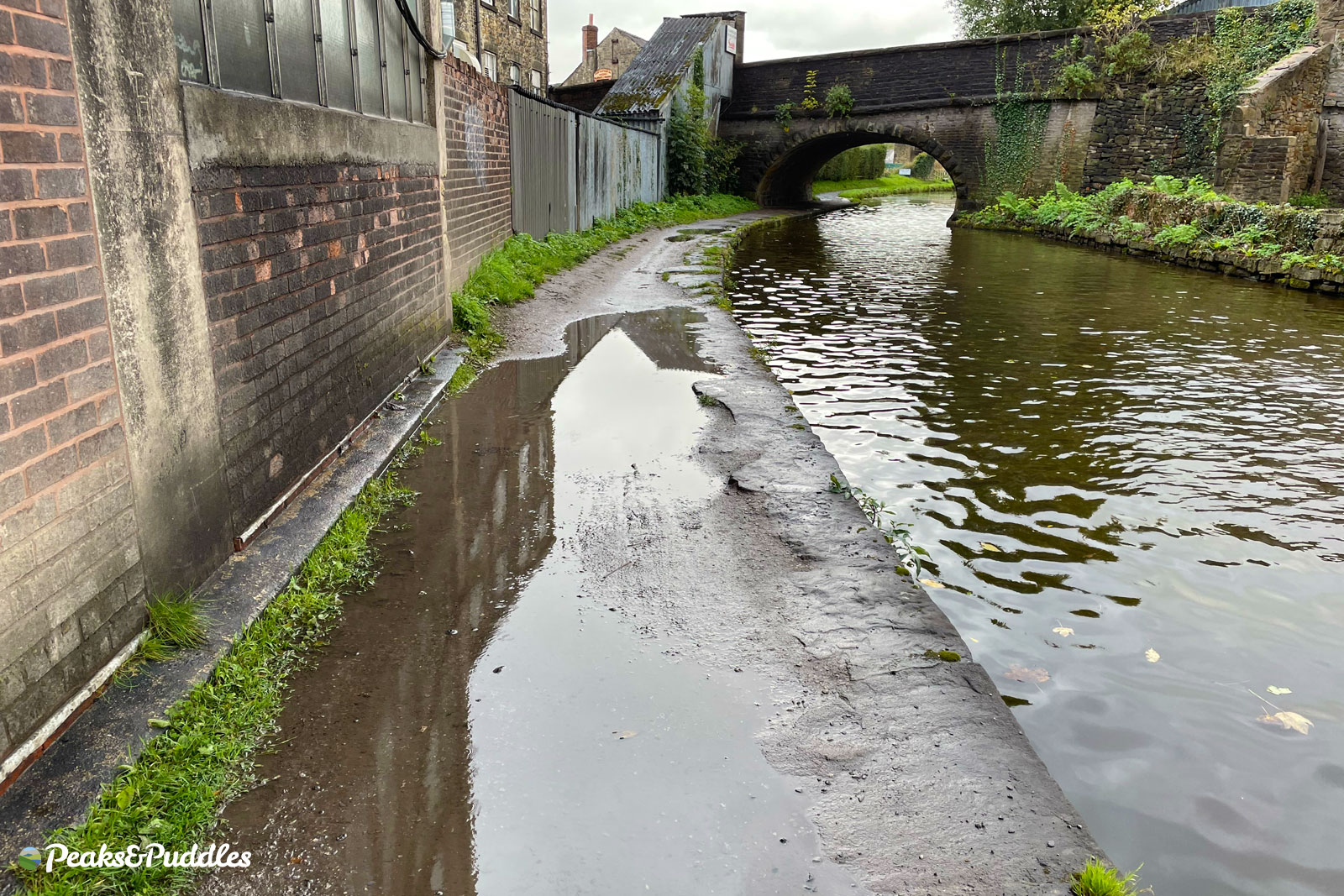 I'd always assumed the path became wet here just because it's pressed right up against the brick hulk of the factory, but getting caught in a downpour earlier this year revealed that the factory's own leaky guttering above is definitely not helping with the most persistent full-width footbath.
Swizzels were very receptive when I asked if they can fix the main leak and other dodgy bits of guttering, asking for photos showing the location, and then saying it would be added to building maintenance plans.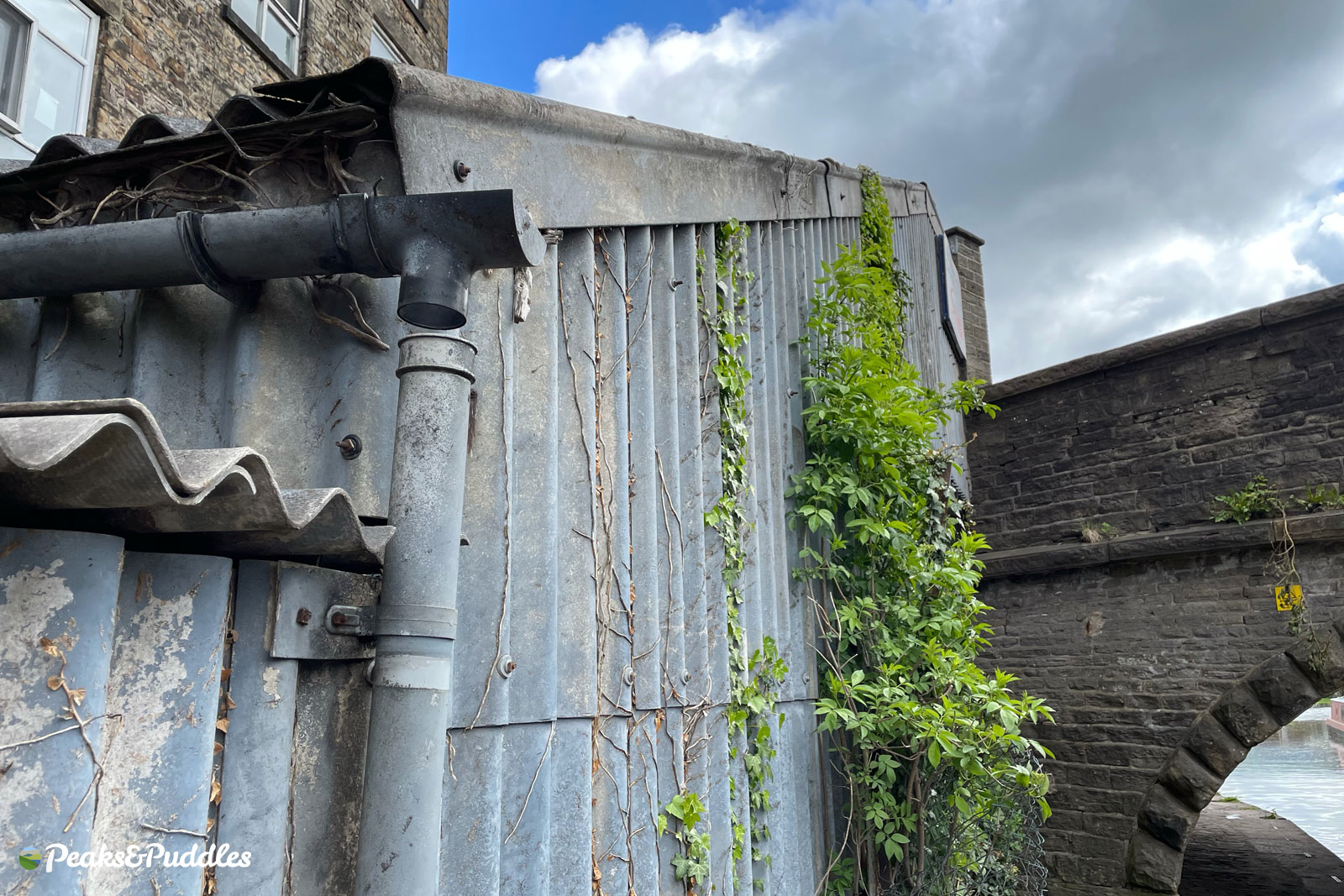 Here I'd originally typed "that was back in August, so come on Swizzels…" only to cycle past literally this morning and see scaffolding being brought across the canal and erected up the side of the building. Let's hope this could mean the smell of Refreshers without the refresher of wet feet.