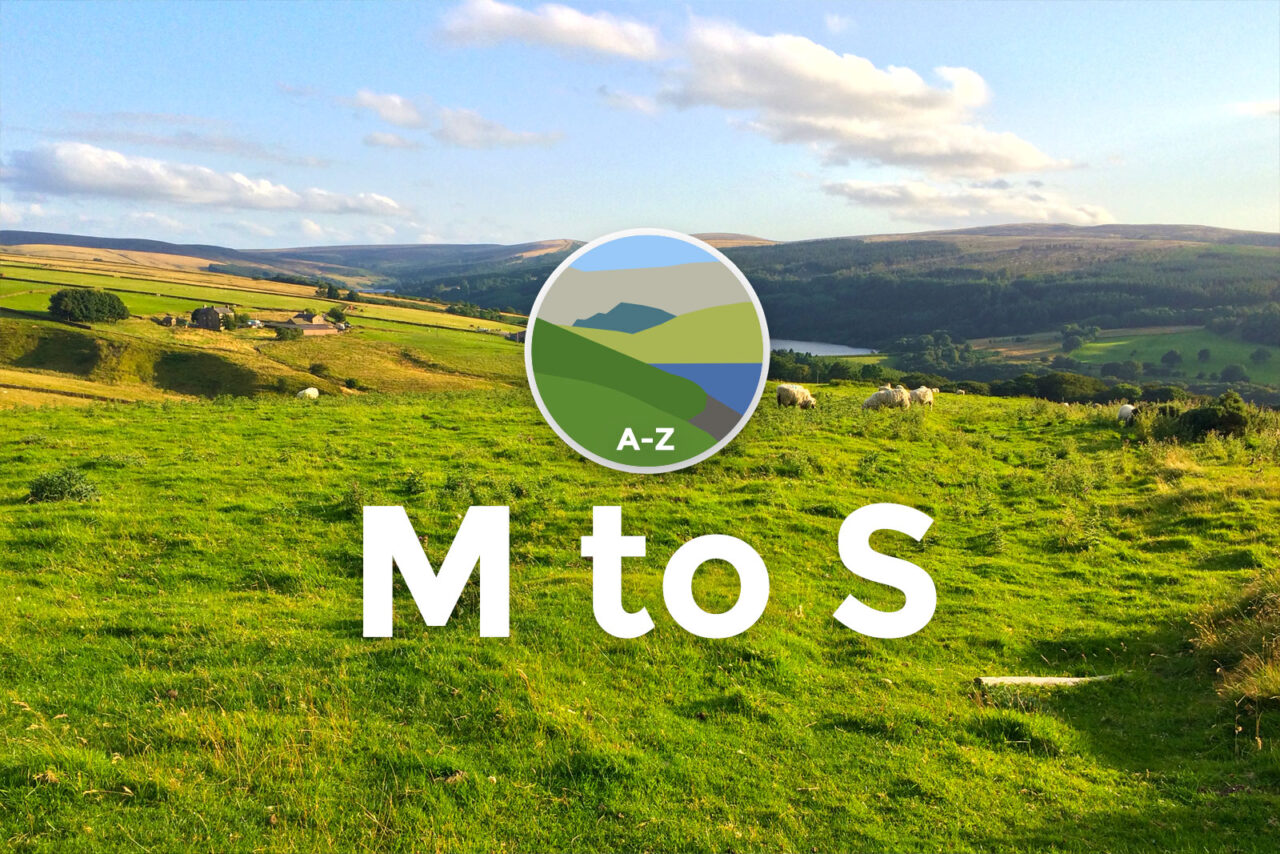 The green lanes, glorious climbs and interesting destinations keep coming in this A-Z celebrating the stunning cycling on the Peak District borders south east of Manchester. From undiscovered Malcoff and Perry Dale to well-trodden Roman Lakes, Sett Valley and even a thundering dual-carriageway.
M is for… Malcoff
Through the double viaduct spanning Chapel Milton, a hidden lane beyond Wash leads you around this gloriously undiscovered corner below Roych Clough and South Head.
Keep left and you'll follow a perilously narrow and at times gravel-littered lane to, well, nowhere in particular. But that's the joy of Malcoff. It's rare to find these places on the edge of the Peak so devoid of traffic and crowds yet generous in their unspoilt green views. As it's a through road, it also provides a good onward loop to Slackhall (former home of the Chestnut Centre) and beyond — Sparrowpit and Perry Dale (see 'P' below) perhaps.
One further word of warning, besides two short hills being surprising leg-burners: the Hope Valley railway line runs almost secretly beside the lane at one point. Not just once have trains suddenly bursting in and out of the 2 mile long Cowburn Tunnel, blasting their horn, nearly knocked me off the bike in fright!
N is for… Norbury Hollow
On the face of it perhaps not a stunning locale, but this level crossing lost in time on the Buxton railway line just outside Hazel Grove is both a quaint delight and an important marker point for local cycle routes.
Here is where escapees from town breathe a sigh of relief, after negotiating the tracks and cobbles, for the quieter country lanes ahead. Middlewood Road, which runs along Norbury Brook like a rally race track with its dramatic crash barrier, is still a bit of a rat run at times, but is useful and fun for cycling. You're now only a stone's throw from the A555 and the crossing is a far quieter route than the A6 to join Middlewood Way up at Higher Poynton.
The level crossing itself is an incredibly rare remaining example of manual operation, with the gates closed by hand.
O is for… Old Road
There are several Old Roads around these parts, but perhaps none more special than this. How many drivers on the twisting Long Hill to Buxton have no idea there's a whole other route above? A Roman Road no less, climbing epically across the southwestern edge of Combs Moss.
Heading out of Whaley Bridge, the route is well-surfaced all the way until just after the junction with Lesser Lane (see C is for Combs). Beyond here, it deteriorates to gravel and then, unfortunately for anyone not wanting to mountain bike it, a short knobbly stretch of jagged rock which is at least short enough to hobble over on foot and keeps (most) vehicles away — except for off-roaders who churn it up ever more.
Whichever way you approach it, it's an incredibly challenging initial climb — probably one reason why Sustrans no longer mark it (and the rest of the Pennine Cycleway) as part of their National Cycle Network, though the Route 68 signs remain.
However, the more gently undulating riding up top and stunning views over the Upper Goyt Valley make it one of the most rewarding places to ride anywhere in the Peak District. I can happily climb it up to the foot of Combs Moss only to just turn around and coast all the way back down, fully satisfied, to Whaley Bridge.
P is for… Perry Dale
Between Sparrowpit and the hamlet of Old Dam at Peak Forest, the Pennine Bridleway follows this gloriously hidden, quintessentially "Peak District" green dale: over a mile of practically flat, almost traffic-free riding to reward you for the hills to get there.
But how to get there, assuming you don't want to follow the whole, treacherous Pennine Bridleway itself from Roych Clough? From Buxton, head for Batham Gate Road and Small Dale then onward to Peak Forest, where a neat traffic light crossing lets you cross the highly avoidable A623 in peace, and turn into Church Lane, Old Dam.
From the north west is rather more tricky (and hilly), with the best route being the colossal climb out of Malcoff and Slackhall (see 'M' above) or Chapel-en-le-Frith (Blackbrook to Peaslows) to Sparrowpit. Here, turn immediately left behind the Wanted Inn onto the road towards Castleton. It can be a fast road, but reasonably quiet and you luckily only drop downhill briefly until the right turn for the Pennine Bridleway comes into view.
In 2020, Perry Dale was taken over for some time by a sci-fi production for Apple TV. Luckily, the most unusual thing you'll likely see on the other side of the cattle grid is sheep, with cars almost as rare as UFOs.
Q is for… Quarry Bank
What would have once been a serious quest to thread together a suitable route is now an easily doable family day out by bike for most of south Manchester — one benefit at least of the A555 ripping through the landscape.
Across Styal Road junction, you can turn off the A555 south and avoid the busy road by following the Airport Orbital Cycleway route along a quiet lane, then turn left to explore Styal's cobbles and redbrick workers cottages. From the Methodist Chapel, Apprentice Lane takes you between fields to the thundering National Trust Quarry Bank cotton mill estate, which has absolutely loads of cycle parking beside its new welcome building.
R is for… Roman Lakes
This (Victorian, not Roman at all) lost world in the valley below Marple is now a mountain biker's paradise. Beyond the old mill pond lakes now stocked with fish, ducks and peacocks, the tightly packed network of bridleways criss-crossing the hillside between Mellor, Strines, Brookbottom and Hague Bar is hard to beat.
From here you can climb all the way up to Mellor Cross atop Cobden Edge at least three times and have a choice of a different technical descent back down each time. For something more leisurely, the perpetually potholed and puddled track along the valley floor eventually leads to a startlingly nice section of Flexipave surface towards Strines.
Two bridges provide key landmarks. The dramatic Goyt Cliff Viaduct carries the railway to New Mills across the valley thanks to an unusual combination of seven stone arches and a flat wrought iron girder. Further south, the almost worryingly slender Roman Bridge is again not Roman at all but a magical spot throughout the year, particularly in spring when the bank above is covered in woodland flora.
S is for… Sett Valley
Once you've mastered the old railway line trail to Hayfield, there's still plenty more cycling joy to be found in the short but sweet Sett Valley, which truly offers something for everyone.
From Thornsett, strike out up Sitch Lane on the side of Lantern Pike for a glorious panorama over the whole valley, or follow the river along lanes and bridleways to its source below Kinder Scout.
All sides of the valley are fantastic for mountain biking: the Pennine Bridleway threads through with Lantern Pike an easier route while the climb up above Coldwell Clough to South Head is a serious challenge. From Sitch Lane, there are yet more technical restricted byways heading to Rowarth.
A more hidden climb is Oven Hill Road, up past the quarry at Birch Vale. This leads you all around the side of Chinley Churn, over varying surfaces, with majestic views over both the Sett and Goyt valleys towards Manchester.
Continues with T to Z…