Lanes and bridleways up, over and around the hills of New Mills make for challenging climbs, rewarding descents and stunning views of both country and town in this quick gravel-geared loop, taking in Brookbottom, Mellor, Thornsett, Birch Vale and Low Leighton.
Route details
Distance 10.6 miles (17.1 km)
Elevation gain 1358 ft (414 m)
Time allow 1 hour 15 minutes
Difficulty Challenging
Terrain Bridleways & Byways, Lanes
Suited to Gravel Bike Hybrid Bike Mountain Bike
Suitability notes Gravel and Hybrid Bikes: the route after Brookbottom in stage 3 is the trickiest and bumpiest section, otherwise it's all doable.
Attributes Accessible by train, Bridges, Car parking, Circular loop, Ideal for electric bikes, Industrial heritage, Mud and puddles, Pubs and cafés, Rivers, Rural heritage, Short sharp climbs, Steep climbs, Towns and villages, Views of hills and peaks, Views of open countryside, Views of towns and cities
New Mills and its hilly surroundings are blessed with an unusually good number of bridleways and restricted byways, but how many are suitable for anything softer than a mountain bike? This succinct little loop aims to partly answer that, taking you part-way up the masses of Cobden Edge and Chinley Churn, dominating either side of the High Peak town.
Heading up and out through Brookbottom, the first part of the route on popular, only moderately bumpy bridleways dips you briefly into the borough of Stockport (yes, really) as you climb sharply again across Mellor Moor.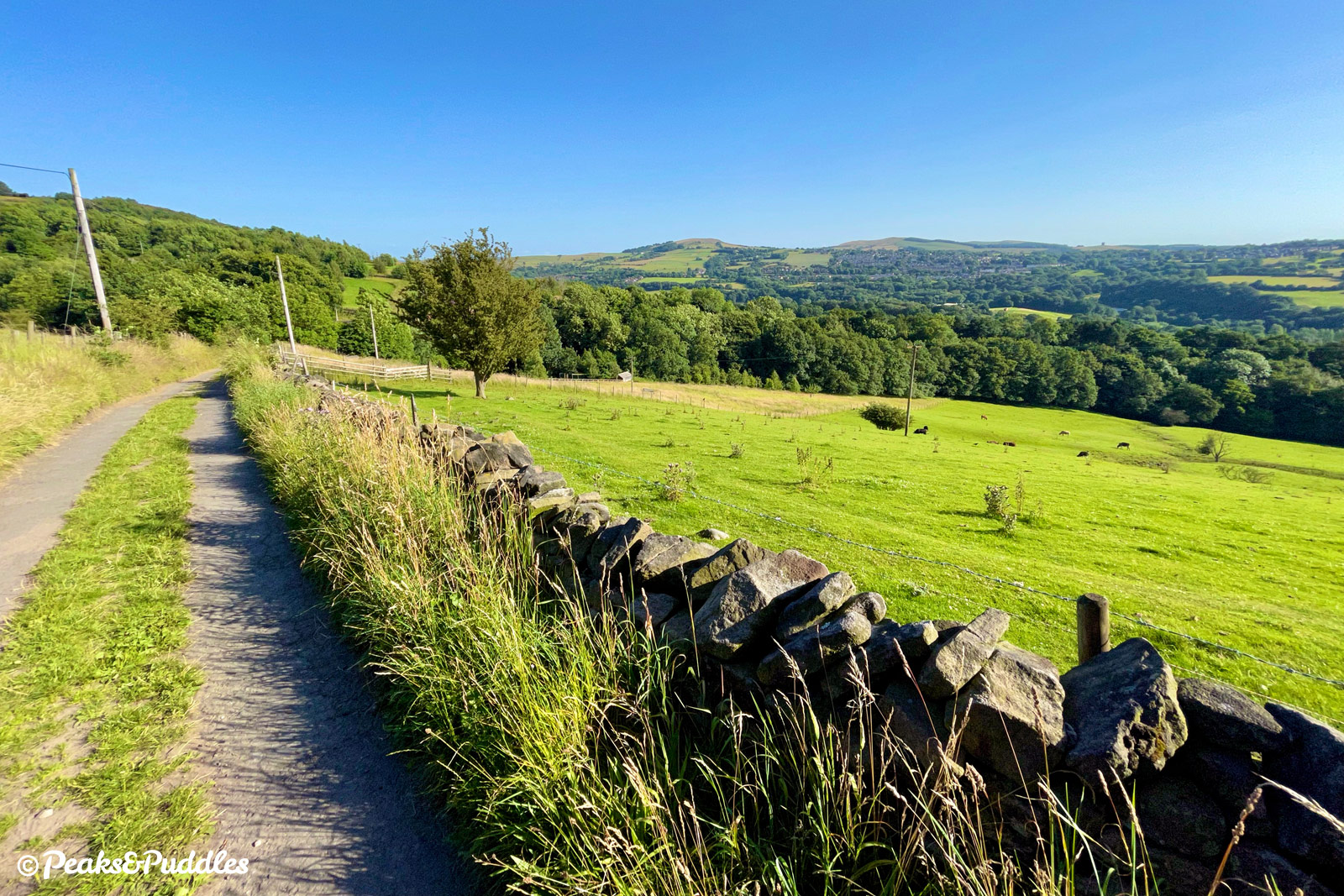 Look one way and the gleaming towers of central Manchester jut onto the horizon. Look the other and be dazzled by spectacular views of one of the Peak District's wildest sides, including the Kinder Scout plateau.
There's nothing here that a gravel, cross or even hardier hybrid bike can't handle, taking care and perhaps dismounting briefly if you're not quite sure of your ability yet. It's good for a tamer mountain bike spin too, although those keen on a very technical ride should note the downhills are mostly smooth.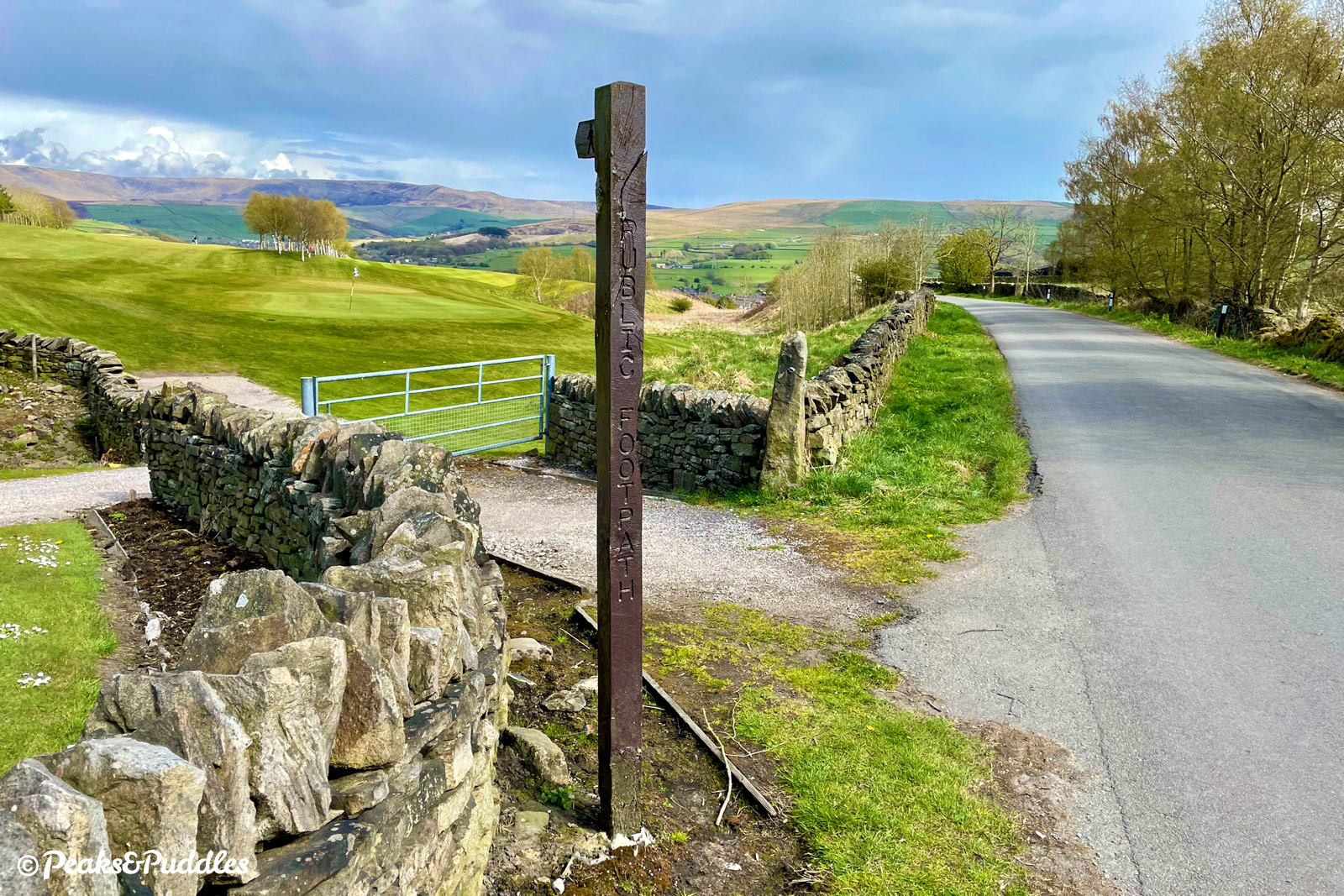 Indeed, back in Derbyshire a stunning descent past New Mills Golf Course leads towards the genteel Sett Valley Trail, taking you through Birch Vale and up the other side to climb past the quarry on the northern side of Chinley Churn.
Finally, you drop again suddenly into the practically suburban Low Leighton and Ollersett areas of New Mills, ending in the industrial birthplace of the town.
Route map
The route stats featured here are automatically generated by Komoot. For the most accurate guide, please refer to the route details above, based on actual rides recorded by Strava.
Where to begin
Market Street in New Mills is an ideal place to set out, not least because there's the chance of a coffee (or stronger) on your return. This does mean an immediate, stiff climb up past the town hall but then, if you're at all familiar with New Mills, you'll know that hills are a given round these parts.
Alternatively, the route passes the Sett Valley Trail twice, making it a good linking route: at Station Road in Birch Vale and St George's Road.
By train: New Mills Central railway station is at the other end of Market Street. Climb Station Road then turn right onto Hague Bar Road and immediately left at the mini roundabout into the town. You could also start from Strines railway station, though this requires an even longer, steeper climb up the hill on one of two bridleways to join the loop (the bridleway on the left is smoother but steeper, the one directly up to Brookbottom starts out pleasant then becomes seriously challenging at the top).
By car: There are several car parks signposted in New Mills, all pay-and-display. The biggest is Torr Top Street. After unloading, briefly walk your bike up the one-way Rock Street opposite to join Market Street.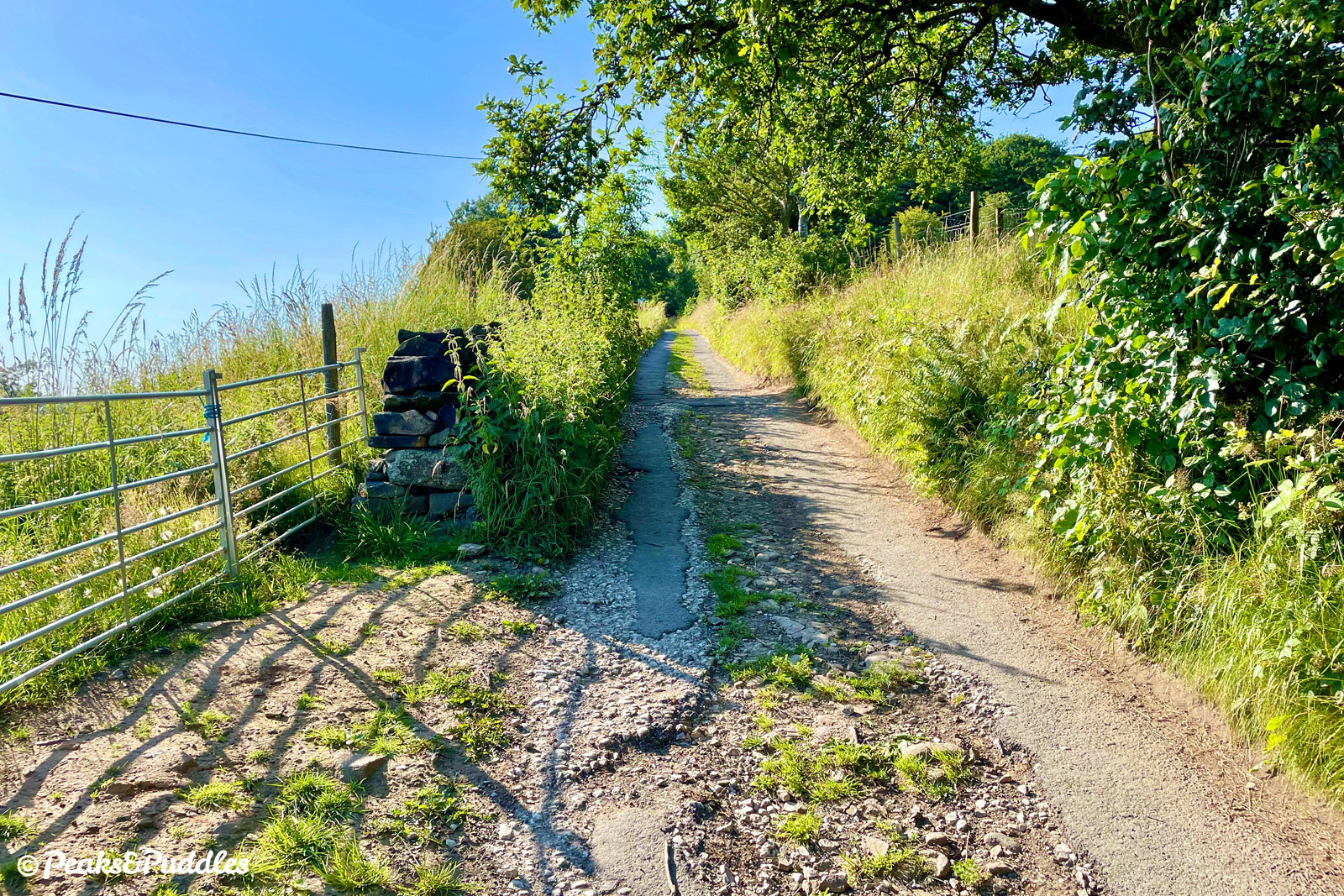 Things to note
There are light bumps aplenty on the upper sections of this loop, very short sections of loose stone, occasional puddles and steep climbs which might benefit from the gearing of a mountain bike. But otherwise, it's a perfect loop to test a gravel or cross bike's ability and likely even perfectly doable on a hybrid, too, with enough smooth tarmac (especially on the descents) to balance things out.
Pole Lane over Broadhurst Edge isn't too drastically bumpy but can be one point where dismounting might be required, to walk around some enormous pond-sized puddles. It can be avoided by following an alternative route; see 'Other route options'.
Several of the lanes around Brookbottom and Mellor Moor are shared with the odd car and quite narrow. Be sure to keep an eye on the road ahead — it may be best to just hold back at a wider passing place, if you can, than end up being forced into the verge by some impatient fool.
From the top of Eaves Knoll at New Mills Golf Club, the descent down Apple Tree Road is long and very steep, as is part of the drop down Laneside Road into Low Leighton, and it would be easy to get up an ungodly speed if you let gravity take over. This is not a loop to test-ride any wonky brakes! Take care on the Apple Tree Road descent to stop fully and give way where it crosses the busier Mellor Road.
Although labelled as 'Moderate' since it's fairly short, be aware this loop does pack some challenging hills into a fairly quick duration — that's New Mills for you.
Route stage-by-stage
On Market Street at the centre of New Mills, head north uphill with The Torrs and the indoor market hall on your left. Turn left at the first junction, dropping down your gears immediately as you do so to dig into the steep ramp of Hall Street. New Mills Town Hall is suddenly towering ahead of you. Built in 1871 for the Mechanics Institute to offer adult education, it was opened by the Duke of Devonshire. Five years later the unusual offset clock tower was added and it became the town hall in 1895. As you continue to burn up this sharp first hill, the town's 1910 library is on the right. Eventually it levels out and you approach a crossroads; continue straight across into High Lea Road.
High Lea Park and New Mills Community Orchard are on your left as you continue past very typically High Peak gritstone terraced cottages. Beginning to climb again, the view gradually opens up to reveal a stunning panorama over the River Goyt's widening valley. Now begins the most magical rolling hillside lane, wrapping its way high up around the side of the valley. The unmistakable Swizzels Matlow sweet factory is across it to your left; Disley is on the opposite side, with the Cage tower in Lyme Park just visible atop its hill as the road becomes Brookbottom Road. Looking down, the hamlet of Hague Bar is the most westerly settlement in Derbyshire. As the mouth of this immense valley opens up ahead, so too do the views, with the ever-growing metropolis of Manchester now clearly visible for the next few miles.
Just as the gentle climbing ends, the lane takes a sudden dip immediately into Brookbottom. Never mind western Derbyshire, this hamlet with its tightly-packed stone cottages above a hidden brook has the feel of an inland Cornish fishing village. Take it steady past The Fox pub and listen out for cars, as the lane curves sharply with blind bends to the right then left between the houses. A short climb out from the bottom of the brook now beckons, made more difficult as the surface deteriorates to very patchy tarmac laid as two tracks. The next short plateau of High Cliff is lined with beautiful trees framing the views, before you drop down perhaps the bumpiest run of the route with tarmac again laid patchily only either side of the lane, which you might find you have to criss-cross to find the easiest course.
Watch for the drainage channel at the bottom of the slope, then at the first cottage turn right sharply up onto a compacted stone bridleway, climbing evermore above the valley towards the towers of Manchester. Rural small holdings dot either side of this slightly rutted but easily rideable path, bringing you to a collection of cottages at The Banks before you drop and rise slightly again over looser stone. Mellor Golf Course is now either side and it might, perhaps, be wise to check for anyone teeing off in your direction. Approaching the end of the track, it bumps down a short slope to join the lane leading to Linnet Clough scout camp. Turn right here and instead follow the well-surfaced Gibb Lane around a series of bends as Mellor's prominent St Thomas' Church comes into view atop the hillside to the left.
At a junction, turn right uphill onto Whetmorhurst Lane. After passing a few houses, the lane turns a sharp left and climbs challengingly, directly up the side of Cobden Edge. If you can catch your breath, try to spot the landmark of Mellor Cross atop its summit to the right. Completing the steepest part of the climb, turn sharp left and reward yourself with the stunning view back down the hillside and across the whole of Greater Manchester. Beyond Werneth Low, which is the next significant summit over to the right of the city, a clear day allows views of Winter Hill, Lancashire and as far away as the Fiddlers Ferry power station near Runcorn. Continuing on the now more gentle Bogguard Lane, you round the side of Mellor Moor to suddenly see a yet more impressive view unfold over the crest: the immense 2,000 ft (636 metre) high plateau of Kinder Scout and its surrounding hills. A deliciously rolling ride past Whitehouse Farm takes you to a five-way junction.
Turn a sharp right, avoiding the main tarmac road entirely, into Pole Lane. This bumpy track dramatically straddles the Stockport and Derbyshire border across Broadhurst Edge, starting out as broken tarmac but then becoming cratered stone. Most puddles can be avoided, though at least two pond-sized indents may require dismounting and walking around. (Unbelievably this was, until 2020, part of Sustrans' National Cycle Network, and remains part of the Route 68-signposted Pennine Cycleway.) Continue straight ahead onto Castle Edge Road, a magnificent view over much of the central High Peak now opening up and only getting better around the bend ahead. Now looking over New Mills Golf Club, follow the lane to the left and descend to a junction with the clubhouse.
Turn left onto Apple Tree Road, continuing to chase the fabulous views with Kinder Scout now in the distance ahead. Descending steeply, take care to stop and give way where the road meets the busier Mellor Road. Cross straight over onto Watford Road, descending between houses and around a sharp right bend to a t-junction with Batemill Road. Turn left onto this quiet backroad in the base of the Sett Valley, passing an old garage and long rows of cottages. Soon after a right-hand bend, turn right (signposted Thornsett Cemetery) onto High Hill Road. Pass the Thornsett Band room, built in 1932, the River Sett and climb gently past the cemetery.
Immediately after a row of houses on the left, use a dropped kerb to access the pavement for just a few metres then turn left, through the gate, onto the Sett Valley Trail. For 100 years, until 1970, this was the Hayfield railway branch. Follow the easy-going trail, mostly shrouded by thick tree-cover, for 1.2 km (0.75 miles). At a point when the path appears to fork, stay left and it soon drops slightly to meet Station Road. While the small station is long gone, and so too the major printworks which grew this area of Birch Vale, an unusual curved terrace of printworkers' houses, built in 1854, is still in place. The Sett Valley Café to the left provides a popular refueling spot.
Turn left to climb Station Road and, at the top, turn right onto the A6015 Hayfield Road. This is only a very brief dabble with a busier road, though — after the second row of houses and parking lay-by on the left, quickly turn off left into the wide mouth of Oven Hill Road, past a few houses and curving uphill steeply. This wide tarmac climb ahead is shared with large wagons accessing Birch Vale Quarry halfway up but otherwise quiet and an excellent hill for testing climbing stamina. Beyond the upper quarry entrance, the road remains smooth going until the final property on the left, with a wonderful view of the lane stretching behind you to Lantern Pike. From here, it degrades but only slightly to looser, puddled stone but never too hard-going, with excellent views over the triangular valley of New Mills, where the rivers Sett and Goyt converge.
Staying on this track leads to Chinley, but becomes much more bumpy as it goes. So to keep things steady, at the large, wide junction, turn right into Laneside Road. The view over the town and down the Goyt valley opens up and in a nice twist, Cobden Edge, which you climbed at the start of the ride, stands prominently front-and-centre ahead. This lane starts somewhat uneven then descents smoothly and incredibly steeply past farm buildings — you'll see now why the loop is advised in a clockwise direction. Soon you pop out in practically suburban Low Leighton and follow the road all the way to its junction with the A6015 again.
Turn right, then almost immediately left behind the Hare & Hounds pub onto a drive which links through to Peak Road. Turn left and follow this in a right bend through housing, then left again onto Ollersett Avenue. At St George's Road, turn right and head downhill, past the Sett Valley Trail, and the cemetery. The more recent housing of Ollersett now gives way to the historic, industrial heart of New Mills around the River Sett. Around a fantastically narrow, sharp bend, you approach Hyde Bank Road and an important early river bridge in the town. It was here that a corn mill named New Mylne opened in 1931, apparently giving the town its name when several smaller settlements were later grouped together.
Cross the bridge straight ahead and turn left onto High Street at the old corner shop with bright blue paintwork, known locally as "Blue Ron's" after its former shop-keeper. The road now climbs steeply up into the town centre and only made more challenging by parked cars narrowing the way. To avoid the worst of it and for a final bit of fun, turn left onto Meal Street which curves around the back and leads into a good (or bad, depending on your view) length of historic bumpy cobbles! At the top, the town's revered bookshop is back down High Street to the right. Stop off and take a browse, or turn left back onto Market Street, the hills of New Mills conquered!
Found this guide helpful?
Please consider chipping in the price of a coffee to help pay the bills and support my work. It only takes a few seconds and you'll get access to exclusive supporter-only pages in return.
More to explore
New Mills
From its heavily industrial beginnings as a cotton spinning and printing town, harnessing the hard materials and powerful water of its superbly hilly landscape, New Mills is today blossoming into a gem on the edge of the Peak. An unusually good array of independent shops combined with cafes, pubs, an arty events schedule and a genuinely unique setting, atop a rocky gorge, make it a more satisfying stop-off than most hotspots in the Peak District. All a 30 minute train ride from Manchester.
Cobden Edge
The hill many know as "Mellor Cross" is perhaps more accurately Cobden Edge, with a trig point giving stunning views across to Kinder Scout. The cross nearer the edge of this Stockport summit (yes you really are in Greater Manchester) was erected by local churches and its steep perch gives wonderful views across the city and beyond.
Turn right at the top of Whetmorhurst Lane for a short diversion to the cross, which is then up a short, steep scramble. A byway (Black Lane) to the left runs over the top of Cobden Edge but pushes things into pure MTB territory with big bumps and mud.
Sett Valley Trail
Following above the River Sett on the former branch line railway between New Mills and Hayfield, in the westernmost High Peak, the modest 2.5 mile Sett Valley Trail is perfect both for beginners and to link into longer routes onwards near the mighty Kinder Scout.
The all-important disclaimer: While great care and attention has been put into gathering these routes, ensuring details are accurate and determining their suitability, all information should be used as a guide only and is not a replacement for using your own judgement or research when setting out on new adventures. Peaks & Puddles cannot be held responsible for any problems you may encounter.
Always ensure your equipment is safe for use and that you are well prepared, carrying everything necessary including access to a good map. Follow the Highway Code and the Countryside Code at all times. Respect the landscape, the wildlife and the people you encounter. But most importantly, have fun!