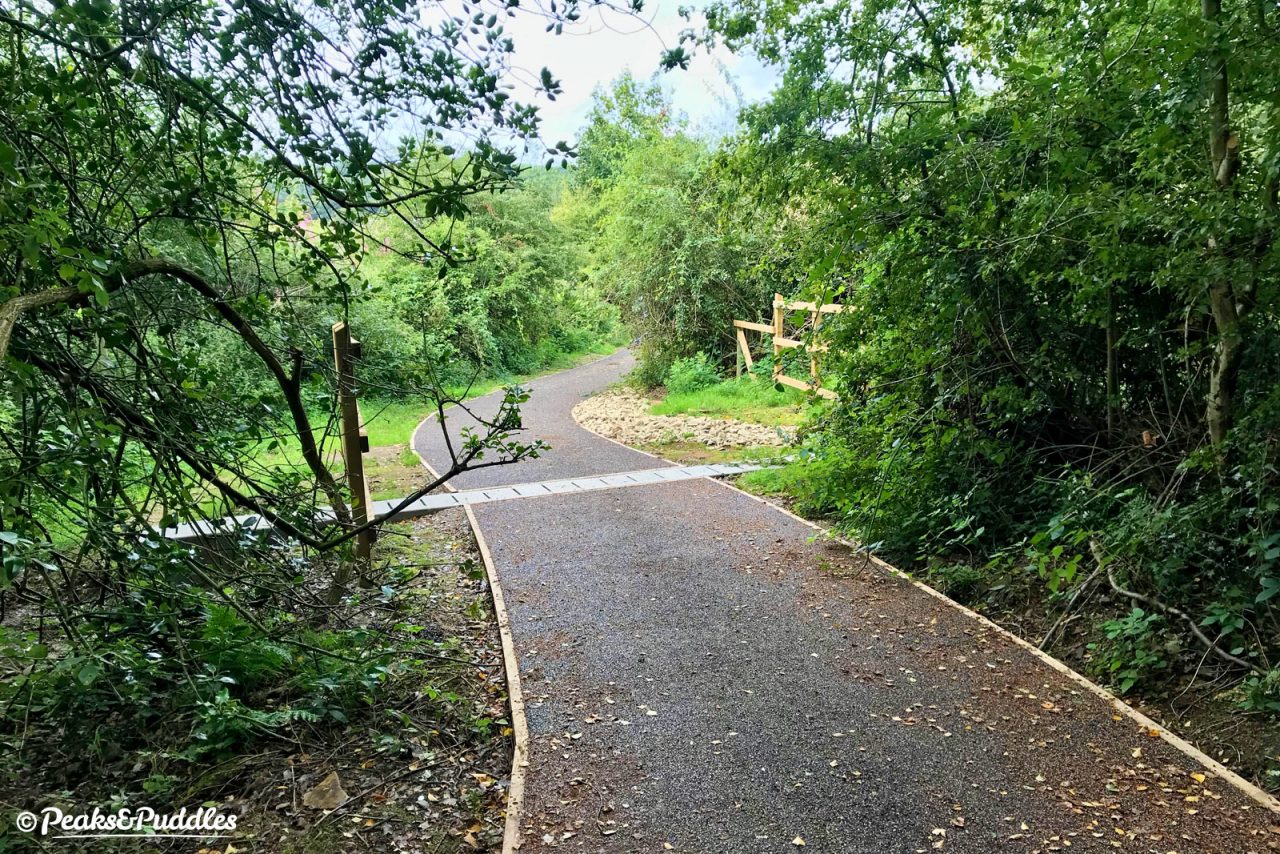 This flood-prone rural bridleway on the very edge of Greater Manchester has just had a second round of major improvement works, extending the Flexipave surface begun in 2018 and fixing the drainage problem at the heart of its woes.
Linking Strines to Marple and Marple Bridge via the Roman Lakes, it's perhaps the absolute definition of a "backwater" path, yet now (most of) Bridleway 158M has one of the finest off-road surfaces for cycling in the whole of Stockport.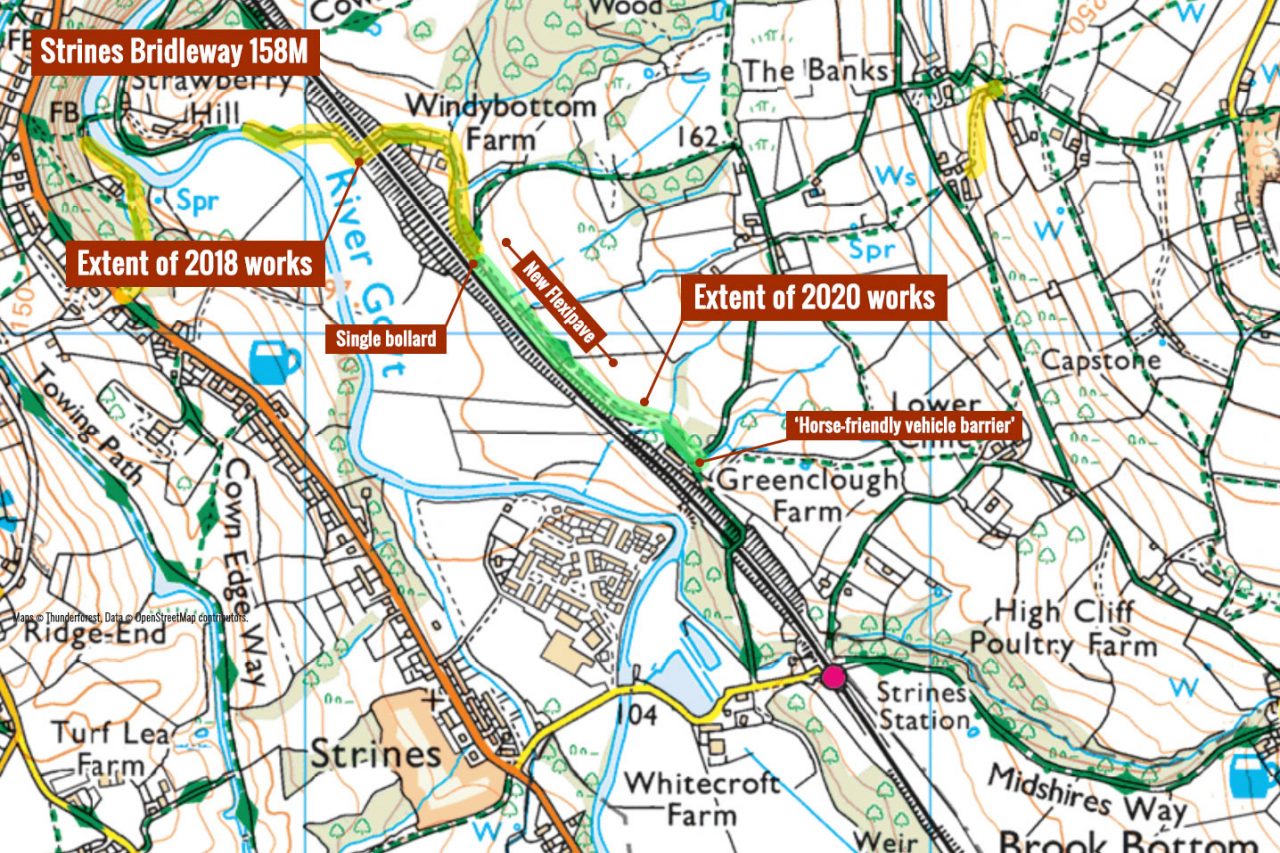 Even the works themselves began as a surprise: no closure notice, nothing in the local council ward meetings. Only as the heavy machinery arrived it became clear Marple Bridleway 158M was set for an extension of the improvements in 2018, which saw a persistently boggy section rebuilt and surfaced in Flexipave.
A porous surfacing made partly of recycled tyres, Flexipave has proved ideal for problem stretches of off-road paths, offering far better grip and a slight amount of softness making it particularly good for horses. Stockport has laid quite a bit already and is planning to use it in many of its upcoming projects.
But why the focus on this path and where has the money come from? Since there was no information available anywhere, I put in a request to Stockport Council and got a few answers. For a start, the total cost was around £95,000 with money coming from a Flood Relief Fund after the July 2019 flooding.
This time, the works extend to what was a truly dire section of the bridleway beside the Manchester to Sheffield railway line, where a blocked and flooding brook had caused serious damage. From being a challenging bit of fun, the flooding of 2019 and early 2020 had made a short stretch almost if not entirely unrideable for most people.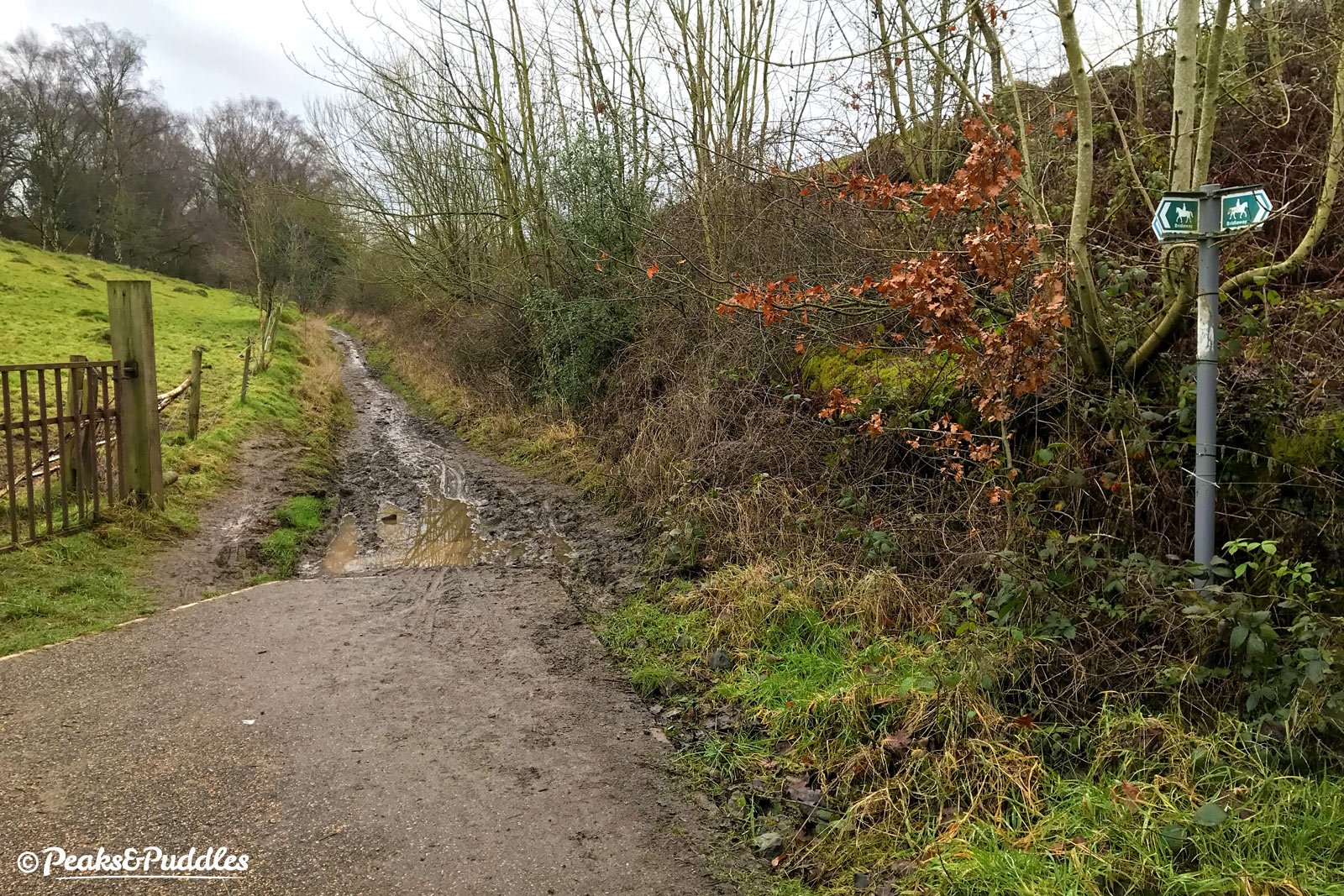 Somehow my archive is totally missing any "before" pictures, but this one above showing the accumulated mud and water run-off at the end, where the 2018 Flexipave ended, versus what it looks like now, says enough.
From Strines, the bridleway is reached by turning left before the cobbled climb to the railway station, up a puddled and potholed track to Greenclough Farm. A left turn after the farm then brings you onto the bridleway.
From here, a new wooden fence has been added to protect the rather sheer drops but the surface, which was never too bad here, is still as-was. Further along, suddenly a pristine 2 metre-wide path of Flexipave beckons.
This follows gracefully and pleasantly through the trees, before crossing the rebuilt culvert which should solve much of the path's problems.
A short drop again brings you to the junction where the 2018 project ended. The path up to the right (known sometimes as "Strawberry Hill") remains tough loose stone, certainly more fun downhill than up, which continues to wash away. The Flexipave path on the left continues past Windybottom Farm (yes really) to the Roman Lakes.
But the works have brought some other, questionable changes. At the Strines end, the wide wooden field gate (which admittedly wasn't much fun to try and handle when closed) has been replaced with a metal "horse-friendly vehicle barrier" — and that's it. Your only current option is lift your bike or yourself over. Fine for most of us, but not everyone, and not great on a freshly improved route.
On this, the council responded that the "land owner has had trouble with vehicles on the site, 4 x 4 particularly – he wanted a lockable gate. The access is narrow and we couldn't fit all the access treatments. When we do the next adjacent work we will return and make it passable for pedestrians, buggies, wheelchairs etc." So, the verdict here will have to wait, but it's interesting that they're still not done yet.
At the northern end, where there were previously no barriers, a hefty metal bollard has been sunk into the path, reducing the path width to less than metre either side. Oddly, before the works were completed this was then camouflaged in a box of what looks like brown decking boards, when obstacles like this should always be as visible as possible.
If it still seems odd that parts of such a rural leisure route now look this crisp and clear of mud, could there be an active travel idea? The path does potentially provide Strines, which has grown quite a bit with new housing on its old printworks site, with an alternative route to Marple. It also surprisingly features on the Bee Network map (remember that?)
However, this bridleway is only part of the route. The track up from Strines is bumpy and the Roman Lakes — well, they wouldn't be the Roman Lakes without their famous potholes. There'd be a lot more work required to make this a real active travel option, and would it be worthwhile when the Peak Forest Canal does almost the same job? Should routes like this even be "sanitised" to this extent?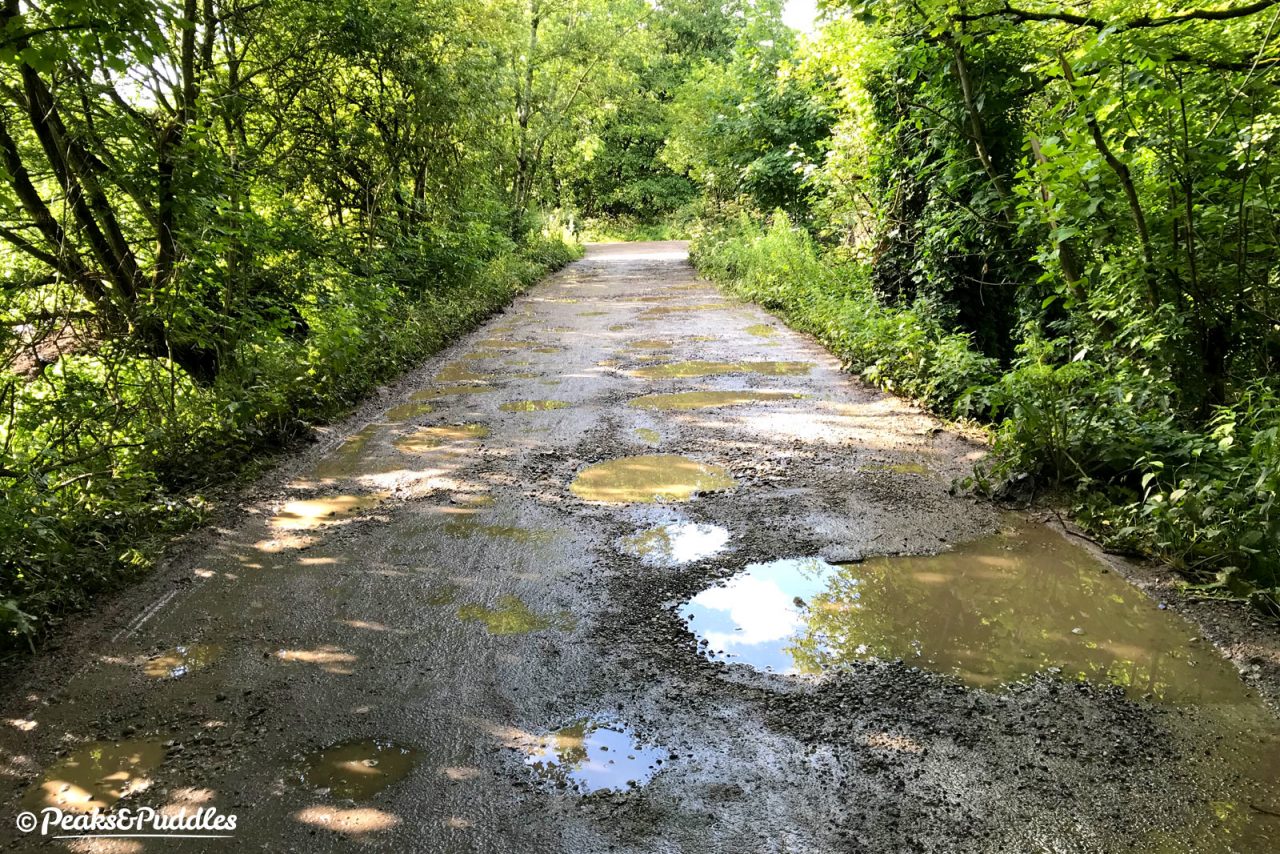 The council responded: "Relevant officers also consider this route to be important as it could be a useful active travel link between Strines/New Mills and Marple and also it is a useful spinal link to the leisure routes in the area. It is to be noted that unbound surfacing suffers in severe weather, and that the council wishes to ensure long term solutions for routes of this type."
It has to be said that there are plenty of far better used, and more useful, cycle paths within the Marple area that would be improved no end by a bit of Flexipave.
There may also be a balancing act here between a path being "fun for mountain biking" and accessible as a public right of way for as many people as possible (particularly on different types of bike or horseback). There are still plenty of other rough byways and bridleways up and down the hillside of Cobden Edge for mountain biking, so perhaps it's right to see this as a "spine" to those.
Rather than a council wasting money throwing down a loose stone surface that'll wash away again in the next storm, it's refreshing to see a job done properly with an eye on longevity and maximum accessibility — at least, if they do return to improve on that metal barrier.