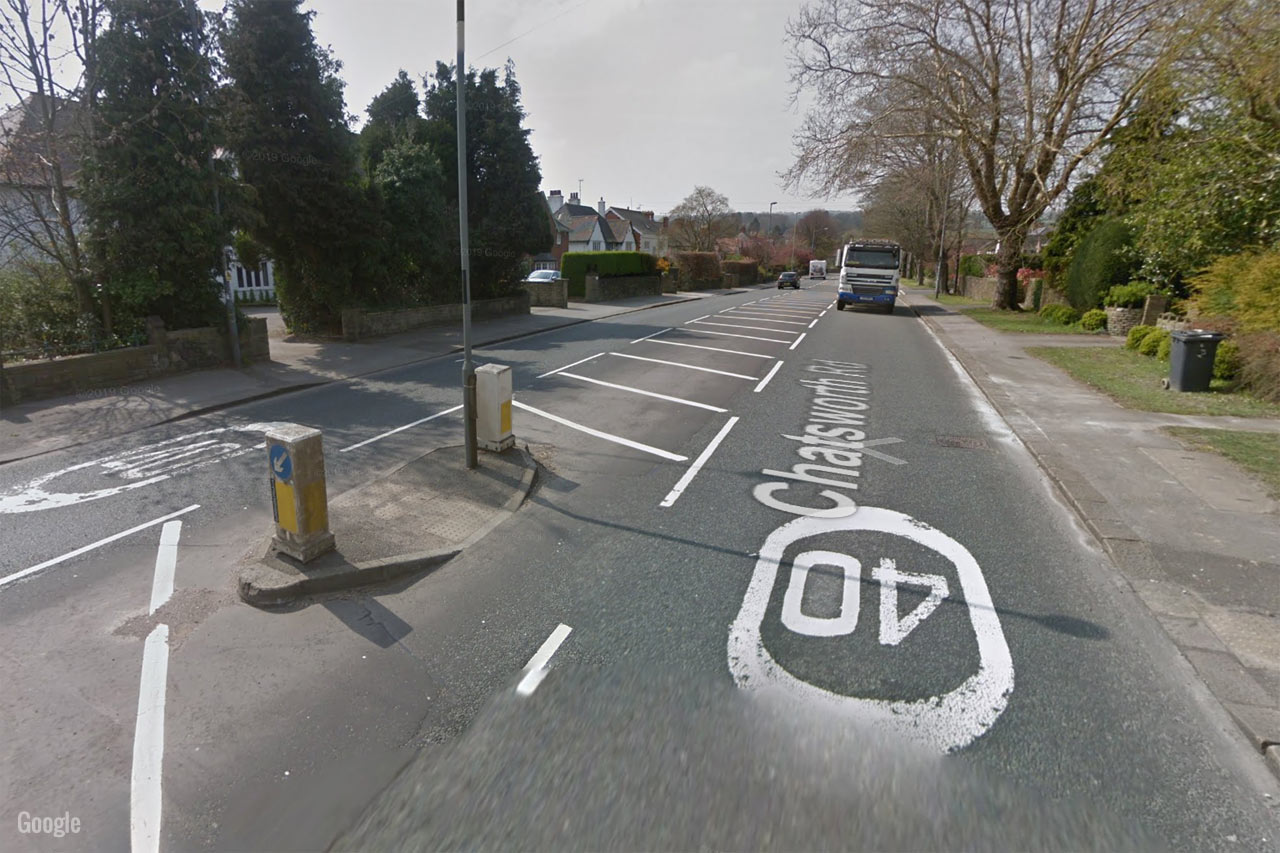 Derbyshire County Council has finally disclosed details of the bids it made for over £2 million from the government's Emergency Active Travel Fund, intended to provide quick wins to improve walking and cycling conditions — and it's good news for Chesterfield at least.
By far the majority of the cash from both "Tranche 1" and "Tranche 2" of the funding rounds has or will go towards Derbyshire's largest market town, with the rest of the 2,625 km² county left wanting.
Getting this information was not easy. After initial queries to the county highways department just generated a generic message, I submitted a freedom of information request back in July which, a month later… gave exactly the same non-response. I then had to request this be reviewed before eventually, over two months later, being provided with these documents. Derbyshire have still yet to announce or publish anything on their public website.
And so we discover: Tranche 1, at £443,000, delivered a wide range of minor interventions right across the county. Mostly signage, one-way systems, widening footways into parking areas, plus some double yellow lines in a few Peak District beauty spots.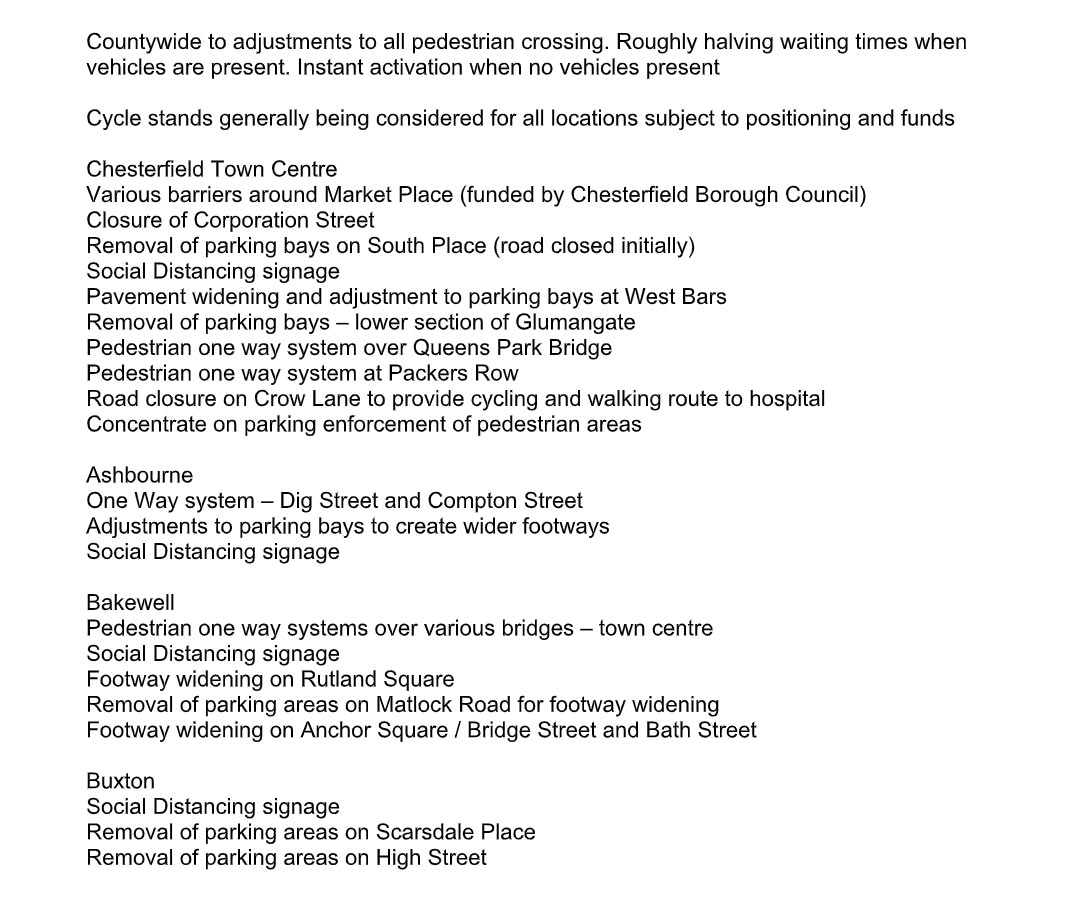 Only Chesterfield saw roads closed to ease cycling and walking: Crow Lane, a route to the hospital, which saw the predictable local outcry including a petition against it — and a petition for it. In the town centre, closing roads to enable cycling and walking was described as "one of the stupidest … badly thought-out knee-jerk actions" by a local Liberal Democrat councillor.
Derbyshire's Lib Dems seem to suddenly become a lot less liberal when changes mean they can't drive practically into the doorway of local shops. Over in New Mills, measures to widen the disgracefully narrow pavements by removing all except the disabled parking bays on the short key stretch of the town's Market Street were immediately fought against by local Lib Dem county councillor Beth Atkins.
Instead, the funding that was meant to enable walking and cycling by reducing the dominance of cars went towards a one-way pedestrian system on each pavement. Which was immediately ignored by almost everyone in favour of just using common sense, of course.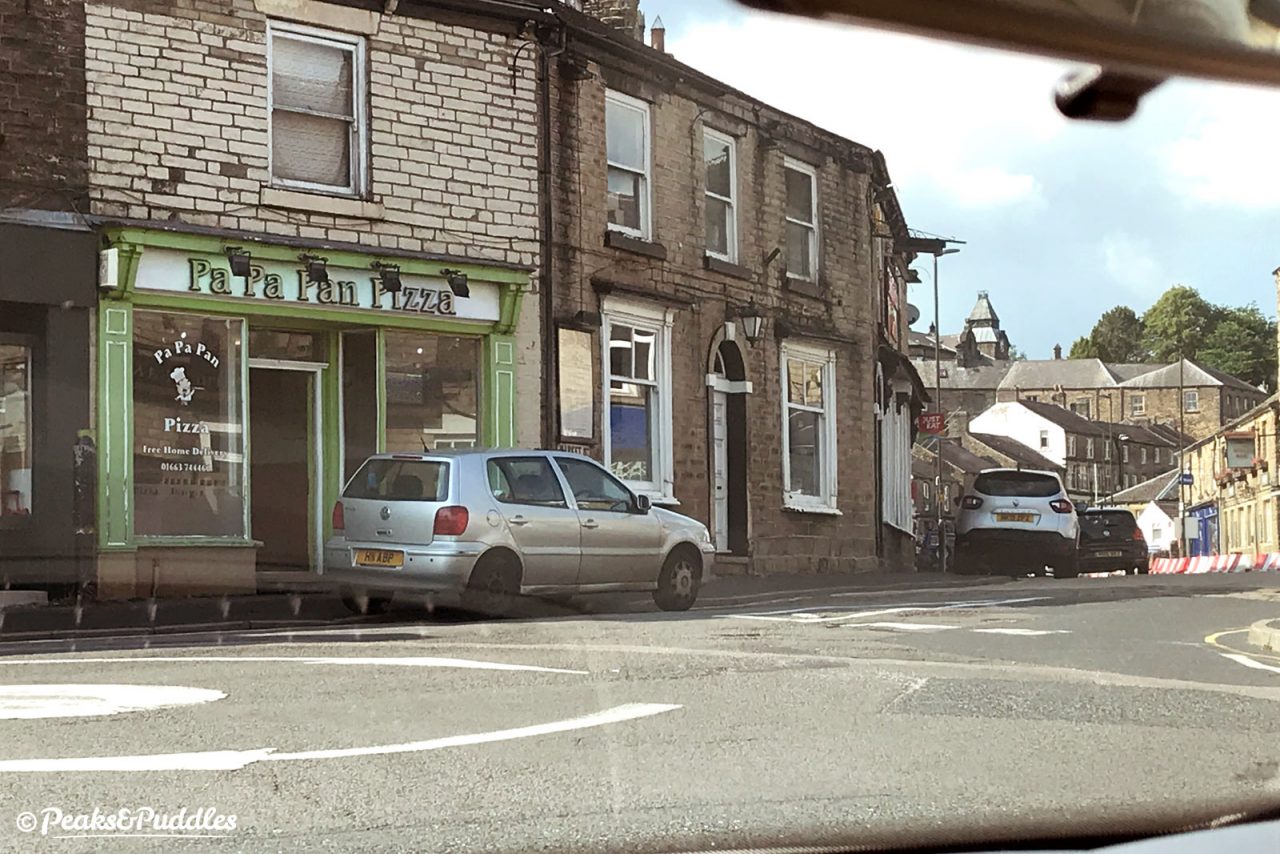 Up until this point, Beth, who is the only elected representative for New Mills and Hayfield on the county council, had been completely disinterested in the idea of helping walking and cycling. When I emailed her (twice, because the first time was ignored), to let her know about the opportunity for funding, she sent a one-line response: "Not financially viable! It's hard enough getting all the potholes filled in!" Wait, didn't I just say there was funding?
You can find the full list of Tranche 1 measures as provided by Derbyshire County Council here.
While schemes in Long Eaton and Buxton were considered for the bigger funding win in Tranche 2, the 'Chesterfield East West Active Travel Corridor' was selected as the sole project for its fit with the brief and deliverability.
The plans include making permanent some of the local interventions of Tranche 1 plus — here's the big win — 1.4 km of segregated 'Cycle Superhighway' and pedestrian priority along the A619 Chatsworth Road, the main road towards the Peak District. This will replace the ludicrous current design which has an enormous hatched central area and cycling-unfriendly islands. A Derbyshire first?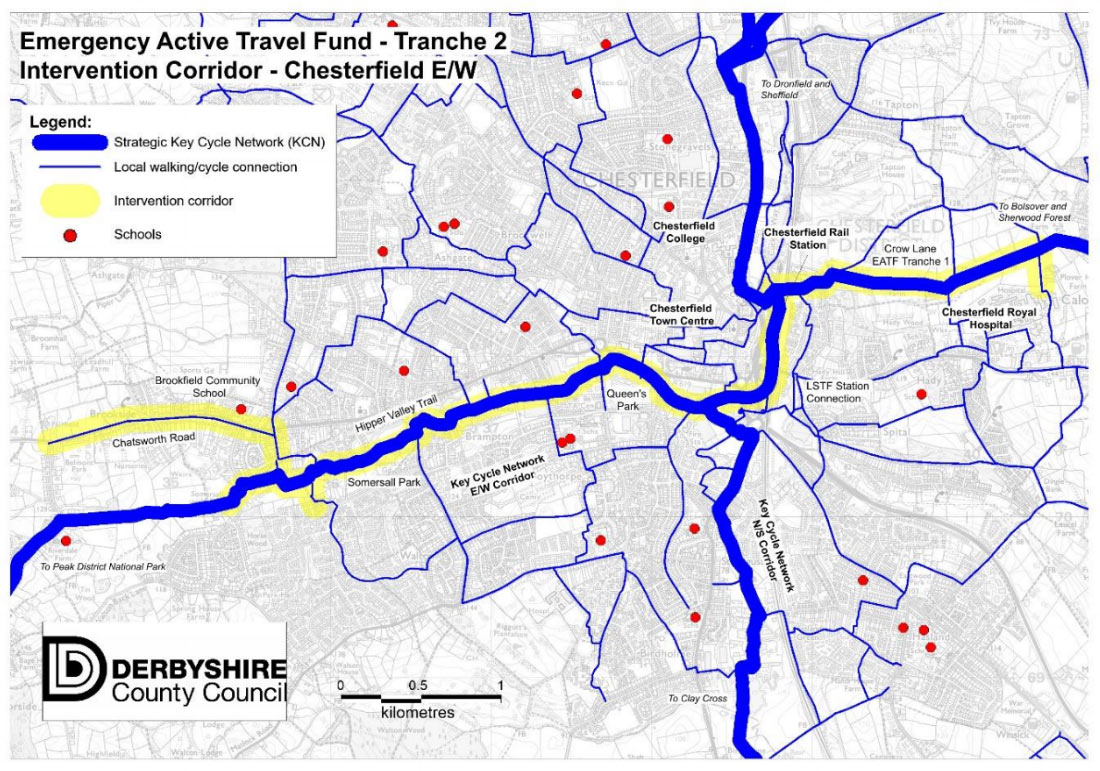 You can find the full bid document for Tranche 2 as submitted by Derbyshire County Council to the Department for Transport here.
This all makes clear a few things. Firstly, Chesterfield has a really well-established, switched-on Cycle Campaign with clear visions and ideas for the town — they deserve this success and other areas of Derbyshire (particularly the High Peak) could learn from this.
Secondly, £2 million for a county with the size and scope of Derbyshire is nothing, pennies, compared to what is needed. Barely enough to fund one scheme in one town, let alone make an impact across an entire county.
Compare this to Greater Manchester, which was earmarked £3,174,000 just for the first tranche of bids and a whopping £12,697,000 for the second. Even this is a drop in the ocean against the £1.5 billion it's been suggested would be needed to make the Bee Network a success.
Derbyshire is over twice the size of Greater Manchester but has well under half the population, dispersed across sometimes completely disparate areas. This really shows the challenge to create "active travel" routes in rural areas: twice the mileage required, at a fraction of the funding.
The government said councils need to be "ambitious" in their plans, but clearly the government need to be more ambitious in their funding for active travel, and fast.