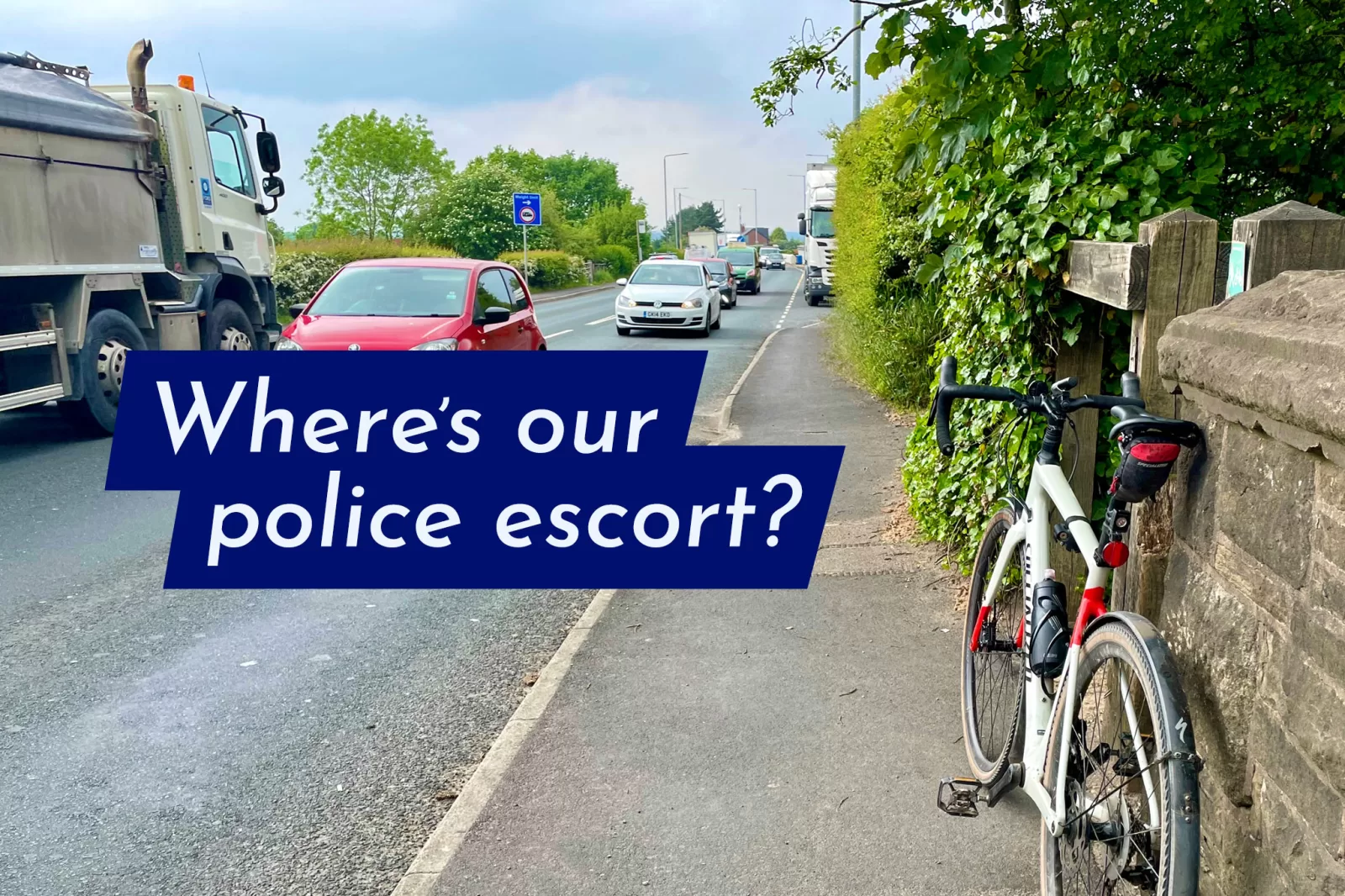 This year's Tour of Britain cycling race returns to our corner of the country again, with its opening stage on Sunday 3rd September arcing across Stockport on its way from Altrincham to Manchester.
A great boon for local cycling, right? An inspirational event to get everyone out there pedalling? I'd like to see them try. One look at the route and it'd be enough to put anyone off cycling for life.
While Stockport Council has been keen to herald the race's arrival, years of inaction and failure to enact meaningful change by its highways department means the borough is still a desperately unfair place to be on a bike, and this route links some of its most glaring blackspots.
Here are the highlights. Sorry — no rolling roadblock or police escort for you!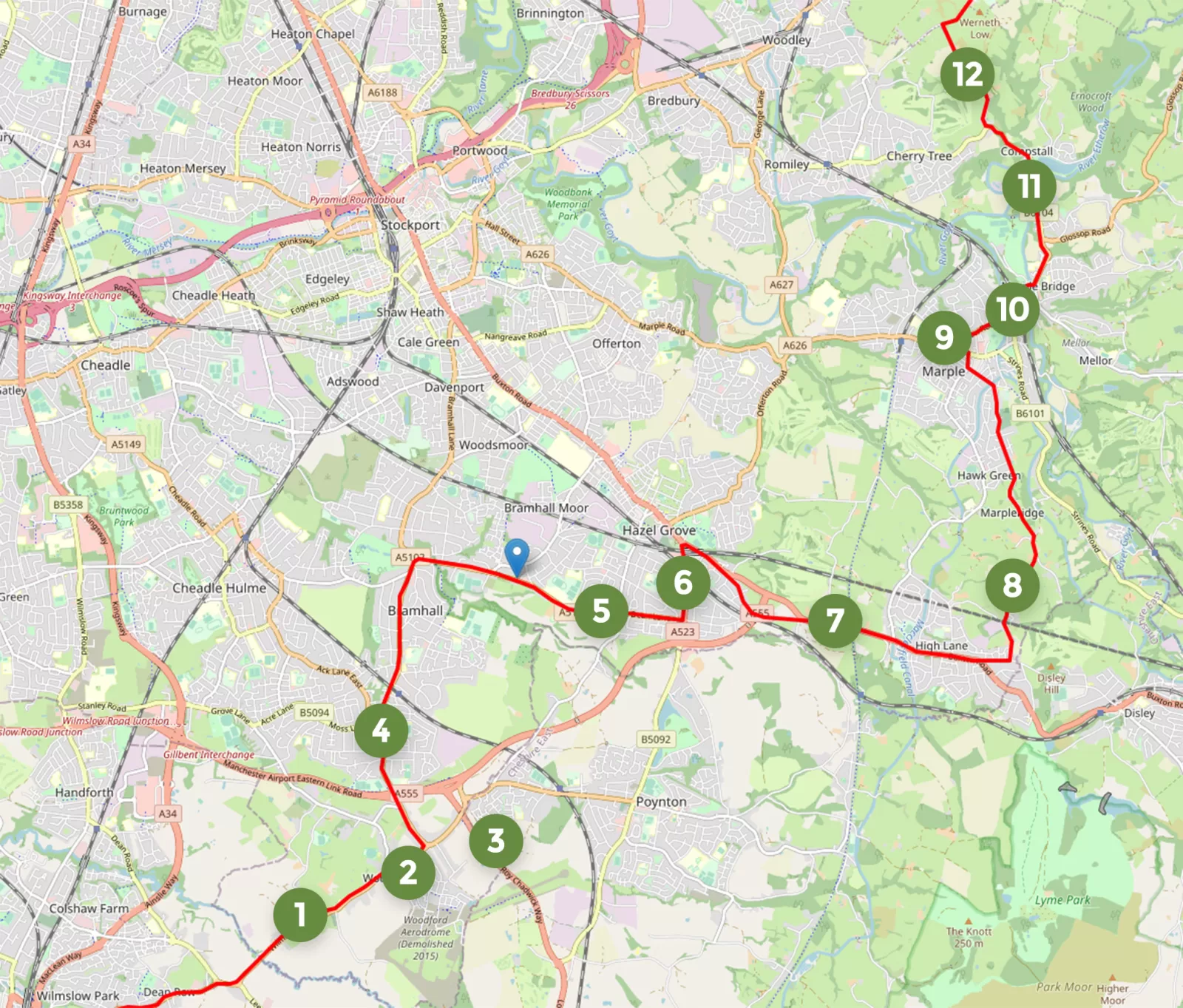 The A5102 from Wilmslow, a horrible 40mph racetrack of a road with only a tiny narrow pavement for pedestrians and nothing for cycling — despite the massive grass verges for most of its length.
Woodford Garden Village, an enormous housing development delivered without any real emphasis on active travel connections to nearby towns, amenities and routes. Try cycling to the nearest large supermarket in Poynton from here.
Just off the route: the new A523 Roy Chadwick Way 'Poynton Bypass', an easy 50mph turn off the A555 in a car but a link requiring no fewer than six awkward toucan crossing stages to follow the cycle paths (with little signage). Don't forget the multiple barriers on the shared cycle path, which Cheshire East installed within Stockport's boundary — the borough has yet to correct them.
Between the A555 and Bridge Lane cycle paths to the north and south, it seems the council forgot, or still can't be bothered, to provide a safe, defined cycle route to actually get into the centre of Bramhall.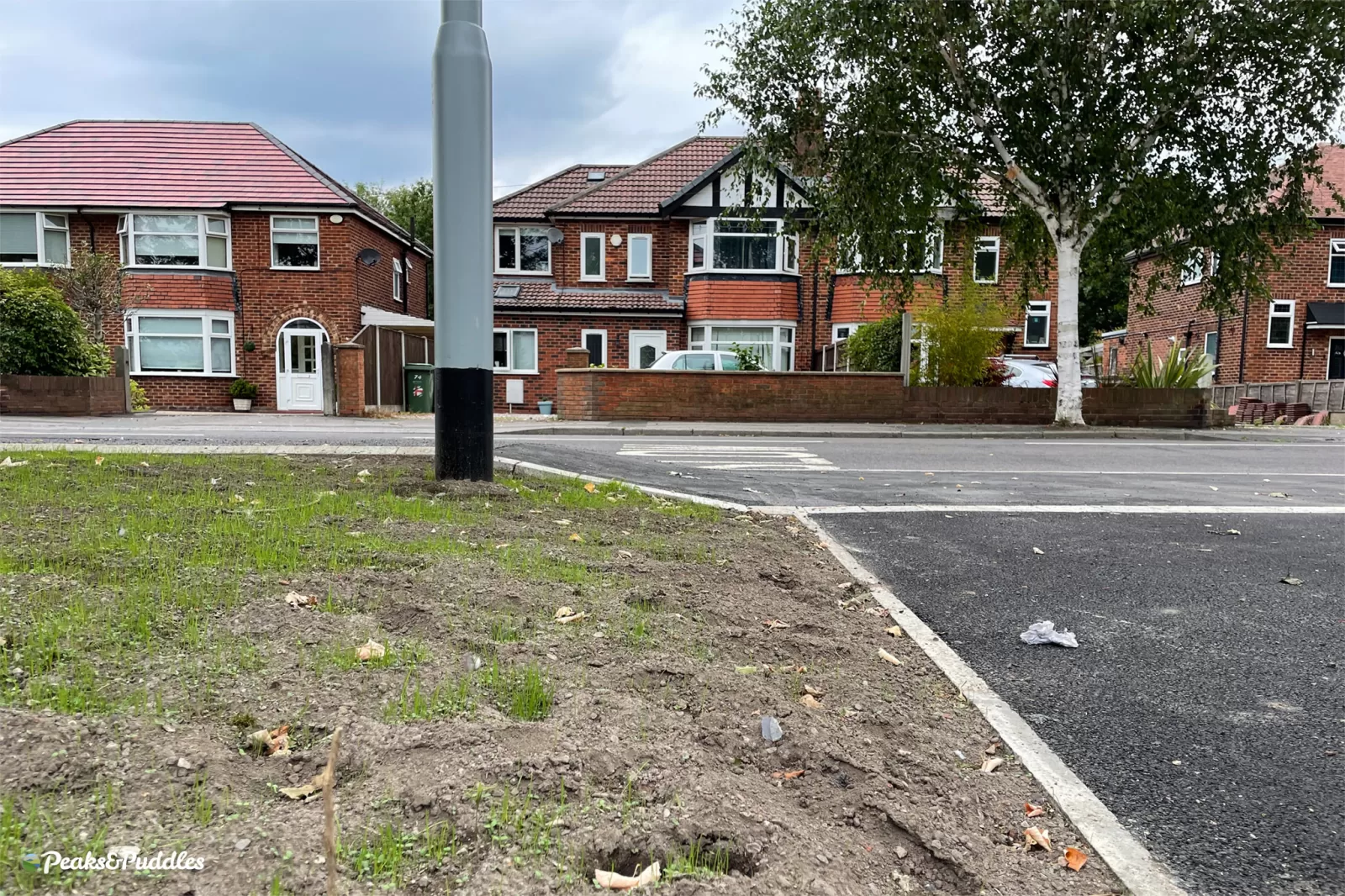 Ah yes, the A6 to Bramhall Park cycle link! But presumably, Tour of Britain riders won't be using the new cycle path? While very useful, it's been mocked and criticised to no end for its startlingly poor design and construction. Likened to a BMX track, the astonishing (and actually unnecessary) up-down-up-down for every driveway entrance lurches you from your saddle at 10mph, never mind the average Tour of Britain speed. Then there's the hair-rising side road crossings, where "racing" across could easily get you side-swiped by a driver failing to realise the priority for the cycle path (nowhere near clear enough). Council officers have consistently entirely ignored countless calls for these elements to be rectified, while dining out on a laughable highways "award" for the scheme. Routing the Tour of Britain along here just feels like their latest attempt to troll us rather than actually listen.
On the A523 Macclesfield Road, will riders be dodging the parked cars in those advisory-only painted cycle lanes, which abruptly stop at the railway bridge and leave you to deal with the terrifying hell of the Rising Sun junction? A small scheme for a separate cycle track along the A523 north of Fiveways seems to now just be yet another forgotten Stockport proposal. The A6 meanwhile has never had anything, at all, proposed, despite being the key backbone of the borough. A serious and increasing point of shame, considering its width and suitability for a flagship cycleway.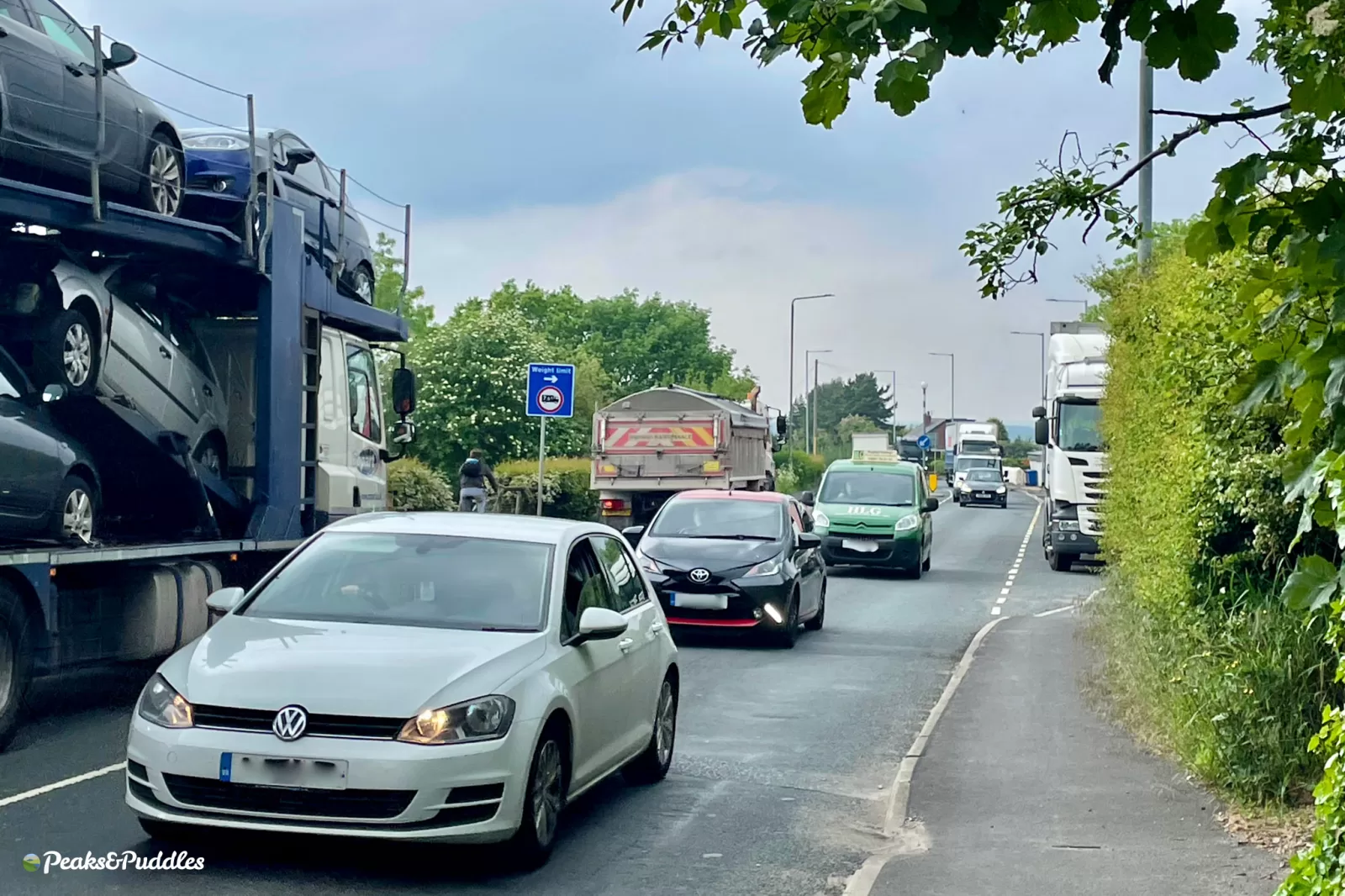 The grand centrepiece of our route from hell, the run from the Rising Sun to High Lane. It's been a glaring gap for cycling around this side of Stockport for years. It should've been at least partly fixed with the opening of the A555, but here we are now a full five years later with no onward links from the sanctuary of the bypassed old A6. The tiny but terrifying 400 metre gap up to Middlewood Way is particularly deplorable, with the council only ever providing excuses and delay tactics. But also worth highlighting, I think, is the northerly gap between Torkington Park (with its recently widened cycle path) and the Old A6/Jackson's Corner/A555. Protected cycle paths along such short parts of the A6 here would connect so many dots and be so enormously useful to so many people. Why the hell haven't they already happened?
Heading over Marple Ridge, the lane can be a delight to cycle but rather a free-for-all from drivers. There's been some discussion from local councillors about signposting it as a "Quiet Lane" (especially since it has no pavement), which might look nice but would be completely pointless without any adjoining limit on motor traffic types or speed.
Zig-zagging front and centre through Marple, the tour route is rather more front-and-centre than my usual approach for sneaking across the traffic-strangled town, where the main roads are hostile and even the recent 20mph zone was downgraded to basically being invisible (bolt-down humps removed after driver whinging). The lack of any replacement placemaking to slow speeds and definite the centre as a space for people, not just cars, and the continued delay on a traffic, walking and cycling plan, means there's really little for Marple to celebrate right now when it comes to everyday cycling.
Brabyns Brow! Need I say more. Of course, there is actually a way to avoid this hellish hill by bike (through the park to the north), but even if you manage to find it with the complete lack of signposting, it's unlit and annoyingly bumpy. Safe cycle access to Marple railway station is non-existent unless you use the pavement and then there's the equally non-existent crossing for canal users, despite it being requested for years…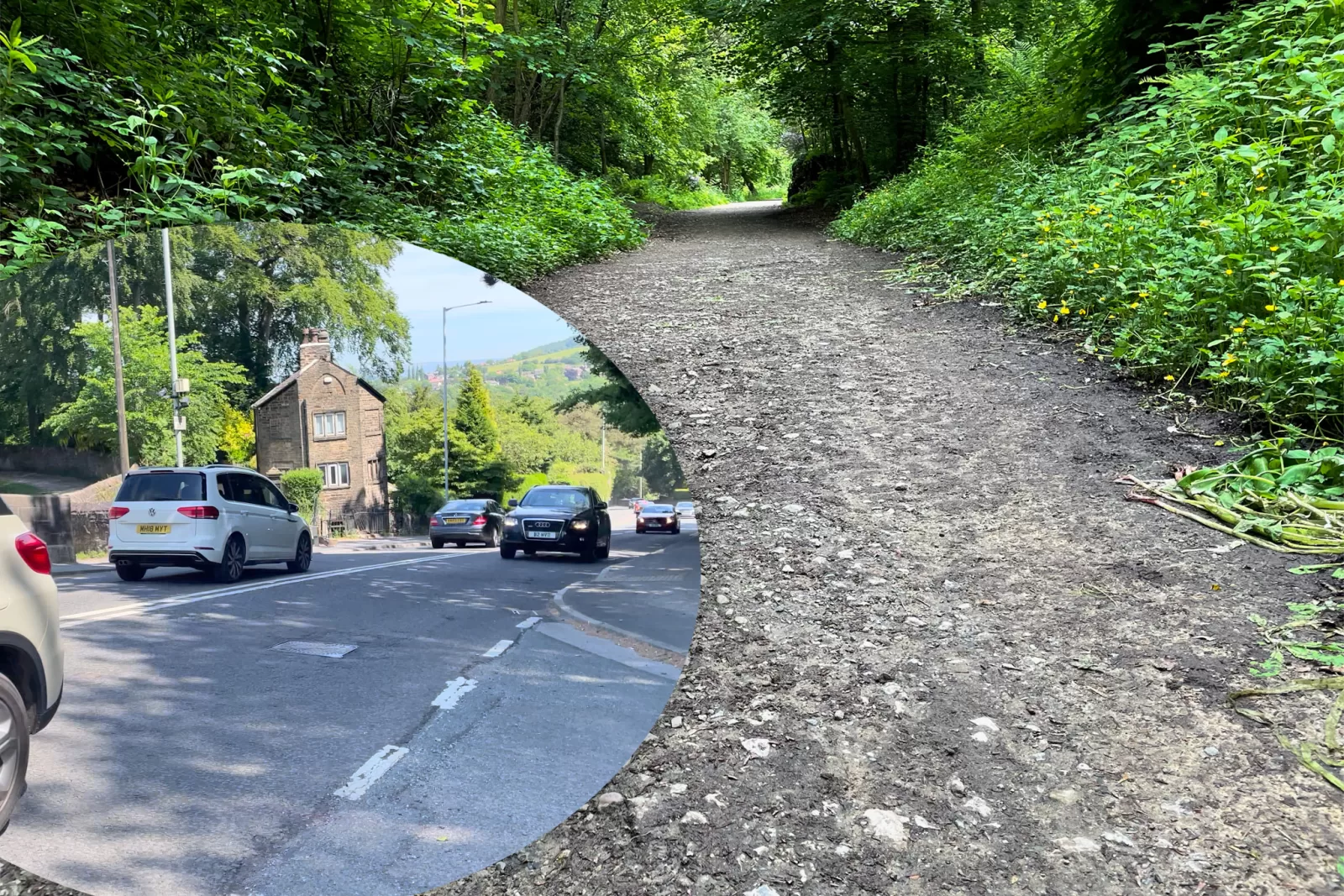 Never mind the narrow River Etherow bridge, Compstall may as well be an island for cycling, unless you enjoy constant traffic on punishing climbs. Etherow Park is a beauty, but why is there no safe route there from Brabyns Park and Rollins Lane?
Over scenic Werneth Low, the tour climbs Cowlishaw Road for its second time in recent memory — a road which Google Maps often loves to recommend as a south east orbital above the M60. This rat run over the top can be as busy as any A road at times and only ever gets worse; traffic which doesn't care for the stunning views or green countryside. When will it ever be tamed?
So cheer on the Tour of Britain all you like, but don't be fooled that this is some great day for cycling. That will only come when we, all of us, loudly and consistently, champion with council and councillors that, perhaps, wouldn't it be nice if we could all actually get across this borough safely by bike — INEOS rider or not.