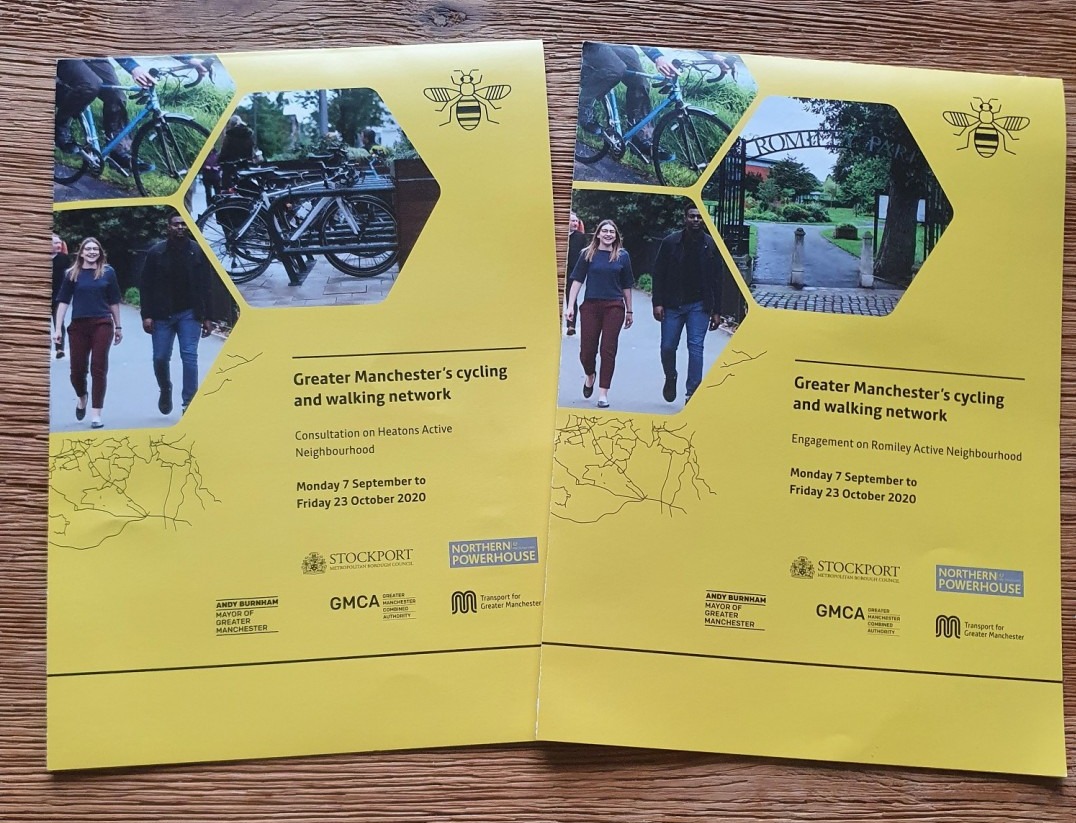 Two more nearby Bee Network schemes are taking a slow step forward as Stockport launches an interactive comments map for their Heatons and Romiley active neighbourhood schemes, aimed at reducing car dominance to improve walking and cycling.
You're familiar with a "consultation", but how about an "engagement event"? Despite bids from Walk Ride Heatons and Walk Ride Romiley being approved as part of the sixth tranche of Bee Network projects in November 2019 with fairly well fleshed-out ideas, the council is rolling things right back to gathering public ideas.
If you live, work, walk or cycle in the two areas, you're encouraged to add and agree with comments placed across a map of the area.
Options allow you to state how something "makes you feel" (there's lots of red) and choose from options such as "traffic is too fast" and "cycling here is not pleasant". As well as describing your own improvements, you can pick from "safer crossings" and "wider pavements" but also, ahem, "speed up traffic", "more parking" and — that always desperately needed item — "more public art". Well, let's see which has the most demands.
By building as clear a case for wide public support on the measures as possible, Stockport Council are likely trying to avoid a repeat of the recent debacle over the Levenshulme Bee Network in Manchester, where a very vocal "anti" campaign managed to derail the entire effort. All residents in these areas are receiving a leaflet encouraging them to contribute and Walk Ride Heatons (whose area includes part of the A6) announced a total of 102 comments after just the first day.
When approved, the Heatons bid was costed at £3.2m and Romiley at £3.9m. Neither contained particularly unusual ideas (they can be viewed via this freedom of information request), just the kinds of things which add up to make more liveable places: more crossings, 20mph limits, points to stop through traffic on residential roads; while Romiley's did also include a plan for a safe link into Stockport via two local high schools. Oh, and trampolines in the pavement.
For people who live, walk and cycle in Romiley and the Heatons, it means the fourth time they've specifically been asked to contribute to a comments map, after the two versions of the Bee Network map and the Safe Streets Save Lives map just earlier this year. What's more, it's been suggested that comments from that most recent map won't be carried over.
If you want to see change, make sure you engage yourself before Friday 23rd October 2020.