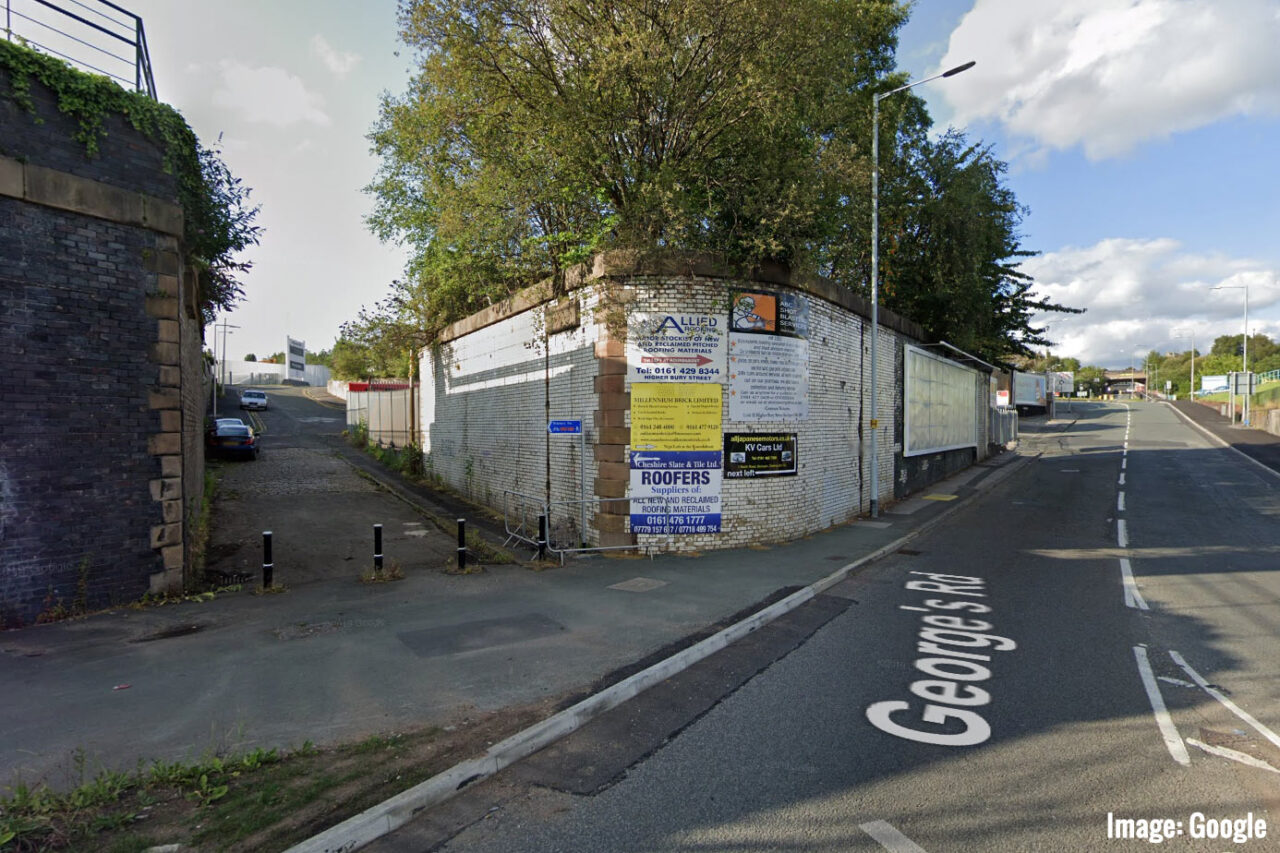 Stockport Council has finally shared plans for the borough's first Emergency Active Travel Fund pop-up cycle route, designed to provide a safe route parallel to the A6, just a few days before works are due to begin on the ground.
Billed as a "Manchester to Stockport" temporary pop-up route, the link runs along back streets (roughly) parallel to the A6 — and sometimes in a completely perpendicular direction — only as far as Heaton Chapel. It's expected that cyclists would then be expected to use the bus lanes as far as the Manchester City Council border, which Stockport has separate proposals to make 24-hours.
The plans can currently be viewed here (PDF 3Mb).
You might note immediately that the scheme doesn't actually start from Stockport town centre itself or even the A6 but the stub of Lower Bury Street, effectively a cobbled alleyway with poor lighting between a disused railway bridge, not far from the town's B&Q and Decathlon stores.
Cyclists are presumably expected to navigate at least two major junctions over toucan crossings and use the shared path alongside the recently added Travis Brow Link Road (total cost: £8m), diverging at 90 degrees away from the A6 for some 400 metres, just to connect into the town centre.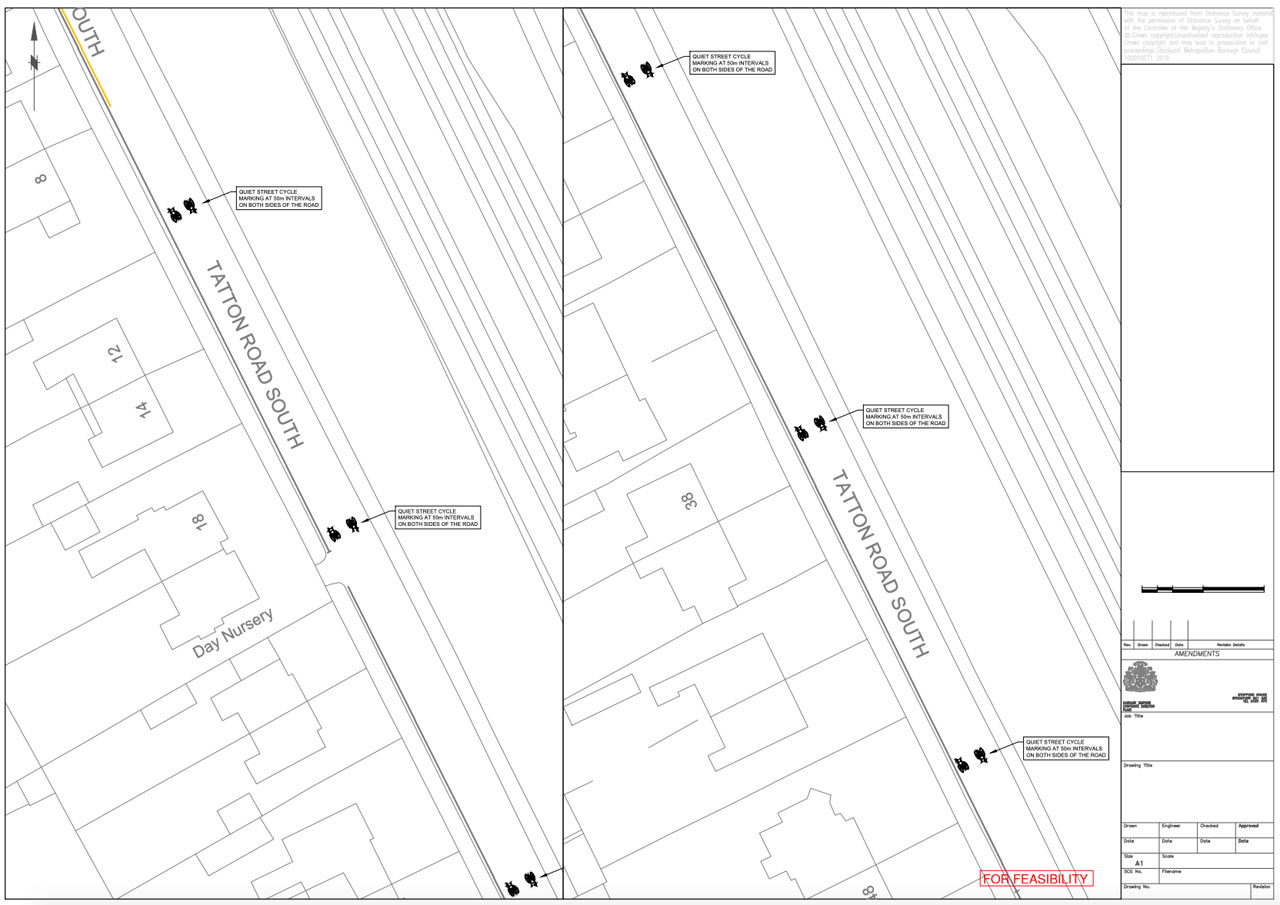 The rest of the route interventions consist of additional double yellow parking restrictions, a few minor junction alterations on residential roads and an astonishing amount of painted cycle symbols (which it seems allows the council to then call a road a "cycle street"). Manchester Evening News reported the total cost at £56,000.
Councillor Iain Roberts provided a good overview of the route on Twitter, noting that there has been no consultation and no information given to councillors until the plans quietly appeared online. The route will apparently be going in from Monday, 31st August 2020 for eight months.
This is the only cycling intervention to be delivered in Stockport as part of the £3.1m Greater Manchester Combined Authority received for Tranche 1 of the emergency funding, intended to enable more people to be able to walk and cycle through quick "pop-up" reallocation of road space away from private vehicles.
The brief given to local transport officers by the Department for Transport (copy available here, retrieved by a freedom of information request) requests "swift and meaningful plans to reallocate road space". While it suggests "20mph zones can form part of a package of measures" it is clear that they "will not be sufficient on their own" and most strikingly, that "anything that does not meaningfully alter the status quo on the road will not be funded."
Quite how funding managed to be allocated to this route, which doesn't even really include any meaningful "point closures" to filter through traffic, never mind any reallocation of space, is worth questioning. The section around B&Q was previously signed as part of the Trans-Pennine Trail and has been used as an escape route by cyclists for years, but is hardly likely to entice any newcomers, especially those used to driving the direct A6 itself.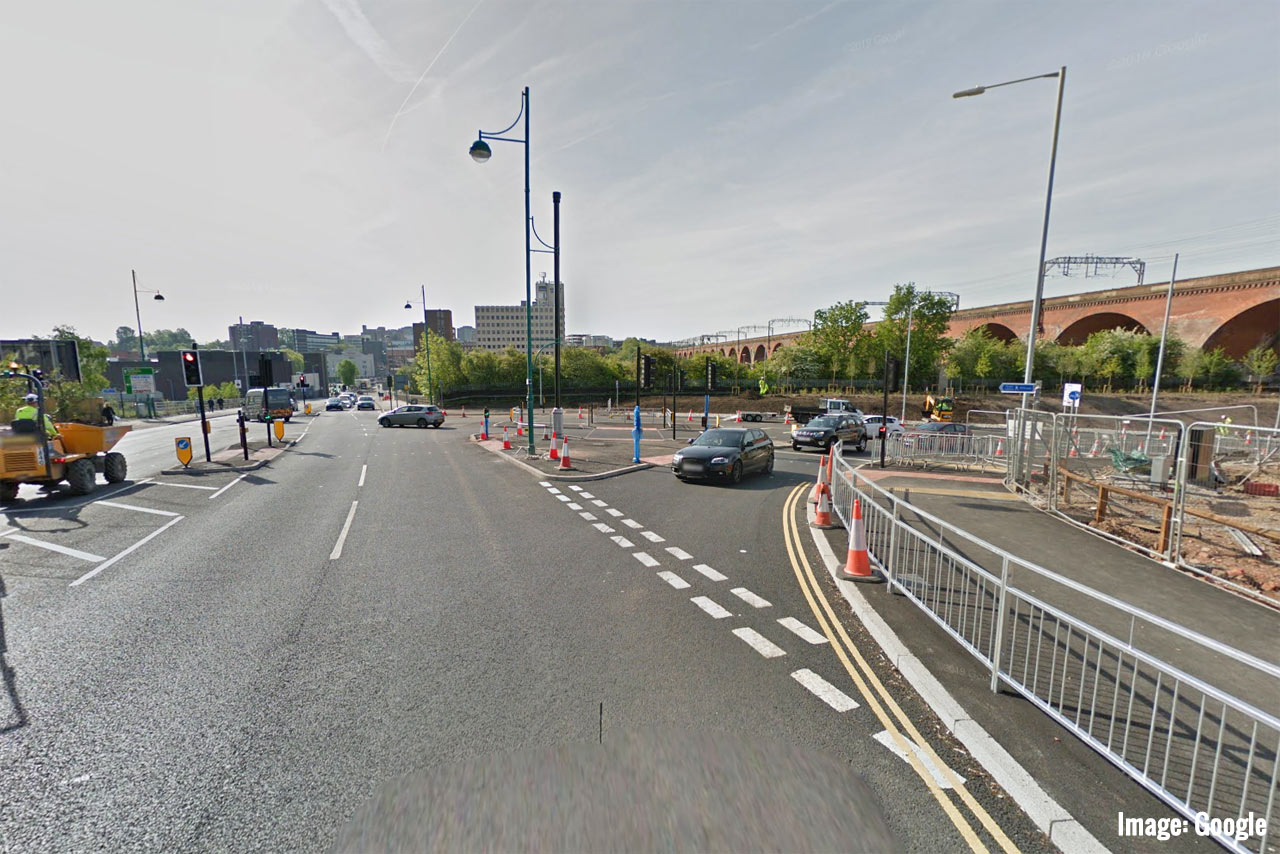 Onward links to the south are difficult and not catered for whatsoever in these plans. Even more damning, Stockport had originally touted two "A6 parallel routes". The second, around Hazel Grove, which again would not have even linked properly to the borough centre, was deemed too poor under this criteria to even be funded.
Meanwhile, the section of the A6 Wellington Road North which this route seeks to avoid has five lanes of traffic (including central hatching, right turn pockets and on-street parking) for much of its length.
It's not hard to see what the council could've done to meaningfully alter the status quo, and provide people with a viable, attractive and direct alternative to private vehicles. Just look at Leicester or even nearby Trafford, which had pop-up cycle routes in place on busy roads some three months ago.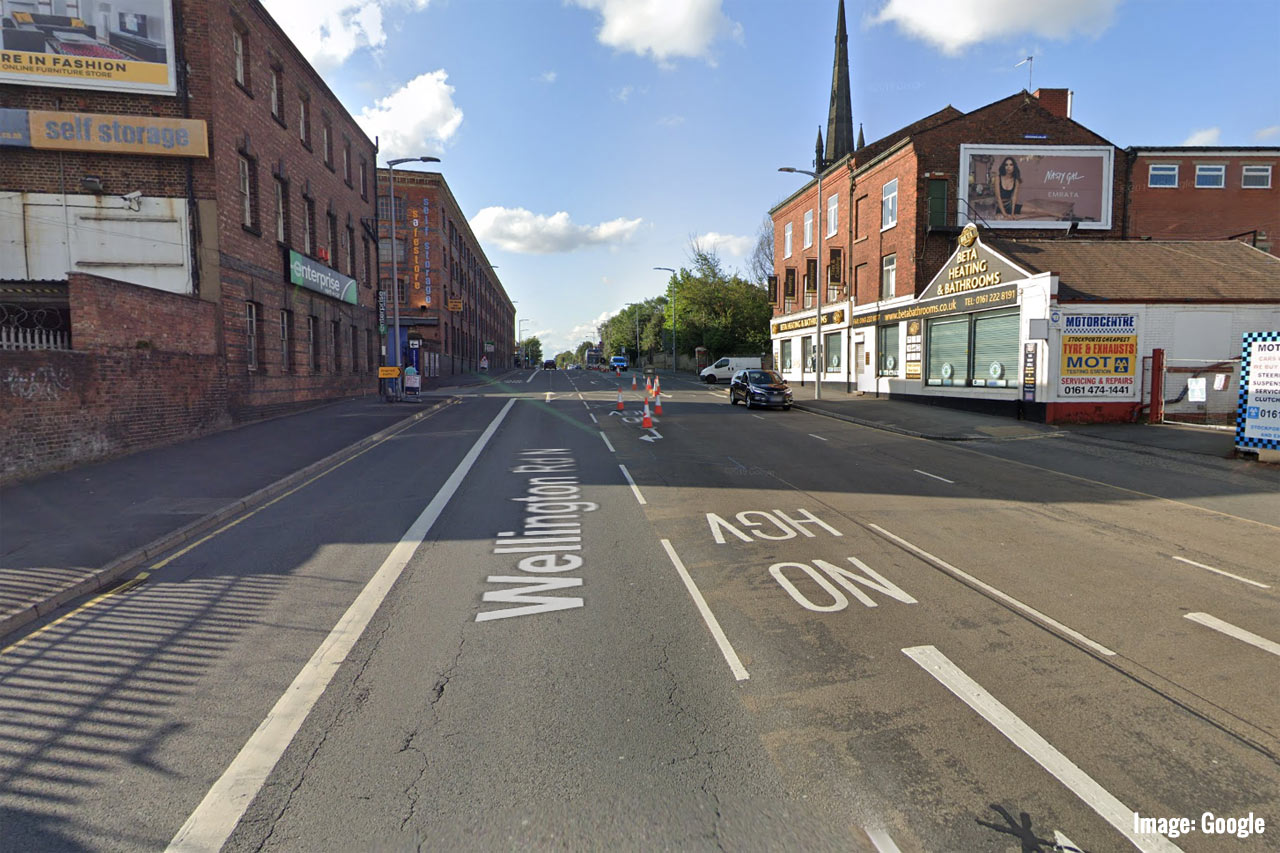 Sadly, the lack of ambition for active travel within Stockport's highways department and leadership extends to its Tranche 2 emergency funding bids. The council recently confirmed these consist of another wiggly so-called "parallel" route, for the A34 near Cheadle, part-time pedestrianisation of the Markets and Underbanks area, school streets, resurfacing a tiny stretch of off-road cycleway in Heaton Mersey, minor traffic calming for part of Heaton Norris and a permanent version of this Heaton Chapel scheme — if we didn't love it enough the first time around.
While Stockport does invest well in cycling compared to neighbouring authorities outside Greater Manchester, schemes are inevitably geared towards seeing cycling as a rather too leisurely pursuit that is done far away from obvious desire lines, through deserted parks, and almost always along unsuitable shared pavements. Meanwhile the borough's leadership continues to dance, depressingly, around the issue of simply making the A6 safe for cycling.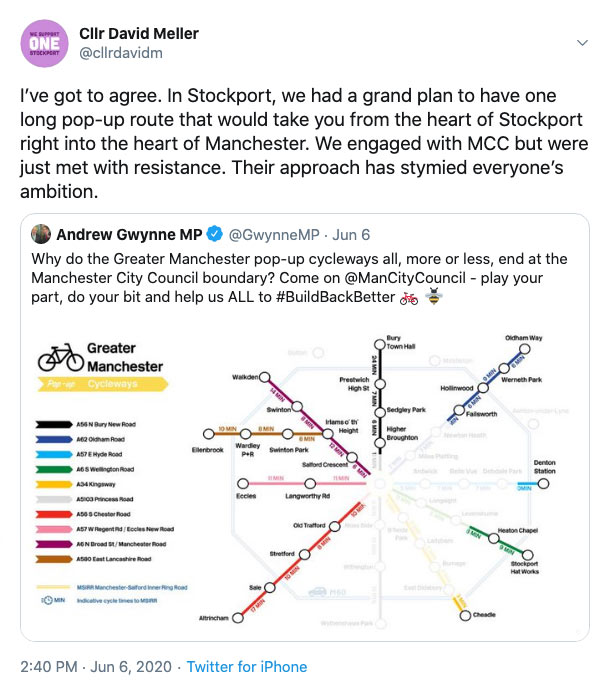 The wide, straight-as-an-arrow road, which neatly dissects the entire borough, could transform local neighbourhoods and lives on both sides — and far beyond, even for leisure routes towards Lyme Park and the Peak District — if just a little space were given over to a safe segregated cycle route.
But the political will isn't there, and the highways department headed by Sue Stevenson and Nick Whelan seems to have an iron grip on ensuring cycling remains on the sidelines — or rather several hundred metres away on an unsuitable cobbled alley. We must demand better.
Comments can be submitted to Stockport Council at walkcycle@stockport.gov.uk.