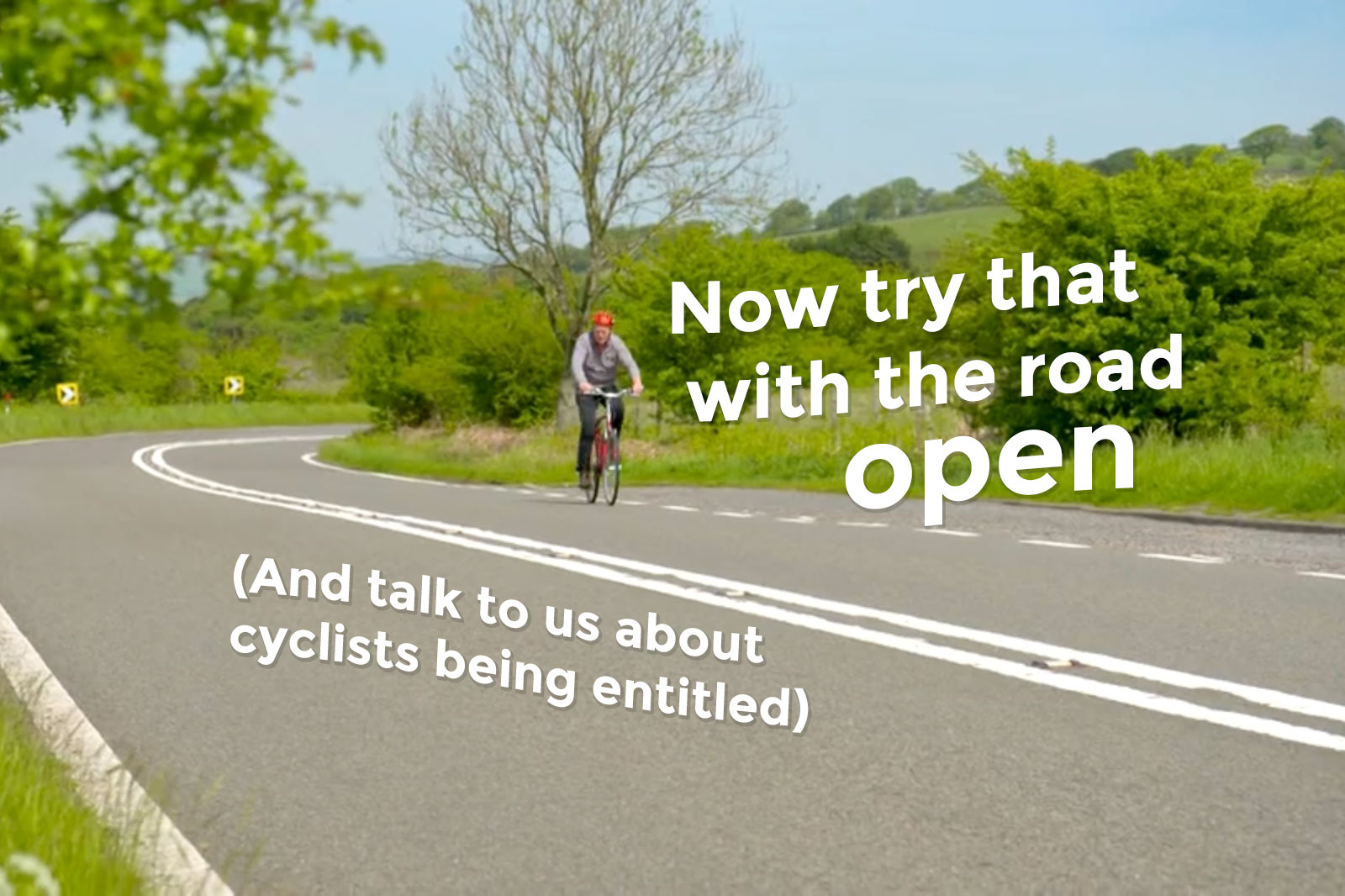 Where better to talk to Dame Sarah Storey about cycling safety on fast rural roads than Derbyshire's A5004 Long Hill — briefly a cycling paradise while closed to most vehicles. So it was odd that the BBC's Countryfile failed to mention this fact while using it for background footage in a piece that has been much-criticised online.
Yes, take a deep breath folks, the infamously — and often incredulously — balanced BBC have been Doing Cycling again.
Last Sunday's Countryfile (29th May 2022 – iPlayer) promised a cycling special, with features on a new Sustrans greenway in Warwickshire and a report on rural cycling safety by Tom Heap.
The Sustrans feature was pleasant enough, though Matt Baker's exaggerated "at a cost of five million pounds, it's not come cheap" felt slightly ignorant — try checking the cost of some road projects Matt, you'll be astonished.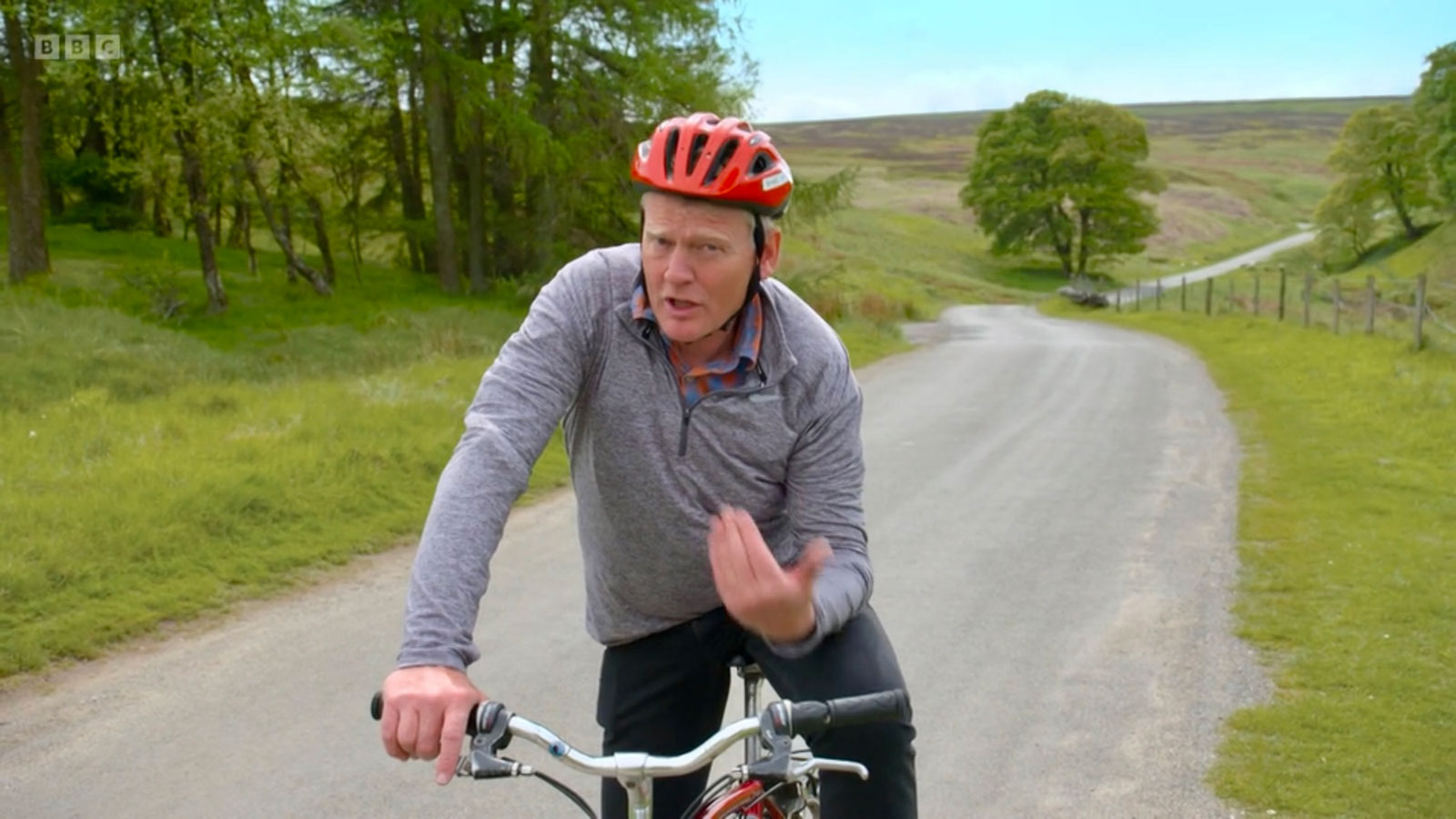 As to be expected, because TV (and especially the BBC it seems) can never just do cycling without making it a tiresome us vs. them debate, it was the cycling safety package by "two-sides-to-everything" Tom Heap that whipped up unnecessary tension.
Here the programme makers managed to segue with spectacularly poor taste from the heartbreaking story of a cyclist killed by a driver, bravely told by his widow, into Tom countering not one but two advocates of road safety with unnecessary and disgraceful, victim-blaming counter-arguments.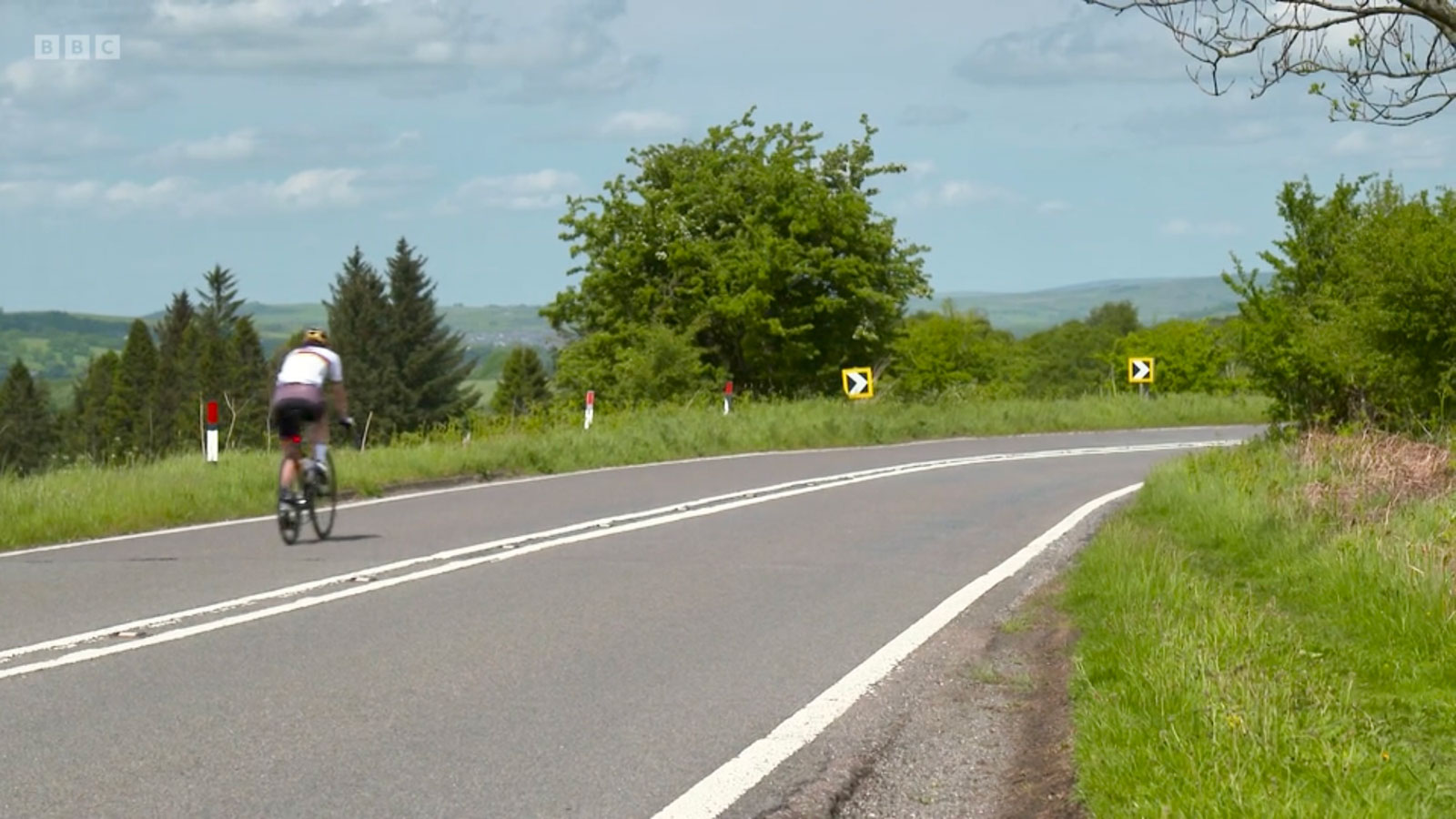 On a deserted Long Hill, where traffic would normally be screaming past at 50 mph (plus), Dame Sarah Storey talked to Tom about the absurdity of narrow country lanes turning to "national speed limit" (ie. 60 mph) just where it's most inappropriate.
The local establishing footage featured Greater Manchester's new Active Travel Commissioner climbing past Pym Chair Farm, traffic on the A534 Cat and Fiddle and the quiet lane at the top of the Goyt Valley, but also numerous shots of people cycling on the mostly-deserted Long Hill road — including Tom himself.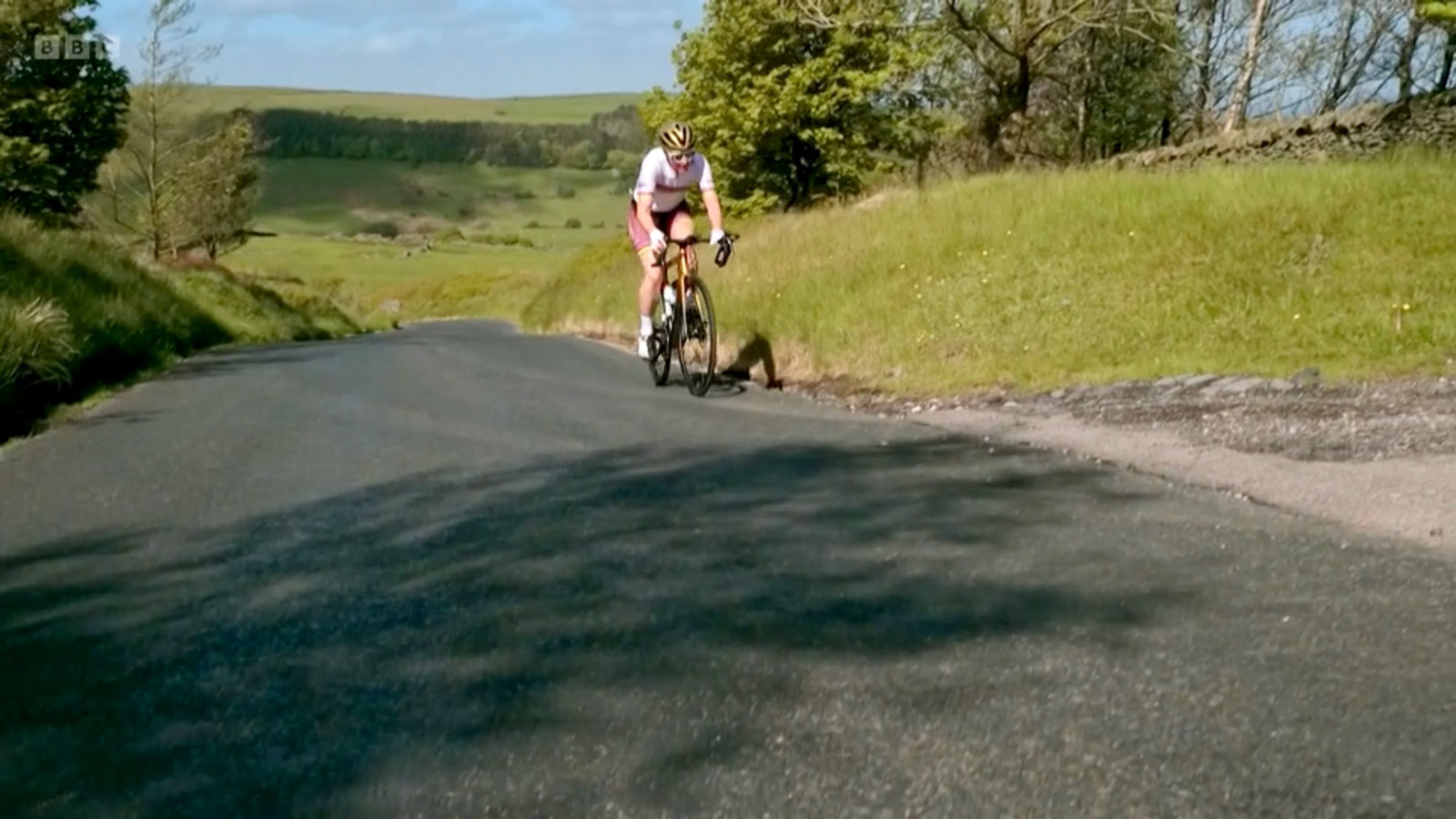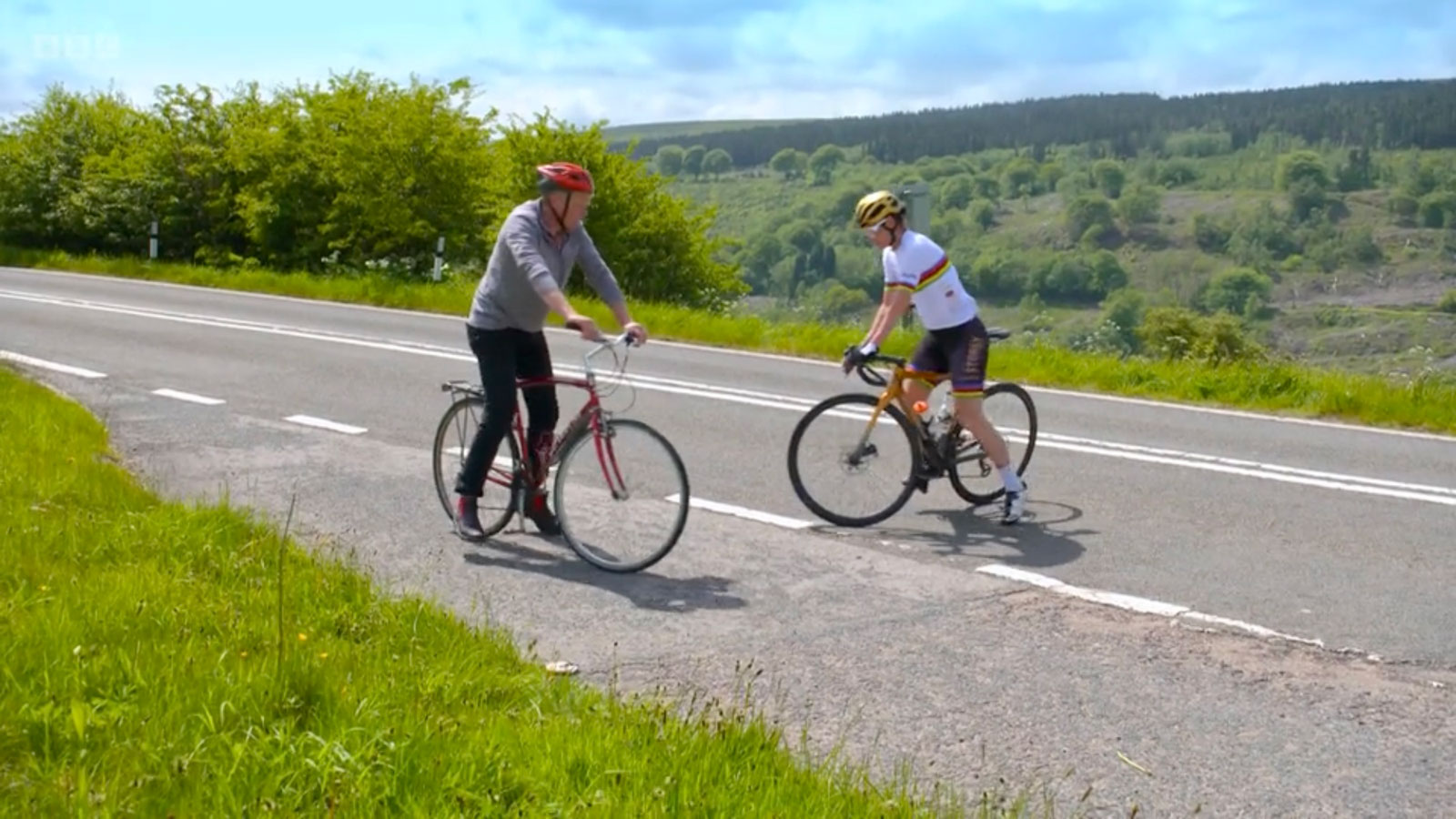 With no mention of the current closure enabling this pleasant cycling, it felt like a rather dishonest way to use the footage. Filming there under normal, noisy, dangerous conditions would've been almost impossible, but could've made for a more interesting, and original, piece on how lacking we are in safe rural cycle connections.
Instead the BBC gave us Tom interjecting, with a knowingly antagonistic smirk, to Dame Sarah's well-presented thoughts: "but let's face it, cyclists can be occasionally dangerous and occasionally full of themselves as well, can't they."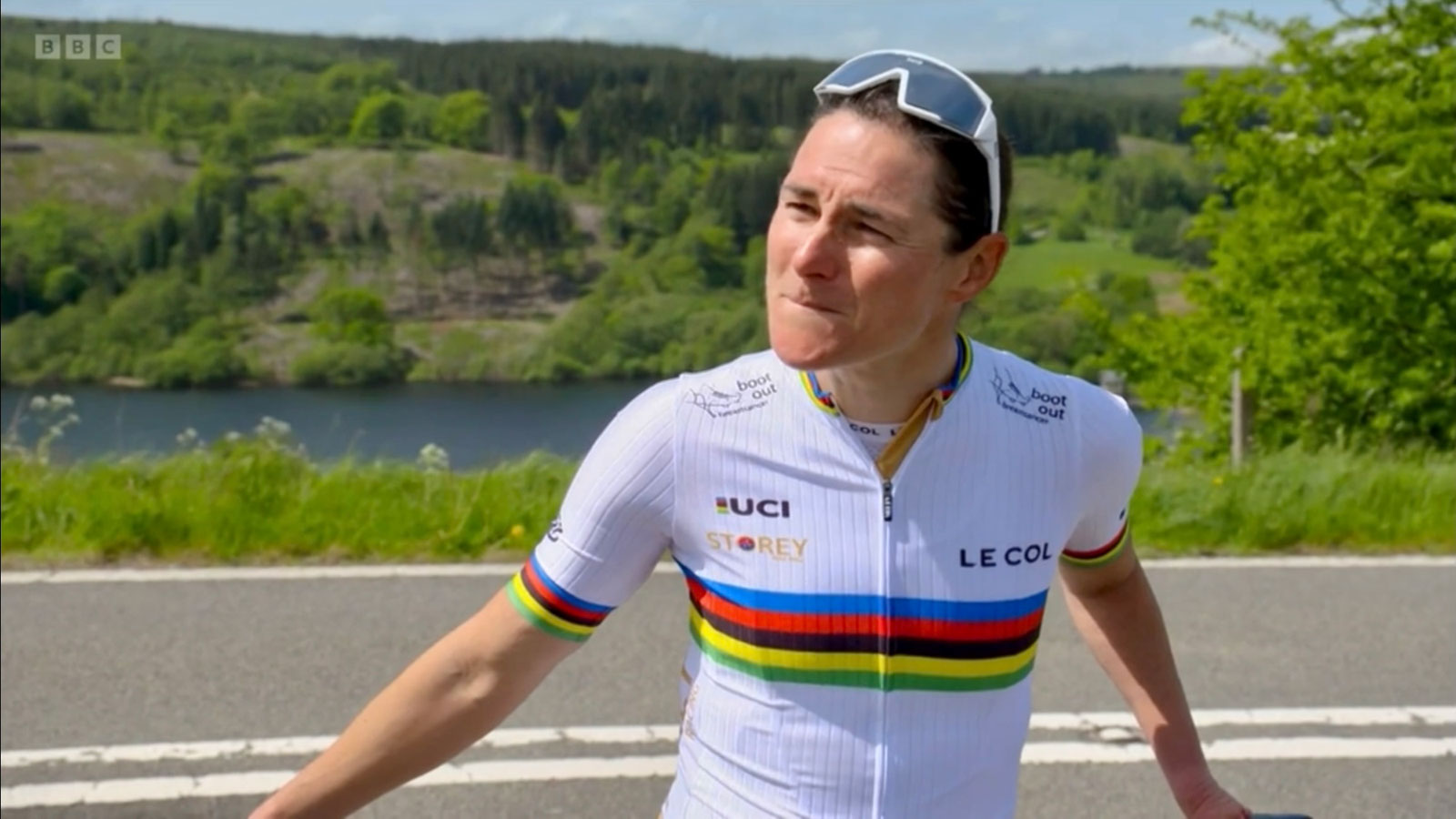 Give another medal to Dame Sarah for not saying "sod this" and cycling back to Disley, but instead calmly cutting through with the absolute bottom line: "people who are driving vehicles need to take the greatest amount of care."
But looking for yet more balance, Tom then accosted some people apparently getting out of vehicles in the Poole's Cavern car park with the updated Highway Code. Though one interviewee was allowed, unquestioned, to basically describe cyclists as an irritant, another (in a branded Poole's Cavern shirt) saved a PR disaster for the Buxton cave by kindly pointing out people on bikes are "just flesh and blood, and vulnerable."
Not done yet, Tom — who for some reason felt the need to put out a very defensive "as a cyclist myself" tweet late on the evening of broadcast — met with Jo Ness from campaign group More Than A Cyclist.
Despite Jo providing some good, honest balance that "there's [both] bad cycling and there's bad driving," Tom felt the need to push further.
"Well you said it, there are some cyclists who are pretty aggressive out there and are pretty, if you like, entitled on the road, aren't there." Erm, that's not quite what was said, Tom.
The basic fact that "bad cycling" is most likely to only injure the cyclist whereas "bad driving" is far more likely to cause serious injury and even death to others seemed entirely lost. Rather than a piece about the dangers to cycling on rural roads, it all left the feeling that cycling itself is dangerous.
Tom concluded "with more people using our roads, it's no surprise that accidents happen." Really, Tom, we shouldn't be surprised by people being killed just trying to ride a bike? Would you say that to the widow you spoke to earlier?
"But we all have a duty to keep ourselves and each other safe" he continued, for the victim-blaming gold medal, with apparently zero irony against footage of a heavy tipper truck flying past near the Cat and Fiddle.
As the West Midlands Cycling & Walking Commissioner Adam Tranter tweeted, "Please, you don't have to be contrary. You can just say that we should protect vulnerable road users."
And please, the BBC, Countryfile producers and Tom — next time you're thinking about doing a piece on cycling safety, unless you can follow that above advice, maybe we'd all be safer if you just… didn't.