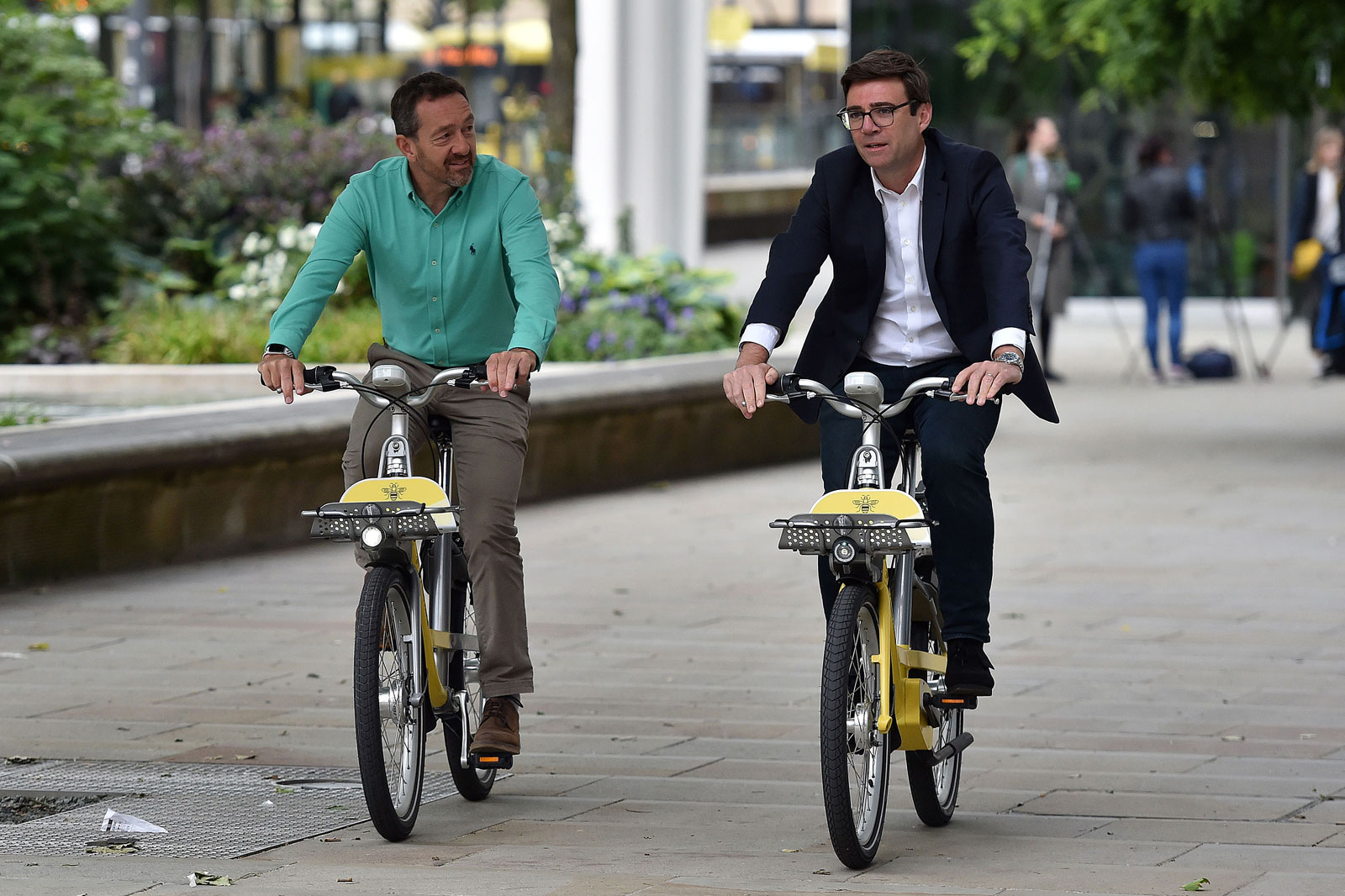 Transport for Greater Manchester has confirmed the roll-out map for the first 1,500 yellow "Bee Network Bikes", with more than 200 docking stations across the cycle hire zone and app-based payment.
Billed as "one of the largest cycle hire schemes outside London", the now well-proven concept of bike docking stations will finally come to the city after the failure of the dockless Mobike in 2018.
The new scheme is core to Transport for Greater Manchester (TfGM)'s own plans to provide an integrated transport network for the city region. Beryl was chosen as the operator of the scheme, to provide important infill connectivity between trains, trams and buses, which the region has announced it will take control of.
With the "Bee Network" name now encompassing TfGM's entire offering, rather than just its cycle infrastructure plans, the bikes will of course be yellow and of course have a bee emblem.
But they're also far more robust than the cheaply-produced and easily-abused Mobikes, with chunky tyres, mudguards, a front rack, lights and three gears. Even better, an e-bike version will also be available to hire.
Where and when?
It's been known for a while that Manchester, Salford and Trafford would be first to receive the Bee Network Bikes. Today TfGM revealed a more precise map showing the hire zone where bikes will be available.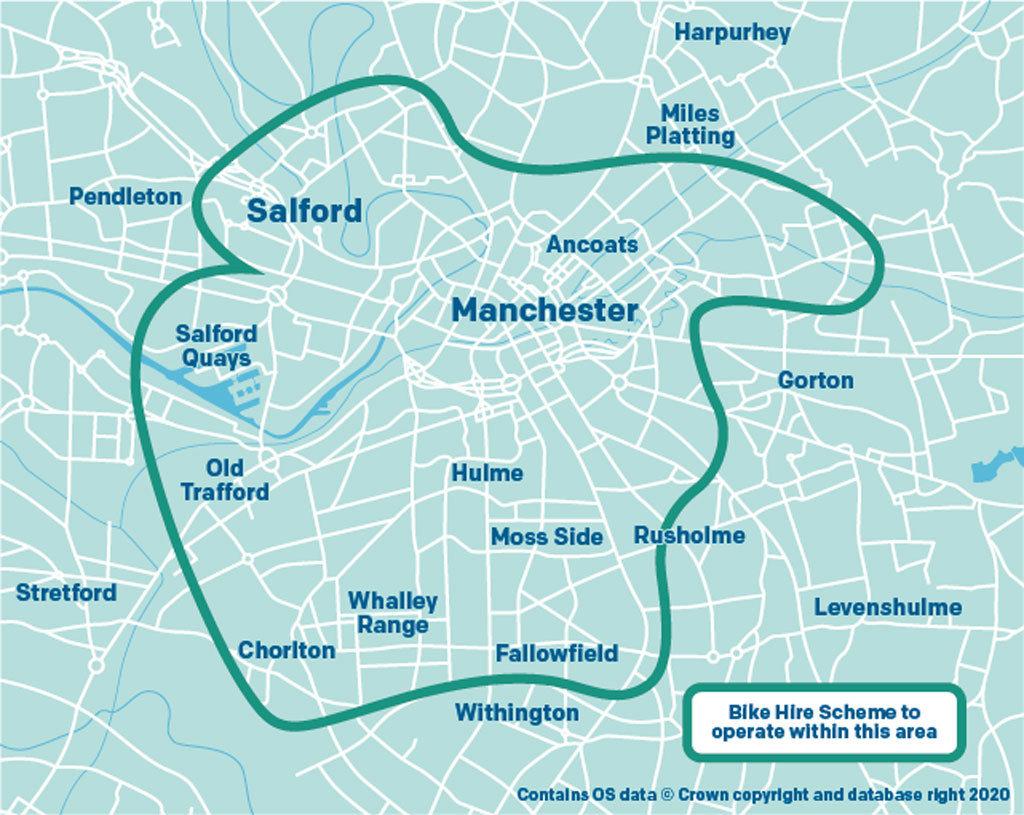 Central Manchester is of course a given, but it's no surprise to see Salford and Trafford included in the first phase. With the Oxford Road cycleways, Chorlton Cycleway, and other schemes, this area not only has the density to make it a success but at least some decent road infrastructure to ride on.
The rollout starts this Autumn with a closed trial of 30 Bee Network Bikes near the University of Salford from 3rd November. Then from 18th November, the scheme will open for public use with a further 250 bikes will be added around the University of Salford, Media City and along Oxford Road.
Docking stations will begin to appear from October and will typically be 300-500 metres apart. By June 2022, the scheme will be nearing 1,200 pedal bikes, 300 e-bikes and 200 docking stations.
How and how much?
The "initial proposed pricing structure" is 50p to unlock a bike and 5p for every minute to use. For the e-bike models, that doubles to £1 and 10p respectively. So, if you're a genuine money-saving northerner, you'll want to be ready to pedal as soon as those pennies start totting up.
Comparing this to the London Santander Cycle scheme, it effectively works out the same, except Transport for London charges a standard £2 upfront for journeys up to 30 minutes. Each additional 30 minutes is then charged at a further £2, making London's scheme more expensive for longer jaunts.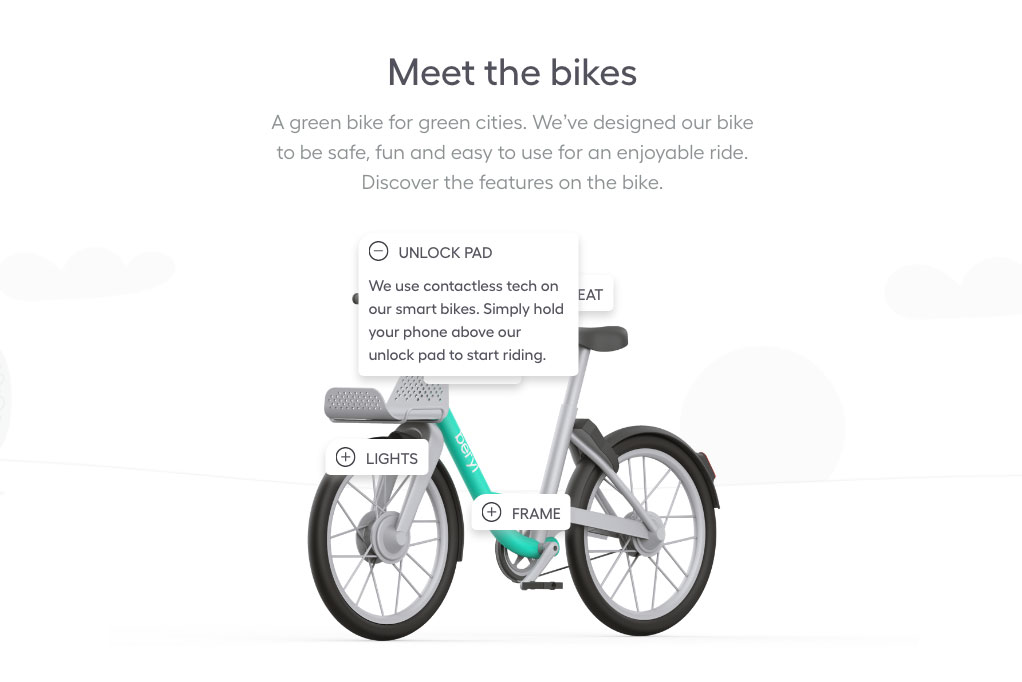 Of course, you'd have trouble riding a Bee Network Bike for that long, unless you want to ride a circuit of the entire Greater Manchester cycle hire zone. With a more compact city core, Manchester's ultra-cheap 50p just to unlock is a really compelling offer for journeys that are just that bit long to walk.
Bikes will be paid for and unlocked by a phone app, which will also help you find docking stations. It's not confirmed if this will be Beryl's own app or a unique Greater Manchester-branded one.
Bad infrastructure now has another cost
Never mind the inconvenience and frustration: pricing these hire bikes on an exact per-minute basis opens up another interesting penalty where Greater Manchester's cycle infrastructure fails: it'll cost users 5p per minute, too.
Whereas London's flat rate of £2 allows for quite a few hold-ups, users counting the pennies in Manchester might find that annoying parallel routes (where cycles are signposted off down wiggly back roads instead of the council providing space on direct key routes) not only add up in time and mileage but cost, too.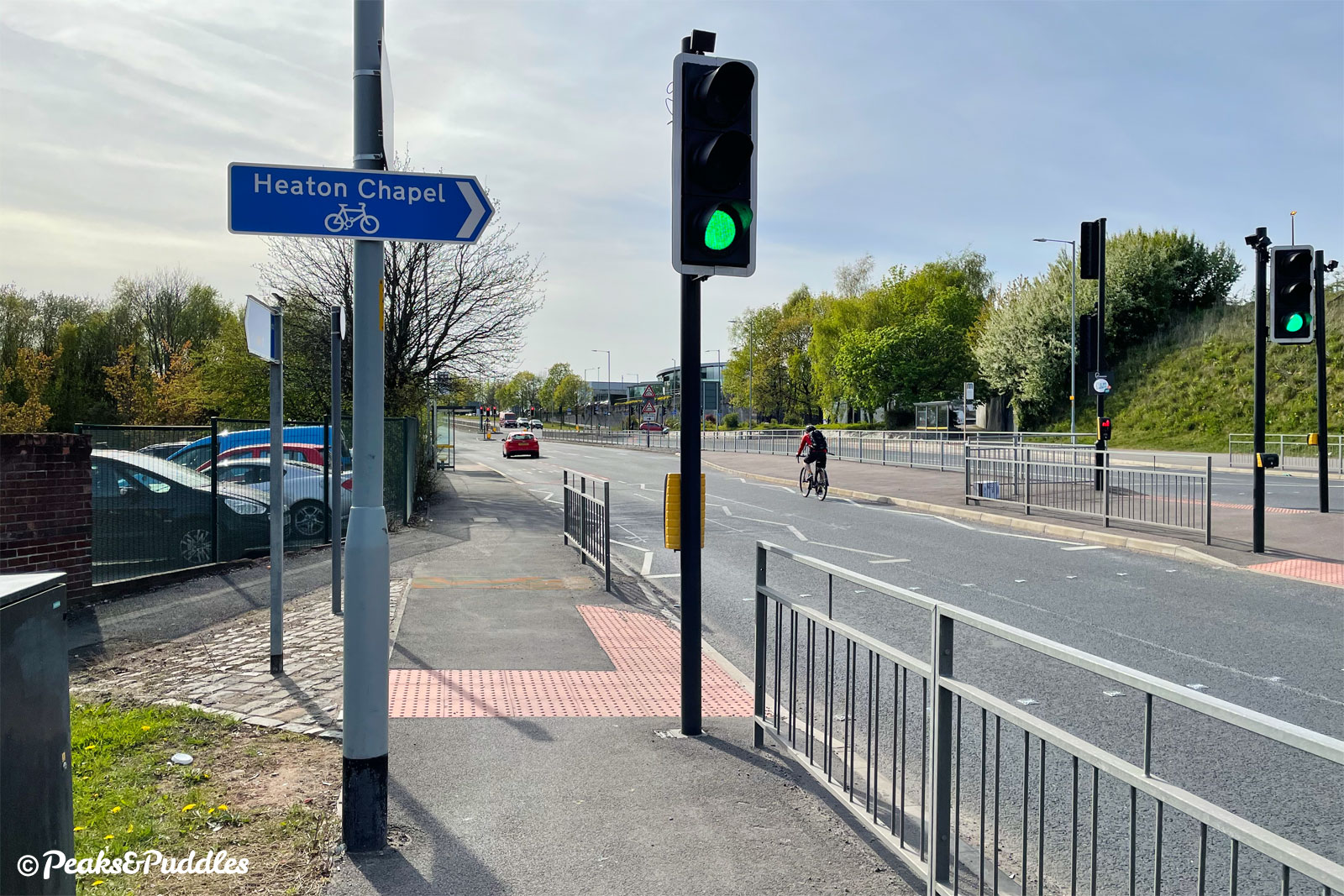 If the scheme makes it to the south east (a second phase will extend things further out, TfGM says), Stockport bike hire users could find themselves stuck at the town's endless shared toucan crossings, or navigating double the mileage just to avoid the A6, knowing that every minute is also an extra 5p from their bank account. Literally paying for bad and non-existent infrastructure!
Urban cycle hire does properly need to be charged on a per-minute basis, though, and there's not much of a way around it. So, we can only hope the bright yellow Bee Network Bikes will attract a whole legion of new riders, compelled to help demand better, more direct — and cheaper! — cycle infrastructure to use them on.