Crest awe-inspiring Peak District summits and descend beautiful quiet lanes on a mountainous ride of climbing endurance around Cheshire's wilder side. Ticking off the Blaze Hill and Lamaload climbs of the Cheshire Cycleway, a diversion out from the isolated Wildboarclough to Wincle rewards with stunning ridge views.
Route details
Distance 23.6 miles (38 km)
Elevation gain 2987 ft (910 m)
Time allow 3 hours
Difficulty Very Challenging
Terrain Lanes
Suited to Gravel Bike Hybrid Bike Road Bike
Suitability notes Other Bikes: route is accessible to all however, being fully on-road with long climbs, may not be best-suited to other types. Non-Standard Cycles: technically accessible, though steep climbs and very narrow lanes may prove tricky.
Attributes Accessible by train, Car parking, Circular loop, Ideal for electric bikes, Moors, National Cycle Network, Pocket Guide available, Pubs and cafés, Reservoirs, Rural heritage, Steep climbs, Towns and villages, Views of hills and peaks, Views of open countryside, Views of towns and cities, Woodlands and forests
Preview map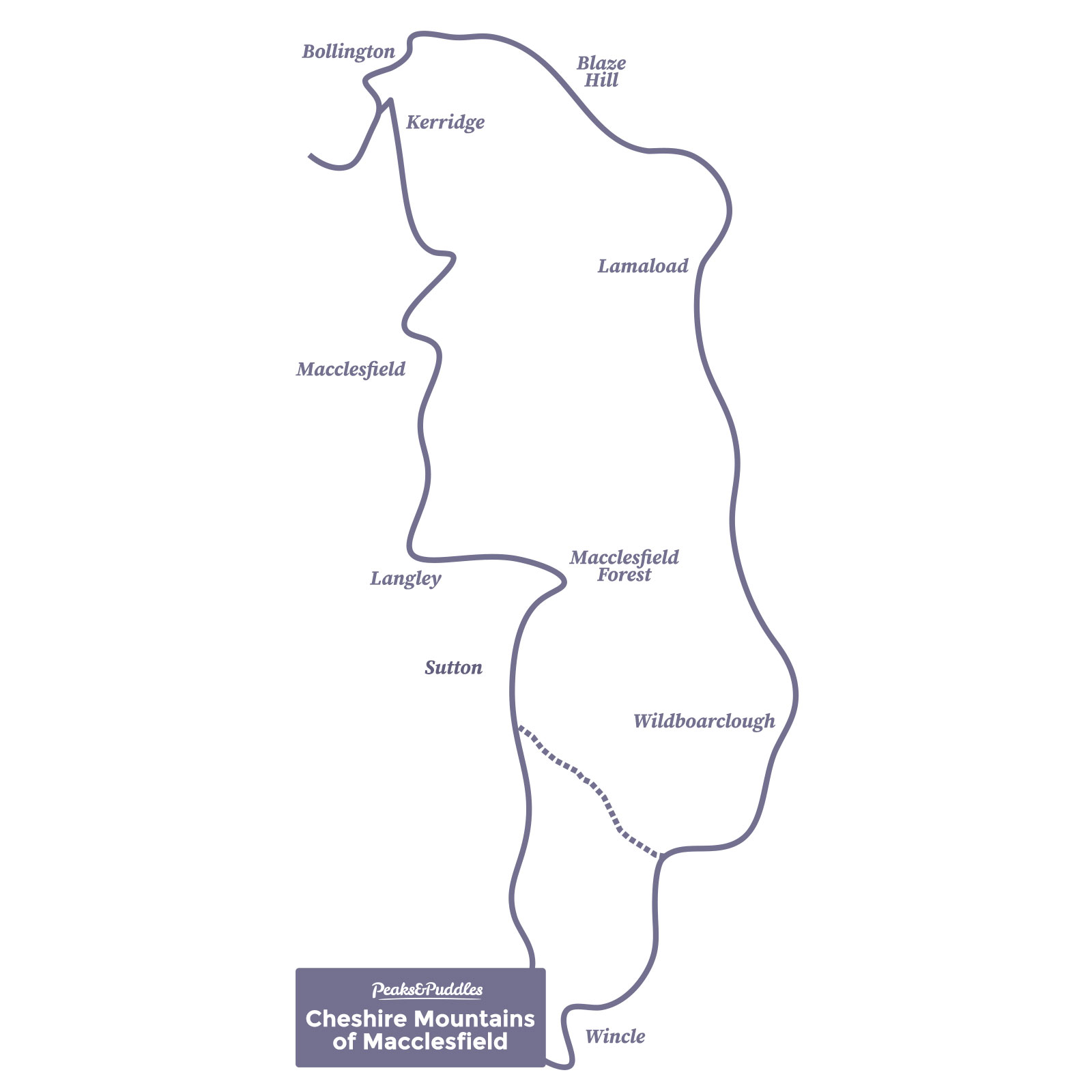 How to unlock
To unlock just this route and the in-depth website guide, buy the Cheshire Mountains of Macclesfield Pocket Guide & GPX, or see below to unlock the whole collection for a one-off contribution.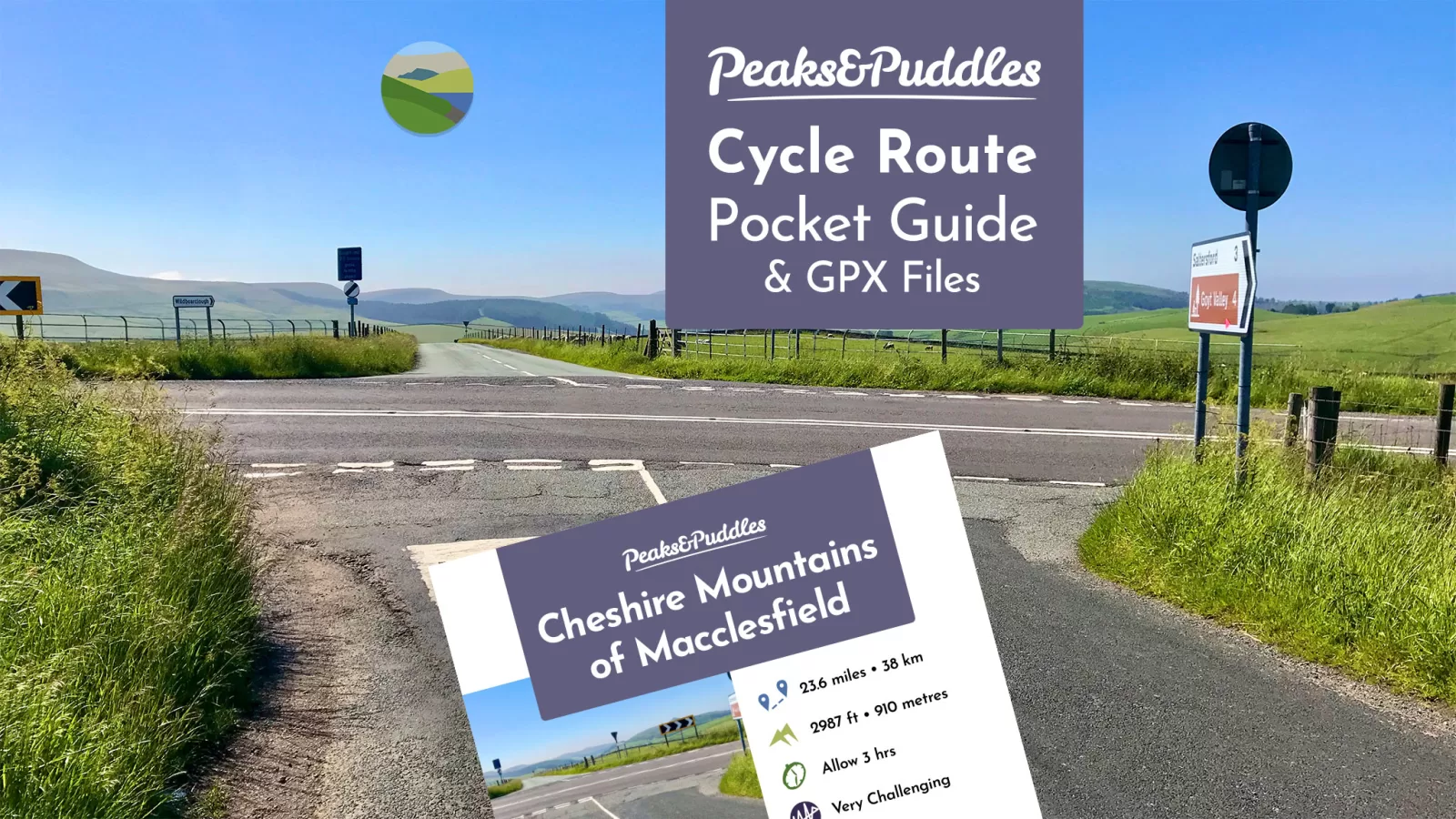 Pocket Guide & GPX
• Downloadable PDF route guides in both phone and printer-friendly formats – includes turn-by-turn directions, a custom-designed map, photos and points of interest
• Navigation files in GPX, TCX and FIT format
• Access to this website route guide
Support the website for £10 to get so much more…
For the best value, become a Peaks & Puddles + supporter for a one-off contribution and you'll get access to all these exclusive extra pages forever — plus the complete collections of Pocket Guides and GPX downloads to take along for the ride.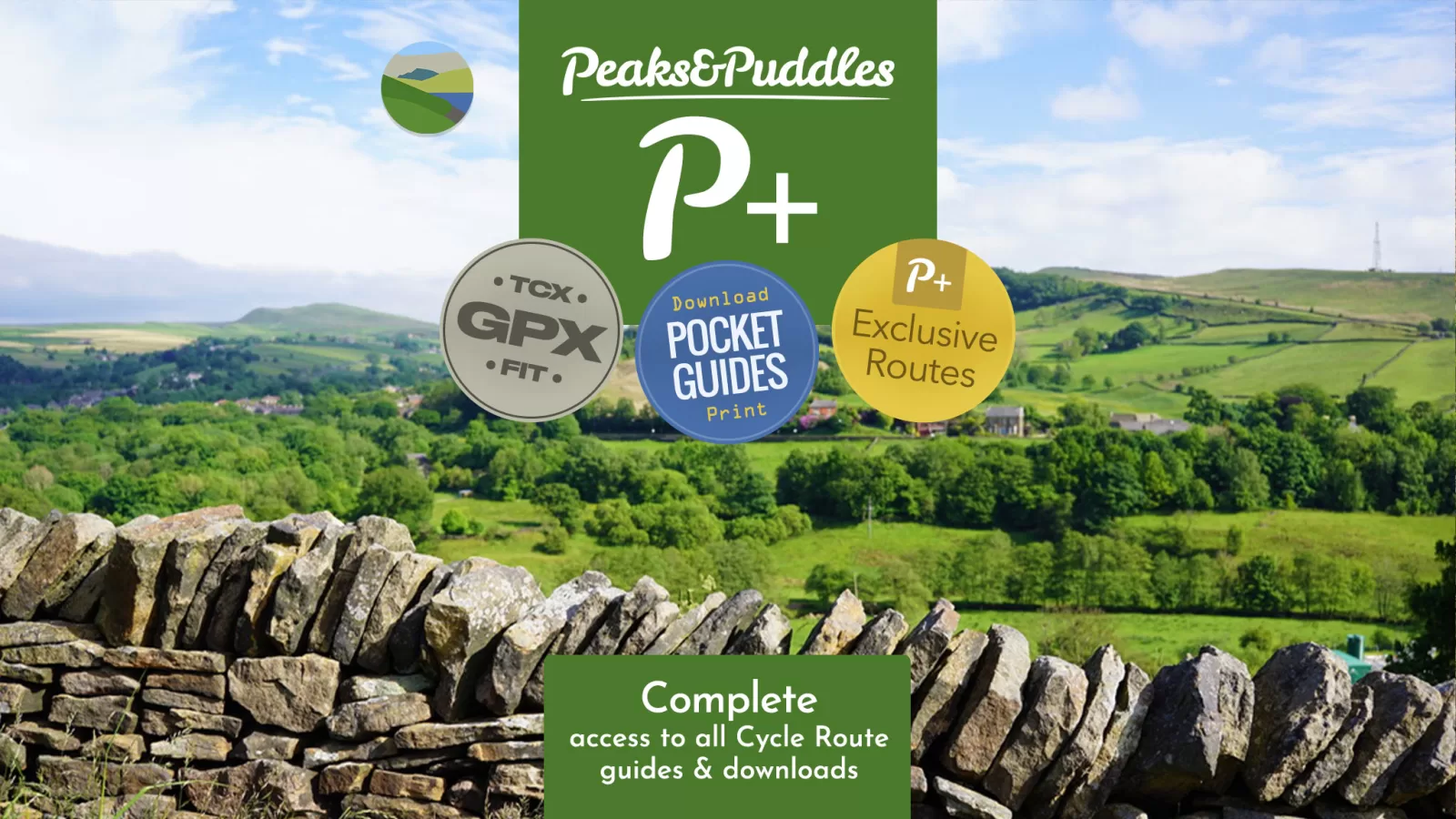 • Cycle Routes Pocket Guide Collection
• Cycle Routes GPX Collection
• Access to all P+ website route guides
• One-off contribution, supporting my work and website running costs
You'll be provided with a link to the special hidden page where all these extra downloads and website pages (marked P+) can be accessed. You'll be able to return any time to access new and updated content just thanks to that single contribution. There are still plenty more routes and guides yet to come!
What to expect
A link to the downloads and website guide(s) is provided immediately. As an extra bonus, "Plus" guides are completely ad-free — and there are still plenty more to come!
Thanks for your support!
I'm reserving these extra original routes and pages exclusively for supporters as a way to help keep the free website content free for everyone. It's a big, time-consuming task putting each of these together and your support makes it worthwhile. Thank you!
Anthony
The all-important disclaimer: While great care and attention has been put into gathering these routes, ensuring details are accurate and determining their suitability, all information should be used as a guide only and is not a replacement for using your own judgement or research when setting out on new adventures. Peaks & Puddles cannot be held responsible for any problems you may encounter.
Always ensure your equipment is safe for use and that you are well prepared, carrying everything necessary including access to a good map. Follow the Highway Code and the Countryside Code at all times. Respect the landscape, the wildlife and the people you encounter. But most importantly, have fun!